The JCMS Annual Review of the European Union in 2014
ISBN: 978-1-119-12082-7
244 pages
September 2015, Wiley-Blackwell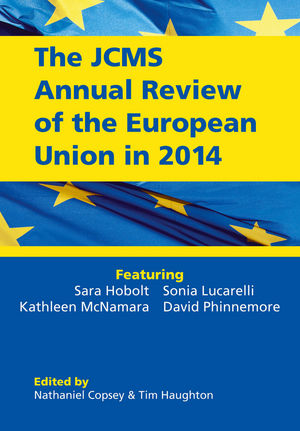 Produced in association with the Journal of Common Market Studies (JCMS), the Annual Review covers the major developments in the European Union in the past year.
Includes analytical articles written by leading experts in their respective fields covering a wide array of political, economic and legal issues
Contains specially commissioned articles by Sara Hobolt on the elections to the European Parliament, Sonia Lucarelli on Italy and the EU, a review article written by David Phinnemore assessing recently published books on the EU, and Kathleen McNamara's JCMS Annual Review lecture
The most up-to-date and authoritative source of information for practitioners, lecturers, students and researchers of European integration, as well as for general readers who simply want to know more about the European Union
See More
Editorial: 'As ye sow, so shall ye reap': the European Union in 2014
Nathaniel Copsey and Tim Haughton

1. The 2014 European Parliament Elections: Divided in Unity?
Sara B. Hobolt

2. JCMS Annual Review Lecture: Imagining Europe: The Cultural Foundations of EU Governance
Kathleen R. Mcnamara

3. Italy and the EU: From True Love to Disenchantment?
Sonia Lucarelli

4. Crisis-Ridden, Battered and Bruised: Time to Give Up on the EU?
David Phinnemore

5. The Fifth Greek Presidency of the Council of the European Union: The Most Unlikely Captain?
George Kyris

6. Beyond the Telemachus complex: courses, discourses and the 2014 Italian Presidency of the Council of the European Union
Maurizio Carbone

7. Governance and Institutions: The Year of the Spitzenkandidaten
Desmond Dinan

8. 'The Court Hereby Rules…' – Legal Developments in EU Fundamental Rights Protection
Thomas Horsley

9. Justice and Home Affairs
Jörg Monar

10. Eurozone Governance: Deflation, Grexit 2.0 and the Second Coming of Jean-Claude Juncker
Dermot Hodson

11. The European Economy in 2014: Fragile Recovery and Convergence Istvan Benczes and Balazs
Szent-Ivanyi

12. Supranational Banking Supervision in Europe: The Construction of a Credible Watchdog
Jakub Gren, David Howarth and Lucia Quaglia

13. Europe as a Regional Actor: Neighbourhood Lost?
Ana E. Juncos and Richard G. Whitman

14. Europe as a Global Actor: the (Un)Holy Trinity of Economy, Diplomacy and Security
Karolina Pomorska and Sophie Vanhoonacker

15. Chronology: The European Union in 2014
Charlotte Galpin

Index
See More
Nathaniel Copsey is Professor in Politics at Aston University, UK.
Tim Haughton is Reader (Associate Professor) in European Politics at the University of Birmingham, UK.
See More
More in this series