E-book
Kitchen and Bath Lighting: Concept, Design, Light
ISBN: 978-1-119-12456-6
288 pages
March 2015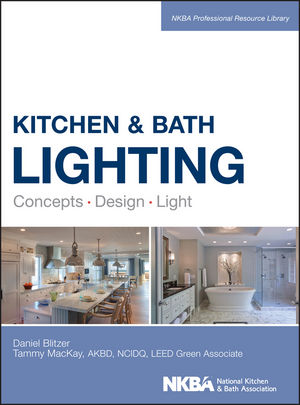 The industry standard illustrated guide from the National Kitchen and Bath Association
Co-published by the National Kitchen and Bath Association (NKBA), Kitchen and Bath Lighting is the go-to resource for designing, planning, and installing light in residential kitchen and bath projects. Full color illustrations throughout the book make Kitchen and Bath Lighting a visually absorbing experience. This beautiful volume begins with the basics of light, color, and vision, progressing from there through every stage of the residential lighting design process. With special attention to sustainability and lighting for older eyes, this book contains the information you need to know about the latest trends impacting the lighting industry.
Because the NKBA established the standard kitchen and bath guidelines for both new construction and remodels, Kitchen and Bath Lighting is aligned with the practices that are in high demand. This book is also an excellent choice for anyone hoping to obtain credentials as a Certified Kitchen Designer or Certified Bath Designer.
Comprehensive coverage of the kitchen and bath lighting process, from the fundamentals of color to design documentation to construction
Illustrated guidelines for using lighting tools like sources, luminaries, and controls in design development
Glossary and end-of-chapter exercises for quickly learning and referencing key terminology and lighting techniques
Companion website offering resources for instructors
This new addition to the NKBA's Professional Resource Library is an essential reference for kitchen and bath designers, lighting designers, and interior designers, as well as contractors, retrofitters, specifiers, and anyone else involved in lighting kitchens and bathrooms. Kitchen and Bath Lighting will give you the visual understanding of lighting that can lead directly to client satisfaction.
See More
Preface xv
Acknowledgments xvii
Chapter 1 How We See 1
Physics of Light 1
Vision 2
Measuring Light 5
Measurement versus Perception 7
Summary 8
Review Questions 8
Chapter 2 Seeing Materials 9
Color 9
Form and Texture 12
Matte and Gloss 14
Summary 15
Review Questions 15
Chapter 3 Seeing the Space and Each Other 17
Appearance of Light 17
Light and Our Sense of Space 20
Light and People 21
Summary 22
Review Questions 22
Chapter 4 Seeing the Work 23
Task Visibility 23
Visual Performance 28
Illuminance 28
Challenges to Task Visibility 30
Summary 33
Review Questions 33
Chapter 5 Seeing as We Age 35
Vince Butler, CGR, GMB, CAPS
How Vision Changes with Age 35
Lighting and Safety 39
Summary 41
Review Questions 42
Chapter 6 Speaking about Lighting 43
Lighting Effects, Not Equipment 43
How Should a Space Feel? 44
Layering 48
Experiential Layers of Light 48
Functional Layers of Light 54
Applying Light 59
Summary 65
Review Questions 65
Chapter 7 Sustainable Lighting 67
Definition of Sustainability 67
Environmental Impacts of Lighting 68
Sustainability and the Cost of Lighting 74
Sustainable Lighting Strategies 77
Summary 79
Review Questions 80
Chapter 8 THE Importance of Daylight 81
Daylight and Human Experience 81
From the Outside In 82
Daylight in Different Forms 85
Characteristics of Daylight 86
Admitting Daylight 88
Integrating Daylight and Electric Lighting 97
Summary 103
Review Questions 103
Chapter 9 Schematic Design 105
Program 105
Schematic Design 106
Lighting for Kitchen Activities 108
Lighting for Bathroom Activities 113
Experience 123
Architectural Integration 127
Communicating the Concept 133
Summary 135
Review Questions 135
Chapter 10 Choosing Electric Light Sources 137
Light Sources for Kitchens and Baths 137
Attributes of Light Sources 138
Summary 145
Review Questions 145
Chapter 11 Comparing Electric Light Sources 147
Light Sources for Kitchens and Baths 147
Incandescent Sources 148
Fluorescent Sources 157
LED Sources 164
Product Quality 169
Summary 171
Review Questions 171
Chapter 12 Light Fixtures 173
Light Fixture Selection Criteria 173
Types of Fixtures (Luminaires) 180
Summary 191
Review Questions 191
Chapter 13 Lighting Controls 193
Benefits and Objectives 193
The Language of Controls 195
How Dimmers Work 198
Sensors 203
Control Systems 206
Wireless Control of LED Lamps 211
Applying Controls 211
Summary 212
Review Questions 212
Chapter 14 Design Development 213
Developing the Design 213
Code Compliance 214
Locating Luminaires 217
Selecting Luminaires 228
Sizing the Light Source 235
Controls 238
Summary 241
Review Questions 241
Chapter 15 Documenting the Lighting Design 243
Lighting and Controls Plans 243
Summary 252
Review Questions 252
Chapter 16 Getting Lighting Built 253
Lighting in the Construction Process 253
Submittals 256
Lighting Supply Channel 257
Summary 262
Review Questions 262
Glossary 263
Index 265
See More
Daniel Blitzer is Lighting Certified and is a member and past president of the Designer's Lighting Forum of NY, member of IESNA, and a director of The Nuckolls Fund for Lighting Education.
Tammy MacKay, AKBD, NCIDQ, LEED Green Associate is an Edmonton, Alberta-based registered interior designer and certified kitchen and bath designer, and teaches lighting at the University of Alberta.
See More