E-book
Android Tablets For Dummies, 3rd Edition
ISBN: 978-1-119-12605-8
352 pages
July 2015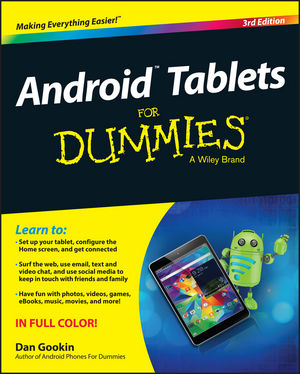 Learn all you need to know about your Android tablet in one quick and easy reference!
It's not a computer and it's not a smartphone—so what in the world is it? Whether you're new to Android or new to tablets altogether, you're about to experience mobile computing like never before with this fun, full-color guide! Inside, longtime and bestselling author Dan Gookin walks you through setting up your Android tablet, navigating the interface, browsing the web, setting up email, connecting to social media, finding plenty of apps, music, books, and movies to indulge your interests—and so much more.
No matter which Android tablet tickles your fancy, this hands-on, friendly guide takes the intimidation out of the technology and arms you with the confidence and know-how to make the most of your new device. Covering the features native to all Android tablets, as well as model-specific guidance, this new edition of Android Tablets For Dummies will have you customizing your tablet, connecting with WiFi, and choosing the right apps like a pro in no time.
Set up your tablet, configure the home screen, and get connected
Surf the web, use email, text and video chat, and keep in touch with social media
Have fun with photos, videos, games, eBooks, music, and movies
Get up and running with the new Lollipop OS
If you're eager to learn the ins and outs of your Android device—but don't want to spend hours pulling your hair out trying to figure things out —this go-to guide has you covered.
See More
Introduction 1
Part I: Getting Started with Android Tablets 7
Chapter 1: That Out?]of?]the?]Box Experience 9
Chapter 2: Android Tablet On and Off 19
Chapter 3: How Android Tablets Work 29
Chapter 4: Creating and Editing Text 47
Part II: Stay in Touch 59
Chapter 5: All Your Friends 61
Chapter 6: You've Got Email 73
Chapter 7: Tablet Web Browsing 89
Chapter 8: Text, Voice, and Video 101
Chapter 9: Digital Social Life 111
Part III: Omni Tablet 121
Chapter 10: There's a Map for That 123
Chapter 11: Everyone Say "Cheese!" 137
Chapter 12: Image Management 149
Chapter 13: Music, Music, Music 161
Chapter 14: Amazing Tablet Feats 175
Chapter 15: Play Store Shopping 189
Part IV: Nuts and Bolts 201
Chapter 16: It's a Wireless Life 203
Chapter 17: Connect, Share, and Store 215
Chapter 18: Apps and Widgets 229
Chapter 19: Customize Your Android Tablet 243
Chapter 20: Android Tablet Security 255
Chapter 21: On the Road 265
Chapter 22: Maintenance, Troubleshooting, and Help 271
Part V: The Part of Tens 283
Chapter 23: Ten Tips, Tricks, and Shortcuts 285
Chapter 24: Ten Things to Remember 295
Index 301
See More
Dan Gookin wrote the very first For Dummies book in 1991, and now enjoys worldwide success with more than 11 million copies of his books in print, translated into 32 languages. Among Dan's bestsellers are Samsung Galaxy Tabs For Dummies and Nexus Tablets For Dummies. Visit him at www.wambooli.com.
See More