E-book
Canon EOS Rebel T6i / 750D For Dummies
ISBN: 978-1-119-12884-7
352 pages
July 2015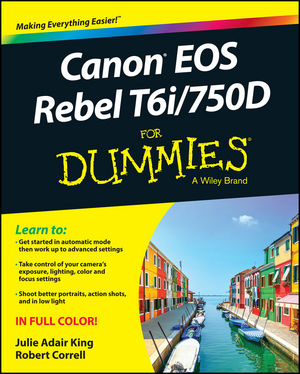 Get picture-perfect shots with your Canon EOS Rebel T6i/750D
Your Canon EOS Rebel T6i/750D is capable of taking incredibly cool and truly frame-worthy photos, but unless you know how use it properly your pictures won't be worth a thousand words. Luckily, Canon EOS Rebel T6i/750D For Dummies is packed with the tips, tricks, and instruction you'd gain in a photography course to take the intimidation out of working with your new camera—so you can start taking stunning photos right away.
Assuming no prior experience in photography, this book gets you up to speed on core photography concepts, then shows you how to grasp using the features specific to the Canon EOS Rebel T6i/750D, like working in automatic mode, controlling exposure, selecting the best lens for the job, using shutter and aperture priority modes, knowing how and when to use flash, and so much more. Whether you're looking to capture lovely landscapes, perfect portraits, awesome action shots—or anything in between—the friendly guidance you'll find inside offers everything you need to get the shot…every time.
Get started in automatic mode before working up to advanced features
Take control of your camera's exposure, lighting, color, and focus settings
Shoot better portraits and action shots
Get great shots every time—even in low light and when composing close-ups
Complemented by online supplements that cover the unique features of the companion T6i/750D at dummies.com, this hands-on guide will take your pictures from bland to beautiful in a flash!
See More
Introduction 1
Part I: Fast Track to Super Snaps 5
Chapter 1: Getting Up and Running 7
Chapter 2: Choosing Basic Picture Settings 53
Chapter 3: Taking Great Pictures, Automatically 85
Part II: Taking Creative Control 111
Chapter 4: Taking Charge of Exposure 113
Chapter 5: Controlling Focus and Depth of Field 157
Chapter 6: Mastering Color Controls 185
Chapter 7: Putting It All Together 203
Chapter 8: Shooting and Viewing Movies 221
Part III: After the Shot 235
Chapter 9: Picture Playback 237
Chapter 10: Working with Picture and Movie Files 265
Part IV: The Part of Tens 293
Chapter 11: Ten More Ways to Customize Your Camera 295
Chapter 12: Ten Features to Explore on a Rainy Day 307
Index 325
See More
Julie Adair King has written more than 50 books on digital photography, cameras, and photo editing software. She also teaches beginning photography techniques to new dSLR owners. Robert Correll is the author of several photography books, including Digital SLR Photography All-in-One For Dummies.
See More