Diasporas in Dialogue: Conflict Transformation and Reconciliation in Worldwide Refugee Communities
ISBN: 978-1-119-12976-9
224 pages
April 2017, Wiley-Blackwell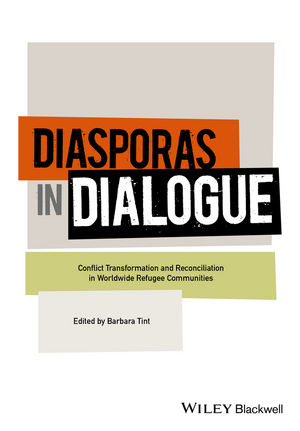 Diasporas in Dialogue is an indispensable guide for those leading or participating in dialogue processes, especially in ethnically diverse communities. The text offers both a theoretical and practical framework for dialogue, providing insight into the needs, assets and challenges of working in this capacity.
The first book to offer structured processes for dialogue with refugee communities - demonstrates how diaspora communities can be engaged in dialogue that heals, reconciles and builds peace
Relates the story of the Portland Diaspora Dialogue Project, a remarkable collaboration between university researchers and African community activists committed to helping newly arrived refugees
Written accessibly to provide practitioners, academics, and community members with a simple and cogent account of how, step by step, the process of healing communities and re-building can begin
Published at a critical time in the face of the worldwide refugee crisis, and offers helpful frameworks and practical tools for dialogue in situations where individuals and communities are displaced
See More
About the Authors vii
About the Partners xi
Foreword by Paula Green xiii
Foreword by Mette Brogden xvi
Preface xviii
Acknowledgments xxii
01 Diaspora Stories: Endings 1
Marie Abijuru and Rukia Mohammed
02 Diaspora Populations 6
Barbara Tint, Caroline Sarkis, Saéed Mohamed Haji, Vincent Chirimwami, and Carmina Rinker Lass
03 The Transition Framework 23
Diana Bianco, Barbara Tint, and Roland Clarke
04 Recruitment 40
Daniel Amine, Barbara Tint, and Mindy Johnston
05 Cultural Considerations 48
Caroline Sarkis, Barbara Tint, Gloria Ngezaho, Roland Clarke, and Mindy Johnston
06 Dialogue 62
Barbara Tint, Julie Koehler, Mary Lind, Vincent Chirimwami, Roland Clarke, and Mindy Johnston
07 Evaluation 131
Mary Lind and Barbara Tint
08 Implications for Policy 169
Roland Clarke and Djimet Dogo
09 Diaspora Stories: New Beginnings 172
Rukia Mohammed and Marie Abijuru
10 Closing Reflections 176
Djimet Dogo and Barbara Tint
Bibliography 184
Index 194
See More
Barbara Tint is Professor of Conflict Resolution at Portland State University and an international trainer, consultant, and facilitator. She travels globally training groups in issues of dialogue, status and power, intercultural relations, leadership, gender dynamics, and resilience. She has published widely in multiple books and journals on these topics. She has facilitated dialogue processes with Jewish Israelis and Palestinians, mixed race groups in the US, Tamil and Sinhalese community members in Sri Lanka, white and Aboriginal Australians, mixed gender groups and with refugee communities from Africa.
See More