E-book
UK GAAP Financial Statement Disclosures Manual
ISBN: 978-1-119-13277-6
528 pages
September 2016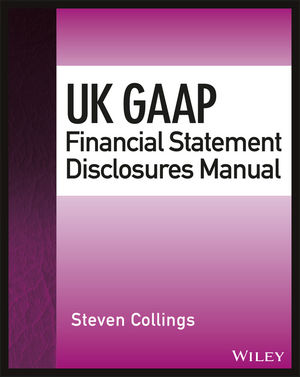 A practical manual for preparing UK GAAP-compliant disclosures
UK GAAP Financial Statement Disclosures Manual is the practical handbook accounting professionals need to prepare audit-proof financial statements. The recent establishment of the new UK GAAP has brought significant changes to financial reporting, and this guide collects all of the latest guidelines into one place. Clear, concise and heavily geared toward practical application, this book is designed for easy navigation with stand-alone chapters and real-world examples. You'll find step-by-step guidance for the entire disclosure process, with explicit instruction on what to include, how to include it and why. Financial statements prepared from 2015/2016 in the UK and Republic of Ireland will appear significantly updated, and this manual gives you the guidance you need to understand what's required to achieve full compliance.
Insufficient or incorrect disclosures are frequently the reason why financial statements are rendered deficient. This book provides practitioners with a reference and guide for all aspects of financial statement disclosure preparation.
Get up to speed on the most recent UK GAAP guidelines
Understand the 'what' and 'why' of disclosure statements
Study real-world example statements for practical guidance
Prepare statements that stand up to auditor and regulator scrutiny
Many practitioners fall afoul of regulators' criticisms with subjective, incomplete, omitted or incorrect disclosures, resulting in sanctions being brought against the practitioner or the firm. Financial statement disclosure emphasis is on transparency at a time when changes in the profession require an entirely new method of preparation. For practitioners who need to stay ahead of the curve, UK GAAP Financial Statement Disclosures Manual is the invaluable reference to keep within arm's reach.
See More
Foreword vii
Preface ix
Acknowledgements xi
About the Author xiii
1 The Structure of UK GAAP 1
2 Interaction of the Companies Act 2006 21
3 The Directors' Report and Strategic Report 45
4 The Income Statement/Statement of Comprehensive Income 67
5 Statement of Financial Position (Balance Sheet) 83
6 The Statement of Changes in Equity 105
7 The Statement of Cash Flows 115
8 The Auditor's Report 133
9 Accounting Policies, Estimates and Errors 157
10 Operating Segments 175
11 Directors' Remuneration Report 185
12 Taxation 201
13 Fixed Assets and Investment Property 215
14 Government Grants 235
15 Financial Investments 247
16 Financial Instruments 263
17 Leasing 285
18 Inventories 305
19 Provisions and Contingencies 315
20 Transactions with Directors 333
21 Events After the Reporting Period 347
22 Going Concern 365
23 Related Parties 385
24 Consolidated Financial Statements 409
25 Filing Financial Statements with Companies House 429
26 Interim Financial Reporting 441
27 Earnings Per Share 455
28 Financial Statements for Micro-Entities 465
29 Insurance 485
Index 493
See More
STEVEN COLLINGS, FMAAT FCCA is the Audit and Technical Director at Leavitt Walmsley Associates, Ltd., a Manchester-based firm of Chartered Certified Accountants. He is a member of the Financial Reporting Council's UK GAAP Technical Advisory Group, tasked with advising the Corporate Reporting Council on all issues relating to UK accounting standards, and a prolific author and lecturer in the accounting and auditing sphere. Steve has received numerous awards for his contributions to the field.
See More