Tableau For Dummies
ISBN: 978-1-119-13479-4
288 pages
November 2015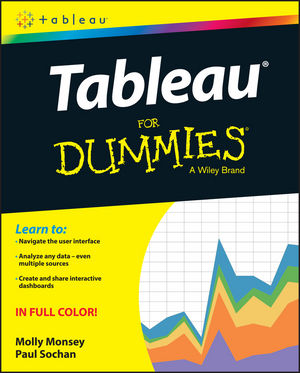 Make your data work for you!
Tableau For Dummies brings order to the chaotic world of data. Understanding your data and organizing it into formats and visualizations that make sense to you are crucial to making a real impact on your business with the information that's already at your fingertips. This easy-to-use reference explores the user interface, and guides you through the process of connecting your data sources to the software. Additionally, this approachable, yet comprehensive text shows you how to use graphs, charts, and other images to bring visual interest to your data, how to create dashboards from multiple data sources, and how to export the visualizations that you have developed into multiple formats that translate into positive change for your business.
The mission of Tableau Software is to grant you access to data that, when put into action, will help you build your company. Learning to use the data available to you helps you make informed, grounded business decisions that can spell success for your company.
Navigate the user interface to efficiently access the features you need
Connect to various spreadsheets, databases, and other data sources to create a multi-dimensional snapshot of your business
Develop visualizations with easy to use drag and drop features
Start building your data with templates and sample workbooks to spark your creativity and help you organize your information
Tableau For Dummies is a step-by-step resource that helps you make sense of the data landscape—and put your data to work in support of your business.
See More
Introduction 1
Part I: Getting Started with Tableau Desktop 5
Chapter 1: A Brief Introduction to Tableau Desktop 7
Chapter 2: Seeing What You Can Do with Tableau 17
Chapter 3: Understanding the Basics 35
Part II: Bringing in Data 57
Chapter 4: Understanding Data Connections 59
Chapter 5: Connecting to Data 67
Chapter 6: Visualizing Data 75
Part III: Analyzing Data 97
Chapter 7: Understanding the Tableau Desktop Environment 99
Chapter 8: Considering Data Display Options 119
Chapter 9: Adding Worksheets 145
Chapter 10: Creating Dashboards 155
Chapter 11: Building Stories 175
Part IV: Publishing and Sharing 183
Chapter 12: Publishing Workbooks 185
Chapter 13: Sharing Files with Tableau Reader 195
Part V: Advancing to a Higher Level 203
Chapter 14: Advanced Visual Analytics 205
Chapter 15: Creating Calculations 221
Chapter 16: Unlocking the Language of Calculated Fields 237
Part VI: The Part of Tens 241
Chapter 17: Ten Great Tableau Tips 243
Chapter 18: Ten Tableau Resources 247
Index 255
See More
Molly Monsey joined Tableau in 2009 as a technical product consultant. She and Paul Sochan work together to lead the Tableau training team. Today she recruits, trains, and supports instructors who educate Tableau users all over the world. Paul Sochan joined Tableau in 2010 and serves as the Senior Director of Global Education Services. The training team he built with Molly Monsey develops all Tableau training offerings. Paul has been in the Business Intelligence space since 1994.
See More