Teaching Defiance: Stories and Strategies for Activist Educators
ISBN: 978-1-119-13719-1
320 pages
May 2006, Jossey-Bass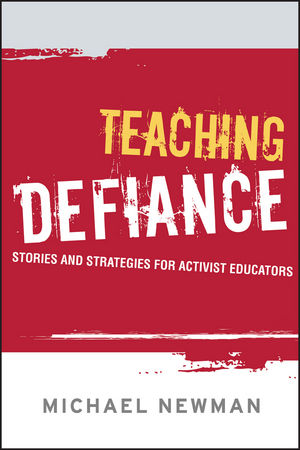 Michael Newman—a two-time winner of the Cyril O. Houle Award for Outstanding Literature in Adult Education—examines the use of rational discourse, nonrational discourse, and storytelling to bring about personal and collective change. Using a powerful blend of theoretical discussion and step-by-step accounts of practice, Newman returns to what actually happens in that magical encounter between teacher and learner. He examines the educational use of emotions such as frustration, dismay, anger, hatred and love. He proposes ways of teaching and learning insight. He examines how educators can teach people to take effective action. And he discusses how educators and learners can work together to make that action morally justifiable. Newman argues that the educator's role is to help people resist the controls imposed on them by others. The task, the challenge, the mission of the activist educator is to teach defiance.
See More
Foreword vii
Stephen Brookfield
Preamble xi
About the Author xiii
Part One: Making a Start
1. Taking Sides 3
Part Two: Rebelliousness and Defiance
2. Rebelliousness 17
3. Inspiring Rebelliousness 39
4. Defiance, Choice and Consciousness 61
Part Three: Choosing and Taking Control
5. Teaching Choice 75
6. Collective Decision Making 95
7. Teaching Dialogue 109
8. Conflict, Negotiation and Power 117
9. Teaching Negotiation 129
10. Negotiation, Consciousness and Reflection 143
11. Disruptive Negotiation 159
Part Four: Insight and Action
12. Nonrational Discourse and Insight 173
13. Facilitating Insight 181
14. Revisiting Insight 215
15. Teaching About Action 221
Part Five: Defiance and Morality
16. Constructing Moralities 245
17. Storytelling 255
18. Relative and Foundational Moralities 263
19. Hating and Loving 273
Postscript 287
References 289
Index 297
See More
Michael Newman is an internationally renowned consultant and author in the field of adult education. He is a two-time winner of the Cyril O. Houle Award for Outstanding Literature in Adult Education, awarded by the American Association for Adult and Continuing Education.
See More
Learn more about