Popular Culture: A User's Guide, International Edition
ISBN: 978-1-119-14033-7
384 pages
August 2017, Wiley-Blackwell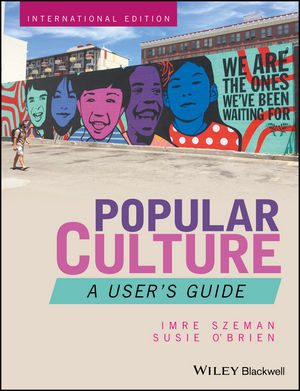 Popular Culture: A User's Guide, International Edition ventures beyond the history of pop culture to give readers the vocabulary and tools to address and analyze the contemporary cultural landscape that surrounds them.
Moves beyond the history of pop culture to give students the vocabulary and tools to analyze popular culture
suitable for the study of popular culture across a range of disciplines, from literary theory and cultural studies to philosophy and sociology
Covers a broad range of important topics including the underlying socioeconomic structures that affect media, the politics of pop culture, the role of consumers, subcultures and countercultures, and the construction of social reality
Examines the ways in which individuals and societies act as consumers and agents of popular culture
Numerous learning features including case studies, real-life examples, suggested activities, boxed features, a glossary, and an instructor's manual
See More
Imre Szeman is Canada Research Chair (Tier 1) of Cultural Studies and Professor of English and Film Studies at the University of Alberta, Canada. He is also Adjunct Professor of Visual and Critical Studies at the Ontario College of Art and Design University, Canada. He is the founder of the Canadian Association of Cultural Studies and a founding member of the US Cultural Studies Association. His main areas of research are in energy and environmental studies, social and political philosophy, and critical theory and cultural studies. He is the author or editor of more than 16 books, including Cultural Theory: An Anthology (Wiley Blackwell, 2010) and After Globalization (Wiley Blackwell, 2011).
Susie O'Brien is Associate Professor in the Department of English and Cultural Studies at McMaster University, Canada. Her research and teaching focus on postcolonial and environmental cultural studies. She has published on postcolonial literature, the slow and local food movements, scenario planning, and the temporality of globalization. She is co-editor of Time, Globalization and Human Experience (forthcoming 2017) and is currently working on a monograph on the power and vulnerability of resilience stories.
See More