E-book
iPad For Seniors For Dummies, 8th Edition
ISBN: 978-1-119-14134-1
448 pages
December 2015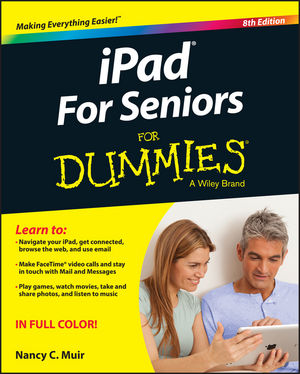 Break out your reading glasses—iPad instructions for seniors are here!
Tired of taking out the instructions for new tech gadgets, only to have the drab, eight point font prove basically illegible? Don't fret—the solution is finally here! iPad For Seniors For Dummies, 8th Edition uses a larger font for both the text and its full-color figures and drawings, making this the perfect resource for new iPad owners in their golden years. The updated content walks you through the setup process and introduces you to the iPad's new hardware. Additionally, it runs through all of the features and functions of your iPad, including accessibility features, notes, the calendar, maps, surfing the web, email, buying new apps, downloading iBooks and iTunes, watching videos, and more.
iPads are immensely popular—and for great reason; iPads are wonderful means of communication and entertainment for all ages, including seniors. Learning to use your iPad's features and functions can greatly enrich your iPad experience!
Access updated coverage specifically developed for the latest generation of iPad products
Review the use of each function and feature, ensuring that you get the most out of your new iPad
Explore information about software, hardware, and the latest features of the updated iOS
Stay engaged throughout the entire book with a straightforward but fun writing style and plenty of full-color graphics
iPad For Seniors For Dummies, 8th Edition is the perfect guide for the over-50 group who are either using an iPad for the first time or are upgrading to the latest iPad model.
See More
Introduction 1
Part I: Making the iPad Yours 5
Chapter 1: Buying Your iPad 7
Chapter 2: Looking Over the Home Screen 25
Chapter 3: Getting Going 57
Chapter 4: Making Your iPad More Accessible 69
Part II: Taking the Leap Online 87
Chapter 5: Browsing the Internet with Safari 89
Chapter 6: Working with Email in Mail 115
Chapter 7: Getting Social with FaceTime, Twitter, and iMessage 137
Chapter 8: Shopping the iTunes Store 157
Chapter 9: Expanding Your iPad Horizons with Apps 171
Part III: Having Fun and Consuming Media 185
Chapter 10: Using Your iPad as an E-Reader 187
Chapter 11: Playing Music on the iPad 211
Chapter 12: Playing with Photos 225
Chapter 13: Getting the Most Out of Video Features 249
Chapter 14: Playing Games 261
Chapter 15: Finding Your Way with Maps 275
Part IV: Managing Your Life and Your iPad 295
Chapter 16: Keeping On Schedule with Calendar and Clock 297
Chapter 17: Working with Reminders and Notifications 317
Chapter 18: Managing Contacts 333
Chapter 19: Talking to Your iPad with Siri 353
Chapter 20: Making Notes 369
Chapter 21: Getting the News You Need 389
Chapter 22: Troubleshooting and Maintaining Your iPad 397
Index 413
See More
Nancy C. Muir is the owner of a writing and consulting company that specializes in business and technology topics. She has authored more than 100 books, including Computers For Seniors For Dummies and iPhone For Seniors For Dummies. Nancy holds a certificate in Distance Learning Design and has taught Internet safety at the college level.
See More