E-book
Mediterranean Families in Antiquity: Households, Extended Families, and Domestic Space
ISBN: 978-1-119-14372-7
360 pages
August 2016, Wiley-Blackwell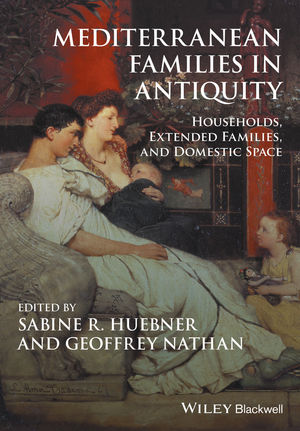 This comprehensive study of families in the Mediterranean world spans the Bronze Age through Late Antiquity, and looks at families and households in various ancient societies inhabiting the regions around the Mediterranean Sea in an attempt to break down artificial boundaries between academic disciplines.
See More
List of Contributors vii
Foreword and Acknowledgments xi
Part I Introduction 1
1 A Mediterranean Family? A Comparative Approach to the Ancient World 3
Sabine R. Huebner
Part II The Greek and Hellenistic World 27
2 Identifying Family Structures in Early Iron Age Crete 29
Leslie Preston Day
3 The Idea of Descent in Early Greek Kinship 44
Emily Varto
4 The Role of the Extended Family in Exacting Blood Revenge in Classical Athens 65
Fiona McHardy
5 Domestic Architecture in Ephesus from the Hellenistic Period to Late Antiquity 79
Helmut Schwaiger
Part III The Roman World 93
6 Traces of the Unfamiliar: Epigraphic Evidence for Extended Families on the Margins in Roman Italy 95
Peter Keegan
7 Extended Families and Family Substitutes among Migrants in the Roman World 121
David Noy
8 Household Archaeology in Mediterranean Spain: Family Forms from Iberia to Hispania 137
Xurxo M. Ayán Vila
9 Egypt as Part of the Mediterranean? Domestic Space and Household Structures in Roman Egypt 154
Sabine R. Huebner
10 Towards an Archaeology of Household Relationships in Roman Egypt 174
Anna Lucille Boozer
11 Age Hierarchy and Social Networks among Urban Women in the Roman East 204
Mona Tokarek LaFosse
12 Family Forms and Conflicts in Roman North Africa 221
Kai Haase and Roland Steinacher
Part IV Late Antiquity 241
13 Extended Family in the Experiences of Ausonius and Libanius 243
Geoffrey Nathan
14 Household and Family Dynamics in Late Antique Southern Gaul 258
Christian Laes and Ville Vuolanto
Part V Outlook in Later Period of the Mediterranean 283
15 Missing Women in the Italian Middle Ages? Data and Interpretation 285
Irene Barbiera, Maria Castiglioni, and Gianpiero Dalla Zuanna
16 Family Forms in Later Periods of the Mediterranean 310
Matteo Manfredini
Part VI Conclusion 325
17 Reassessing the Premodern Mediterranean Family 327
Geoffrey Nathan
Index 338
See More
Sabine R. Huebner is professor of ancient history at the University of Basel, Switzerland. She is the author of Family in Roman Egypt (2013) and Der Klerus in der Gesellschaft des spätantiken Kleinasiens (2005), as well as the co-editor of Inheritance, Law and Religion in the Ancient and Medieval Worlds (2014), The Encyclopedia of Ancient History (Wiley Blackwell, 2012), and Growing up Fatherless in Antiquity (2009).
Geoffrey Nathan
is a continuing Lecturer of Ancient History at the University of New South Wales. He has published extensively on the topic of family in the Late Antiquity. He is the author of
The Family in Late Antiquity, The Rise of Christianity and the Endurance of Tradition
(2000). His current projects focus on the Constantinopolitan aristocrat Anicia Juliana, and refugee crises in the Later Roman Empire.
See More