A Companion to Rawls
ISBN: 978-1-119-14456-4
600 pages
November 2015, Wiley-Blackwell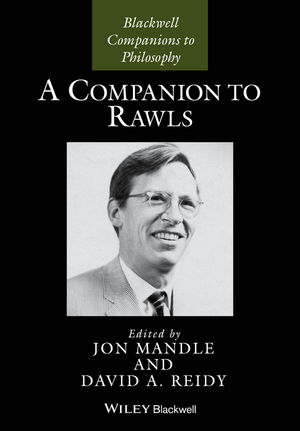 Wide ranging and up to date, this is the single most comprehensive treatment of the most influential political philosopher of the 20th century, John Rawls.
 An unprecedented survey that reflects the surge of Rawls scholarship since his death, and the lively debates that have emerged from his work
Features an outstanding list of contributors, including senior as well as "next generation" Rawls scholars
Provides careful, textually informed exegesis and well-developed critical commentary across all areas of his work, including  non-Rawlsian perspectives
Includes discussion of new material, covering Rawls's work from the newly published undergraduate thesis to the final writings on public reason and the law of peoples
Covers Rawls's moral and political philosophy, his distinctive methodological commitments, and his relationships to the history of moral and political philosophy and to jurisprudence and the social sciences
Includes discussion of his monumental 1971 book, A Theory of Justice, which is often credited as having revitalized political philosophy
See More
Notes on Contributors ix
Introduction 1
Jon Mandle and David A. Reidy
Part I Ambitions 7
1 From Philosophical Theology to Democratic Theory: Early Postcards from an Intellectual Journey 9
David A. Reidy
2 Does Justice as Fairness Have a Religious Aspect? 31
Paul Weithman
Part II Method 57
3 Constructivism as Rhetoric 59
Anthony Simon Laden
4 Kantian Constructivism 73
Larry Krasnoff
5 The Basic Structure of Society as the Primary Subject of Justice 88
Samuel Freeman
6 Rawls on Ideal and Nonideal Theory 112
Zofia Stemplowska and Adam Swift
7 The Choice from the Original Position 128
Jon Mandle
Part III A Theory of Justice 145
8 The Priority of Liberty 147
Robert S. Taylor
9 Applying Justice as Fairness to Institutions 164
Colin M. Macleod
10 Democratic Equality as a Work-in-Progress 185
Stuart White
11 Stability, a Sense of Justice, and Self-Respect 200
Thomas E. Hill, Jr
12 Political Authority, Civil Disobedience, Revolution 216
Alexander Kaufman
Part IV A Political Conception 233
13 The Turn to a Political Liberalism 235
Gerald Gaus
14 Political Constructivism 251
Aaron James
15 On the Idea of Public Reason 265
Jonathan Quong
16 Overlapping Consensus 281
Rex Martin
17 Citizenship as Fairness: John Rawls's Conception of Civic Virtue 297
Richard Dagger
18 Inequality, Difference, and Prospects for Democracy 312
Erin I. Kelly
Part V Extending Political Liberalism: International Relations 325
19 The Law of Peoples 327
Huw Lloyd Williams
20 Human Rights 346
Gillian Brock
21 Global Poverty and Global Inequality 361
Richard W. Miller
22 Just War 378
Darrel Moellendorf
Part VI Conversations with Other Perspectives 395
23 Rawls, Mill, and Utilitarianism 397
Jonathan Riley
24 Perfectionist Justice and Rawlsian Legitimacy 413
Steven Wall
25 The Unwritten Theory of Justice: Rawlsian Liberalism versus Libertarianism 430
Barbara H. Fried
26 The Young Marx and the Middle-Aged Rawls 450
Daniel Brudney
27 Challenges of Global and Local Misogyny 472
Claudia Card
28 Critical Theory and Habermas 487
Kenneth Baynes
29 Rawls and Economics 504
Daniel Little
30 Learning from the History of Political Philosophy 526
S.A. Lloyd
31 Rawls and the History of Moral Philosophy: The Cases of Smith and Kant 546
Paul Guyer
Index 567
See More
Jon Mandle is Professor in the Philosophy Department at the University at Albany (SUNY). He has published two books on the work of John Rawls and one on global justice. His work engages in political philosophy, ethics, the philosophy of social science, and their histories.
David A. Reidy is Professor and Head in the Department of Philosophy at the University of Tennessee. He works in political and legal philosophy with special attention to the work of John Rawls and to issues of global justice and human rights. With Rex Martin he co-edited (and contributed to) a volume on Rawls's "The Law of Peoples" recognized by the American Library Association with a "Choice Award."
See More
More in this series