E-book
Football's Secret Trade: How the Player Transfer Market was Infiltrated
ISBN: 978-1-119-14544-8
232 pages
March 2017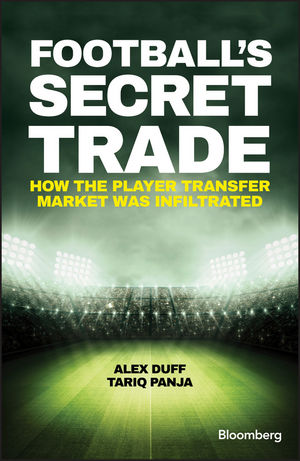 A no-holds-barred exposé on the financial transactions of the world's favourite sport
The transfer fees clubs pay to sign top players now top €4 billion a year but much of the money has been flowing out of the game. A small group of wealthy investors including Russian oligarchs, English racehorse owners and a former billionaire gold miner have seized the opportunity to enter this booming market.
Some have moved in on the territory of banks and lent money to clubs in exchange for a share in fees generated by Cristiano Ronaldo, Neymar and dozens more of today's stars. Others have acquired obscure teams to get a piece of the pie.
Even as the global financial crisis sent fortunes tumbling this select group found a profitable place to park their money. The size of the transfer market has continued to rise –- it increased seven-fold in value the last two decades, more than the FTSE share index.
Between them, these wealthy investors have amassed hundreds of millions of euros in profits. At the same time, they have managed to stay out of the spotlight the world's most popular sport brings.
Football's Secret Trade follows the money along a trail very few know about, from nondescript offices in the U.K. and ramshackle stadiums of South American clubs you have probably never heard of to offshore bank accounts in the Caribbean. Warning – you won't see a major transfer deal in the same light again.
See More
Prologue 1
1 The Son of Jesús 9
2 The Chess Champion 23
3 The British Tax Exile 41
4 An East End Scandal 53
5 The Prime Minister's Men 67
6 The 100-to-1 Shot 79
7 The Switzerland of South America 93
8 "Todo Pasa" 107
9 Buenos Aires to Manchester 121
10 "I Want 40% for the Boy" 137
11 The Pharmacist's Medicine 151
12 Working on a Dream 161
13 The Baur au Lac 175
14 The End Game? 187
Epilogue 199
Bibliography 207
Acknowledgments 209
About the Authors 211
Index 213
See More
ALEX DUFF is a senior communications expert for FIFPro, the international football players' union. He has worked as a reporter for UK newspapers and Associated Press in Rio de Janeiro and Bloomberg News in Madrid. He has exposed the business workings behind some of the biggest names in sport, including tennis player Rafael Nadal and the Amaury family, which owns the Tour de France.
TARIQ PANJA has worked as a reporter for the Manchester Evening News, Associated Press and Bloomberg News in London and Rio de Janeiro. He has broken news on some of the biggest stories in soccer, including the takeover of Liverpool, Manchester United's float on the New York Stock exchange and the unprecedented scandal that threatened to bring down FIFA. After covering Brazil's bumpy journey towards hosting the World Cup and Summer Olympics, Tariq has returned to the UK and is once again based in London.
See More