A Companion to the Philosophy of Time
ISBN: 978-1-119-14569-1
600 pages
November 2015, Wiley-Blackwell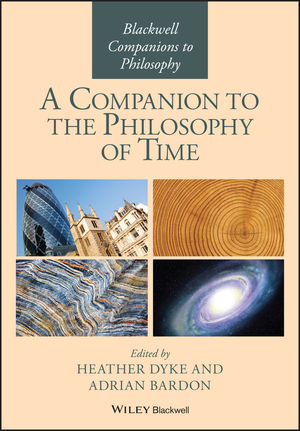 A Companion to the Philosophy of Time presents the broadest treatment of this subject yet; 32 specially commissioned articles - written by an international line-up of experts – provide an unparalleled reference work for students and specialists alike in this exciting field.
The most comprehensive reference work on the philosophy of time currently available
The first collection to tackle the historical development of the philosophy of time in addition to covering contemporary work
Provides a tripartite approach in its organization, covering history of the philosophy of time, time as a feature of the physical world, and time as a feature of experience
Includes contributions from both distinguished, well-established scholars and rising stars in the field
See More
Notes on Contributors xi
Acknowledgments xvii
Introduction 1
Heather Dyke and Adrian Bardon
Part I The History of the Philosophy of Time 7
1 Heraclitus and Parmenides 9
Ronald C. Hoy
2 Zeno's Paradoxes 30
Niko Strobach
3 Aristotle on Time and Change 47
Andrea Falcon
4 Determinism, Fatalism, and Freedom in Stoic Philosophy 59
Ricardo Salles
5 Creation and Eternity in Medieval Philosophy 73
Jon McGinnis
6 Newton's Philosophy of Time 87
Eric Schliesser
7 Classical Empiricism 102
Lorne Falkenstein
8 Kant and Time-Order Idealism 120
Andrew Brook
9 Husserl and the Phenomenology of Temporality 135
Shaun Gallagher
10 The Emergence of a New Family of Theories of Time 151
John Bigelow
11 The B-Theory in the Twentieth Century 167
M. Joshua Mozersky
Part II Time as a Feature of the Physical World 183
12 Time in Classical and Relativistic Physics 185
Gordon Belot
13 Time in Cosmology 201
Chris Smeenk
14 On Time in Quantum Physics 220
Jeremy Butterfield
15 Time in Quantum Gravity 242
Nick Huggett, Tiziana Vistarini, and Christian Wüthrich
16 The Arrow of Time in Physics 262
David Wallace
17 Time and Causation 282
Mathias Frisch
18 Time Travel and Time Machines 301
Douglas Kutach
19 The Passage of Time 315
Simon Prosser
20 Time and Tense 328
Heather Dyke
21 Presentism, Eternalism, and the Growing Block 345
Kristie Miller
22 Change and Identity over Time 365
Dana Lynne Goswick
Part III Time as a Feature of Human Experience 387
23 The Perception of Time 389
Barry Dainton
24 Transcendental Arguments and Temporal Experience 410
Georges Dicker
25 Memory 432
Jordi Fernández
26 Time in Mind 444
Julian Kiverstein and Valtteri Arstila
27 The Representation of Time in Agency 470
Holly Andersen
28 Temporal Indexicals 486
John Perry
29 Time – The Emotional Asymmetry 507
Caspar Hare
30 Evolutionary Explanations of Temporal Experience 521
Heather Dyke and James Maclaurin
31 Time and Freedom 535
Robin Le Poidevin
32 Time and Morality 549
Krister Bykvist
Index 563
See More
Heather Dyke is Associate Professor of Philosophy at the University of Otago in New Zealand. She has published many articles on the philosophy of time, and is the author of Metaphysics and the Representational Fallacy (2008), and editor of Time and Ethics: Essays at the Intersection (2003) and From Truth to Reality: New Essays in Logic and Metaphysics (2009).
Adrian Bardon is Associate Professor of Philosophy at Wake Forest University in Winston-Salem, North Carolina. He is the editor of The Future of the Philosophy of Time (2012) and author of A Brief History of the Philosophy of Time (2013).
See More
More in this series