Philosophy East / West: Exploring Intersections between Educational and Contemplative Practices
ISBN: 978-1-119-14733-6
208 pages
January 2016, Wiley-Blackwell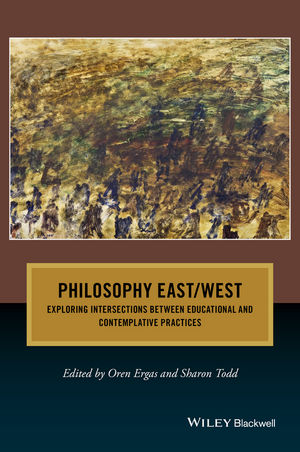 Philosophy East/West showcases new scholarship in the philosophy of education and contemplative studies, paying particular attention to the intersection of mindfulness, evidence-based science, and wisdom traditions.
Moves beyond simplistic explanations of "Eastern" and "Western" to explore the complexity and diversity of various wisdom traditions
Investigates the effect of mindfulness-based curricular interventions on current educational theory and practice
Uses insights from important Western philosophers—including Heidegger, Levinas, and Foucault—to situate contemplative practice within contemporary educational theory
Emphasizes the importance of transcultural and intercultural approaches in the philosophy of education
See More
Notes on Contributors vii
Introduction 1
Oren Ergas and Sharon Todd
1 On the Contemporary Applications of Mindfulness: Some Implications for Education 9
Terry Hyland
2 Contemplative Pedagogy and Mindfulness: Developing Creative Attention in an Age of Distraction 29
Aislinn O'Donnell
3 The Deeper Teachings of Mindfulness-Based 'Interventions' as a Reconstruction of 'Education' 47
Oren Ergas
4 Heidegger East and West: Philosophy as Educative Contemplation 68
David Lewin
5 Experiencing Change, Encountering the Unknown: An Education in 'Negative Capability' in Light of Buddhism and Levinas 90
Sharon Todd
6 Technologies of Self and the Cultivation of Virtues 107
Robert Hattam and Bernadette Baker
7 Intercultural Philosophy and the Nondual Wisdom of 'Basic Goodness': Implications for Contemplative and Transformative Education 129
Claudia Eppert, Daniel Vokey, Tram Truong Anh Nguyen, and Heesoon Bai
8 Reuniting Virtue and Knowledge 152
Tom Culham
9 Improvisation and Meditation in the Academy: Parallel Ordeals, Insights, and Openings 172
Edward Sarath
Index 000
See More
Oren Ergas lectures at the School of Education at the Hebrew University and at a number of teacher colleges in Israel. His research focuses on curricular and pedagogical aspects of contemplative education. His work has been published widely in peer-reviewed journals and books, including Critical Studies in Education, Paideusis, The Journal of Transformative Education, The Routledge International Handbook for Education, Religion and Values (2013) and New Social Foundations: Education in Post-Secular Society (2015).
Sharon Todd is Professor of Education at Maynooth University, Ireland. She has written extensively on ethical relations, the politics of education, feminism, and issues of cultural difference and social justice. She is the author of Toward an Imperfect Education: Facing Humanity, Rethinking Cosmopolitanism (2009) and Learning from the Other: Levinas, Psychoanalysis and Ethical Possibilities in Education (2003) and is the co-editor of Re-imagining Educational Relationships: Ethics, Politics and Practices (Wiley, 2014).
See More
More in this series