Accelerating Performance: How Organizations Can Mobilize, Execute, and Transform with Agility
ISBN: 978-1-119-14749-7
352 pages
January 2017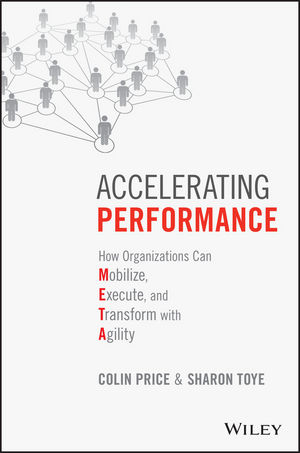 Transform your organization into a dynamic catalyst for success
Accelerating Performance is not just another "warm and fuzzy" change management book—it's a practical, comprehensive, data-driven action plan for picking up the pace and achieving more. Co-written by one of the authors of Beyond Performance, this book draws on a combination of empirical research and decades of experience advising global companies to show you how to reduce time to value by building and changing momentum more quickly than your competitors.
The META framework (short for Mobilize, Execute, and Transform with Agility) offers advice for leading change at four levels: strategy, the organization, teams, and individuals. In addition to step-by-step guidance toward assessment, planning, and implementation, the book offers:
A diagnostic tool for leaders, teams, and organizations to assess their starting place, and highlight the specific areas needed to improve the ability to accelerate performance.
A detailed look at the factors proven to create drag—and drive—at each of the four levels: strategy, organizations, teams, and individuals.
An exploration of the 39 differentiating actions that organizations can combine as dictated by their strategy and context into a winning recipe.
A closer look at the practices of 23 "superaccelerators," a global (and perhaps unexpected) mix of companies that have demonstrated a consistent ability to accelerate performance.
A single taste of success is all it takes to spark change, but the hard work of following through requires constant vigilance—and a plan. Learn how to capture that drive, bottle it, and use it to sustain motivation, inspiration, and achievement. Deliver at the highest level, and then turn around and do even better next time. Accelerating Performance gives leaders a step-by-step framework for taking action and transforming their organizations, teams, and even themselves—starting today.
See More
Foreword xi
Acknowledgments xv
About the Authors xvii
Introduction 1
SECTION I MOVE FAST OR DIE FASTER 5
CHAPTER 1 The Soft Stuff Really Is the Hard Stuff 7
CHAPTER 2 How to Increase Your METAbolic Rate 17
CHAPTER 3 A Learning Laboratory 31
CHAPTER 4 Our Journey to META 41
CHAPTER 5 What's Your Current Pace?: A Diagnostic 55
SECTION II THE ACCELERATION IMPERATIVE 63
CHAPTER 6 Accelerating Strategy: Less Plan, More Planning 65
CHAPTER 7 Accelerating Organizations: Turning Drag into Drive 85
CHAPTER 8 Accelerating Teams: Capability Equals Ability Minus Ego 123
CHAPTER 9 Accelerating Leaders: The Leader Sets the Pace 149
SECTION III HOW TO START 165
CHAPTER 10 Finding the Right Recipe 167
CHAPTER 11 The ABC of Behavior Change 181
CHAPTER 12 Change the People or Change the People 199
CHAPTER 13 The Board as Catalyst 211
SECTION IV THE FOUR KEY SKILLS 223
CHAPTER 14 Ripple Intelligence: Join the Dots 225
CHAPTER 15 Resource Fluidity: Match Resources to Opportunities 237
CHAPTER 16 Dissolving Paradox: Reframe the Issue 249
CHAPTER 17 Liquid Leadership: Connect Beyond Hierarchy 263
CHAPTER 18 Conclusion: It's More than a Program 273
Research Appendix 291
Index 317
See More
COLIN PRICE is an executive vice president and the global managing partner of the Leadership Consulting Practice at Heidrick & Struggles. He has advised many of the world's largest companies, as well as a number of national governments and charitable institutions. He is the coauthor of several books, including Beyond Performance.
SHARON TOYE is a partner in Heidrick & Struggles' London office and a member of the Leadership Consulting Practice. An organizational development expert, qualified psychotherapist, and skilled consultant, she has more than 20 years of experience as an executive and top-team coach.
See More