E-book
Day Trading Stocks the Wall Street Way: A Proprietary Method For Intra-Day and Swing Trading
ISBN: 978-1-119-15049-7
256 pages
August 2015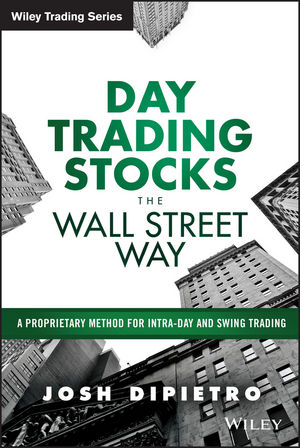 Avoid bogus trading systems, learn from a real day trader, and make consistent profits day trading stocks
Day Trading Stocks the Wall Street Way: A Proprietary Disclosure on Intra-Day Trading and Swing Trading Equities provides a real-world guide to successful day trading, and gives you the tools, techniques, and tested, reliable methods you need to trade like the pros. Written by a seventeen-year day trading veteran, this guide talks you down from the industry hype to give you a realistic grounding in self-discipline, consistency, and patience while teaching you the hard skills you need to have a real chance of success.
Avoid losses by swerving from the typical beginner's path of seminars, software, and major brokerage houses, and instead develop the insights that lead to real, long-term profits. With an engaging and humorous tone, the author relates his own experiences and lessons learned to teach you the do's, the don'ts, and the ingredients for success. You'll discover Josh DiPietro's FUSION TRADING SYSTEM—a proven method developed from years of reliability testing. He'll show you how intra-day setups and swing trading setups can be merged to develop a perfect trade.
The surest path to failure and tremendous financial loss begins with the over-eager, overly optimistic amateur trader who sees day trading as a quick and easy path to wealth. This book gives you a much more realistic outlook, and the fundamentals you need to make the most of the market.
Get an honest perspective on real-world day trading
Gain the wisdom of experience and avoid common pitfalls
Learn the framework to Josh Dipietro's profitable FUSION TRADING SYSTEM
A poorly defined trading approach will cost you more money than you will make, rendering your day trading venture a potentially damaging net loss. Day Trading Stocks the Wall Street Way: A Proprietary Disclosure on Intra-Day Trading and Swing Trading Equities teaches you the avoidance of loss, the discipline, and the transparent strategies of success, so you can play the market to win.
See More
Author's Note xi
Three Essential Prerequisites xiii
Introduction xv
Discovering Day Trader Josh xxv
Acknowledgments xxxvii
PART I MASTERING YOURMINDSET BEFORE YOU ABSORB THE SYSTEM BY DAY TRADER JOSH 1
LESSON 1 Control of Emotions and Mastery of Focus 3
LESSON 2 How Overconfidence Can Destroy Your Trade 6
LESSON 3 Dealing with Your Impatience 8
LESSON 4 Knowing When to Stop Trading 10
LESSON 5 Risk Management: Buying Power versus Capital 12
LESSON 6 Avoiding Overexposure to Market Risk 15
LESSON 7 Budgeting Your Way to Profitability 18
LESSON 8 A Realistic Look at Stop-Loss 20
LESSON 9 Day Trading Is Not Gambling 23
LESSON 10 Consistency Rules! 26
LESSON 11 News versus Noise 28
LESSON 12 When It Comes to Averaging Down, Amateurs Beware! 31
LESSON 13 What Stocks to Trade and Why 33
LESSON 14 Picking the Right Online Broker 38
PART II DAY TRADER JOSH'S INTRA-DAY TRADINGMETHODOLOGY 43
CHAPTER 1 Basic Procedure 45
The Best Stocks to Trade with My System 45
Additional Reasons Why You Should Take Only 15 Cents on Each Trade 49
CHAPTER 2 Prior Price Levels and Newly Forming Intra-Day Levels 53
The Basics of One-Minute Candlestick Chart Reading 55
Get Your Daily Price Levels Logged and Organized 67
What to Do After You Have Your List of Daily High Price Levels and Daily Low Price Levels 68
Log Your Prior Price Levels on a Whiteboard Before the Opening Bell 70
Now You Start the Five-Candlestick Counting Process 74
How to Count Five Minimum Candlesticks (Chart Analysis) 75
Notes, Reminders, Cautions, and Hints of the Lessons to Come 76
CHAPTER 3 Intra-Day Golden Rules: Entry/Exit Setups 78
The Rules Explained 79
Mastering the Three-Tier Max Strategy with 100-Share Block Trades 84
Understanding the Wisdom of 15-Cent Static Profits 86
Observing the Framework of Entry and Exit Strategy with Step-by-Step Procedures and Guidelines 88
Entry Strategy 90
Exit Strategy 91
The Wisdom of Using Strategy Stop-Loss 92
CHAPTER 4 The Mechanics of FASTKEY Order Execution 96
Using Your Keyboard Keys for Rapid Order Execution 96
Placing Orders Directly from a Level 2 Quote Chart (Direct Access) 97
Executing Real-Time Trades (Manual Limit Orders) 100
Scrutinizing Both Real-Time and End-of-Day Trades with Back-Testing 102
PART III DAY TRADER JOSH'S SWING TRADING METHODOLOGY 107
CHAPTER 5 Introduction to Swing Trading: Basic Rules and Procedures 109
Introducing the Ten-Day Hold Rule 111
How to Determine the First-Tier Swing Level 112
Understanding Entry and Exit Setup Rules 115
Two Key Swing Rules to Follow 118
Buying Power and Trading Experience Dictate Your Swing Strategy 121
Here's the Good News! 122
CHAPTER 6 Sample Swing Charting Setups 124
The 5 Percent Bubble 126
Swing Trade Setups 129
PART IV THE FUSION OF INTRA-DAY AND SWING STRATEGIES 137
CHAPTER 7 Introduction to Fusion Trading 139
Why Are They Not Mutually Exclusive? 140
Applying the Golden Rules 144
Deciding Your Trading Options: Intra-Day Only, Swing Only, or Fusion? 148
CHAPTER 8 Sample Fusion Trade Setups 150
Sample Fusion Trade #1 152
Sample Fusion Trade #2 156
Sample Fusion Trade #3: An Advanced Fusion Trade 160
FinalWords on Fusion Trading 169
PART V ADVANCED RULES AND PROCEDURES 171
CHAPTER 9 Maximizing Net Profits and Minimizing Losses on Overall Trade Setups 173
What Is Pivot Trading? 175
Sideline Trading 178
Earnings Release Trading 181
PART VI TRADING AND TRAININGWITH DAY TRADER JOSH 187
CHAPTER 10 My Trading Room and How It Works 189
CHAPTER 11 The Day Trader Josh Training Program 195
Program Details 196
Learning Objectives 197
What the Price Includes 199
Recap 199
About the CompanionWebsite 200
My Final Words to Readers: Warnings, Reminders, and Prospects for the Future 201
Index 207
See More
JOSH DIPIETRO is a professional day trader who started out in 1998, over seventeen years ago making the rounds at private equity trading floors in the Financial District of Manhattan. He is the author of The Truth About Day Trading Stocks, as well as numerous articles, all of which support his passion for educating tomorrow's trader. Josh operates his online trading room and coaching program, where he can be reached at www.EmailDayTraderJosh.com and www.DayTraderJosh.com or at 1399 9th Avenue #1211 San Diego, CA 92101.
See More
More in this series