Engagement: Transforming Difficult Relationships at Work
ISBN: 978-1-119-15083-1
208 pages
April 2016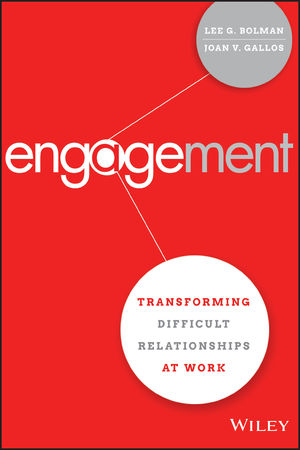 Master the interpersonal side of management to enhance productivity and boost success
Engagement is the manager's essential primer for dealing with difficult people and managing your team. Bestselling authors Lee G. Bolman and Joan V. Gallos are back with an engaging business novella that relates real, practical techniques captured in the 4-step SURE model for handling people problems. The story centers around a manager in a new job, and her experiences applying the four steps in leading her new team. Brief interludes punctuate the story throughout to provide room for reflection, and to explain the complex interpersonal dynamics at play in commonly encountered situations. Key lessons are underscored as the foundation for a sound people strategy, and the features and details of each rule are laid out in a clear, concise manner. You'll learn alongside the story's manager as she uses the model to find artful solutions to problems that could have easily derailed her chances of success.
People are the hardest part of a manger's job. No matter how well-matched their skill sets, there is always the potential for interpersonal conflicts and strains to throw the team off-course. This book shows you deft strategies for addressing those challenges with a well thought-out framework for getting your team fully invested in the group's success.
Find creative solutions to persistent issues
Dig into the interpersonal dynamics at work
Learn how to handle—and manage—difficult people
Apply key strategies for engaging the team
This compact, easy-to-apply set of guidelines draws on your leadership skills while providing a strong foundation for a new managerial approach. Effective management is frequently a tightrope between results and morale, and Engagement shows you how to find your balance and steady your team.
See More
PREFACE xiii
INTRODUCTION xvii
SURE Rules of Engagement xx
How to Use This Book xxv
PART I REALITY 1
CHAPTER 1 The Choice 3
CHAPTER 2 The Boss 5
CHAPTER 3 A Single Step 7
INTERLUDE 1 Coping with Bullies 8
PART II BEGINNINGS ARE EVERYTHING 15
CHAPTER 4 The Motley Crew 17
CHAPTER 5 SOS 20
CHAPTER 6 The Ally 23
INTERLUDE 2 Managing the Boss 25
PART III COMPLEX CHARACTERS 33
CHAPTER 7 Madison 35
CHAPTER 8 Data 39
CHAPTER 9 Underperforming 41
CHAPTER 10 The Check-in 44
INTERLUDE 3 Learning with Tenacity 49
PART IV THE PLOT THICKENS 55
CHAPTER 11 Clarity 57
CHAPTER 12 Checking It Twice 59
CHAPTER 13 Production 62
INTERLUDE 4 Leading with Purpose 65
PART V FIX OR FOLD 71
CHAPTER 14 Sales 73
CHAPTER 15 A Warning from Michael 77
CHAPTER 16 Hate Your Boss? 79
CHAPTER 17 In Sheep's Clothing 82
CHAPTER 18 Fire Your Star? 86
CHAPTER 19 Back to the Boss 90
INTERLUDE 5 Move On? Push Out? 92
PART VI TEAM WORK 99
CHAPTER 20 The Game Plan 101
INTERLUDE 6 A SURE Tour de Force 106
PART VII A HAPPY ENDING? 111
CHAPTER 21 The New Boss 113
EPILOGUE THE SURE ROUTE TO SUCCESS: ENGAGEMENT 117
The SURE Principles: Remember the Basics 120
Conclusion 125
THE SKILLS OF ENGAGEMENT TUTORIAL 126
Stop, Look, and Learn 128
Unhook 136
Revise the Script 146
Engage—Evolve or Exit 150
NOTES 155
ACKNOWLEDGMENTS 166
ABOUT THE AUTHORS 169
INDEX 173
See More
LEE G. BOLMAN holds the Marion Bloch Missouri Chair in Leadership at the Henry W. Bloch School of Management at the University of Missouri – Kansas City. He is the coauthor of How Great Leaders Think; Reframing Organizations; The Wizard and the Warrior; and Leading with Soul, all from Jossey-Bass.
JOAN V. GALLOS is professor of leadership at Wheelock College, where she also served as Vice President for Academic Affairs. Gallos is coauthor of Teaching Diversity: Listening to the Soul, Speaking from the Heart; editor of both Organization Development: A Jossey-Bass Reader and Business Leadership: A Jossey-Bass Reader (second edition); and creator of the teaching materials for the full Jossey-Bass Reader Series.
BOLMAN and GALLOS are the co-authors of Reframing Academic Leadership, also published by Jossey-Bass.
See More