E-book
Health Information Management: Principles and Organization for Health Information Services, 6th Edition
ISBN: 978-1-119-15121-0
312 pages
March 2017, Jossey-Bass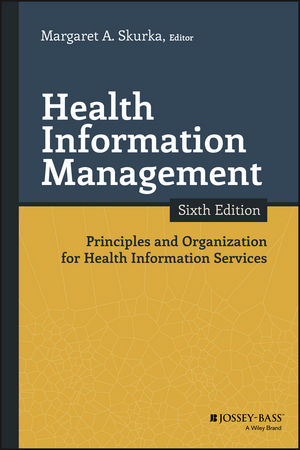 The Updated and Extensively Revised Guide to Developing Efficient Health Information Management Systems
Health Information Management is the most comprehensive introduction to the study and development of health information management (HIM). Students in all areas of health care gain an unmatched understanding of the entire HIM profession and how it currently relates to the complex and continuously evolving field of health care in the United States.
This brand-new Sixth Edition represents the most thorough revision to date of this cornerstone resource. Inside, a group of hand-picked HIM educators and practitioners representing the vanguard of the field provide fundamental guidelines on content and structure, analysis, assessment, and enhanced information. Fully modernized to reflect recent changes in the theory and practice of HIM, this latest edition features all-new illustrative examples and in-depth case studies, along with:
Fresh and contemporary examinations of both electronic and print health records, data management, data privacy and security, health informatics and analytics, and coding and classification systems
An engaging and user-friendly pedagogy, complete with learning objectives, key terms, case studies, and problems with workable solutions in every chapter
Ready-to-use PowerPoint slides for lectures, full lesson plans, and a test bank for turnkey assessments
A must-have resource for everyone in health care, Health Information Management, Sixth Edition, puts everything you need at your fingertips.
See More
About the Editor vii

About the Contributors ix

Preface xv

Acknowledgments xvii
1 Health Information Management and the Healthcare Institution 1
Felecia Williams
2 Health Record Content and Structure of the Health Record 25
Linda Galocy
3 The Health Record: Electronic and Paper 55
Linda Galocy
4 Healthcare Topics in Data Governance and Data Management 81
Dilhari R. DeAlmeida and Suzanne Paone
5 Health Law, Data Privacy and Security, Fraud, and Abuse 105
Dorinda M. Sattler
6 Informatics, Analytics, Data Use, and System Support 143
Dorinda M. Sattler
7 Coding, Compliance, and Classification Systems 171
Sandra K. Rains, Margaret A. Skurka, and Margie White
8 Clinical Documentation Improvement 205
Sandra K. Rains
9 Revenue Cycle and Reimbursement 227
Karen Wright
10 Strategic, Financial, and Organizational Management 253
Janelle Wapola and Katie Kerr
Index 283
See More
MARGARET A. SKURKA, MS, RHIA, CCS is a Professor and Director of the Health Information Technology Program at Indiana University Northwest in Gary. She has served as Assistant Dean and Department Chair of HIM for the past 40-plus years at the university. She has been actively involved in the American Health Information Management Association for her entire career and is a recipient of its highest honor of Distinguished Member. Most recently, she was named a Chancellor's Professor by Indiana University Northwest, one of its highest honors.
See More