A Collection of Surveys on Savings and Wealth Accumulation
ISBN: 978-1-119-15838-7
312 pages
May 2016, Wiley-Blackwell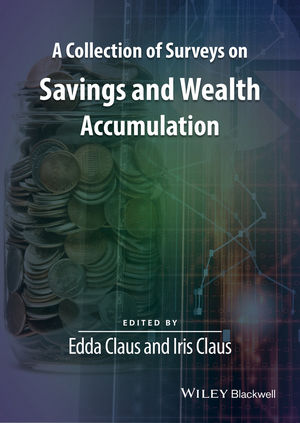 In this collection of critical surveys the reader is provided with a range of up-to-date work from some of the leading scholars in the area, writing on private and public sector aspects of savings and wealth accumulation.
A survey of savings and wealth accumulation which are important dimensions of research and policy debates
Discusses the measurement of genuine savings and sustainability, the estimation of wealth inequality, and recent developments in consumer credit and defaults
Evaluates the impact of student loans on financial well-being, people's retirement decisions, and the impact of pension reform
Considers the distribution of wealth across generations and the importance of accurately measuring government debt, the rise of sovereign wealth funds and Islamic banking and finance
See More
1. Savings and Wealth Accumulation: Measurement, Influences and Institutions 1
Edda Claus and Iris Claus
2. Recent Developments in Consumer Credit and Default Literature 9
Igor Livshits
3. Student Debt Effects on Financial Well-Being: Research and Policy Implications 33
William Elliott and Melinda Lewis
4. Islamic Banking and Finance: Recent Empirical Literature and Directions for Future Research 59
Pejman Abedifar, Shahid M. Ebrahim, Philip Molyneux and Amine Tarazi
5. Wealth Inequality: A Survey 93
Frank A. Cowell and Philippe Van Kerm
6. Defining the Government's Debt and Deficit 139
Timothy C. Irwin
7. Rise of the Fiduciary State: A Survey of Sovereign Wealth Fund Research 163
William L. Megginson and Veljko Fotak
8. Genuine Savings and Sustainability 213
Nick Hanley, Louis Dupuy and Eoin McLaughlin
9 Savings in Times of Demographic Change: Lessons from the German Experience 245
Axel Börsch-Supan, Tabea Bucher-Koenen, Michela Coppola and Bettina Lamla
10. Economic Determinants of Workers' Retirement Decisions 271
Courtney C. Coile
Index 297
See More
Edda Claus is an Assistant Professor at Wilfrid Laurier University (WLU) and a Research Associate with the Centre for Applied Macroeconomic Analysis (CAMA) at the Australian National University (ANU). Prior to joining WLU, Edda was a Research Fellow at the University of Melbourne. She was a Post-doctoral Research Fellow in Finance at Trinity College Dublin and a visiting PhD Scholar at Cambridge University, United Kingdom. She has also worked as an Economist with the Australian Commonwealth Treasury and the Canadian Department of Finance.
Iris Claus is the Macroeconomic Advisor at the Pacific Financial Technical Assistance Center of the International Monetary Fund in Fiji. She previously held policy and research positions at the Asian Development Bank, the New Zealand Inland Revenue, the New Zealand Treasury, the Reserve Bank of New Zealand, and the Bank of Canada. She is on the editorial boards of the Journal of Economic Surveys and Asian Economic Papers and Senior Fellow at the University of Waikato, New Zealand.
See More
More in this series