Roll-to-Roll Manufacturing: Process Elements and Recent Advances
ISBN: 978-1-119-16220-9
416 pages
March 2018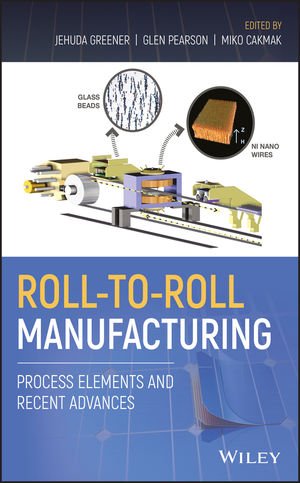 A single-volume resource featuring state-of-the art reviews of key elements of the roll-to-roll manufacturing processing methodology
Roll-to-roll (R2R) manufacturing is an important manufacturing platform used extensively for mass-producing a host of film-type products in several traditional industries such as printing, silver-halide photography, and paper. Over the last two decades, some of the methodologies and know-how of R2R manufacturing have been extended and adapted in many new technology areas, including microelectronics, display, photovoltaics, and microfluidics. This comprehensive book presents the state-of-the-art unit operations of the R2R manufacturing platform, providing a good resource for engineers and practitioners not familiar with the fundamentals of R2R technology.
Roll-to-Roll Manufacturing: Process Elements and Recent Advances reviews new developments in areas such as flexible glass, display, and photovoltaics and covers a number of process innovations implemented recently to extend and improve the capabilities of traditional R2R lines. It covers such topics as: wet coating; drying; in-line photolithography; conveyance and roller dynamics; finishing (slitting, cutting, chopping, etc.); substrates; core-set curl and winding effects; priming and adhesion; R2R for biomedical applications; process control; in-line vacuum coating and CVD; electrostatic effects and anti-static control; and more.
Examines key elements (unit operations) of the R2R technology, and how these elements are utilized and integrated to achieve desired process efficiencies in a host of applications
Illustrates several established and novel application areas where R2R processing is utilized in current or future products
Discusses process design methodology and key advantages of R2R manufacturing process technologies
Roll-to-Roll Manufacturing: Process Elements and Recent Advances is an ideal book for undergraduate and graduate students in various science and engineering disciplines, as well as for scientists, engineers, and technical and business leaders associated in any way with the development, commercialization, and manufacture of a variety of film products.
See More
1. Introduction
2. Wet coating
3. Drying
4. In-line photolithography
5. Conveyance and roller dynamics
6. Finishing (slitting, cutting, chopping….)
7. Substrates (physical and mechanical properties)
8. Core-set curl (bending recovery) and winding effects
9. Priming and adhesion
10. Process control
11. In-line vacuum coating and CVD
12. Electrostatic effects and anti-static control
13. R2R for biomedical applications
14. Flexible photovoltaic film manufacture by R2R technology
15. Use of R2R methodology in nanotechnology applications
16. Optical films by R2R processing
17. R2R process economics
See More
Jehuda Greener, PhD, is an independent consultant specializing in film technologies and polymeric materials and processes with emphasis on the display and microelectronic industries.
Dr. Glen Pearson, PhD, retired from the Eastman Kodak Company, has dedicated his time to inspire students about science, technology, engineering and math as part of the SME Education Foundation and as a Regional Director for FIRST (For Inspiration and Recognition of Science and Technology).
Mukerrem ("Miko") Cakmak, PhD, is the Reilly Chaired Professor of Materials and Mechanical Engineering at Purdue University, and is currently developing new roll-to-roll lines at Purdue's Birck Nanotechnology Center.
See More