E-book
Transcending Subjects: Augustine, Hegel, and Theology
ISBN: 978-1-119-16302-2
256 pages
February 2016, Wiley-Blackwell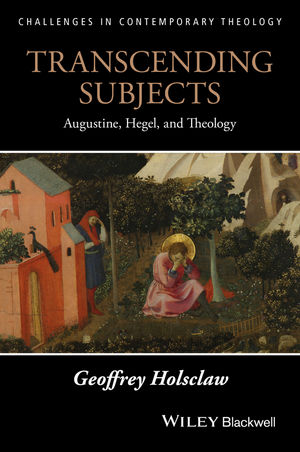 Transcending Subjects: Augustine, Hegel and Theology engages the seminal figures of Hegel and Augustine around the theme of subjectivity, with consideration toward the theology and politics of freedom.

See More
Acknowledgements ix
Citations and Abbreviations x
Introduction 1
Part I Hegel—Self-Transcending Immanence 15
1 Hegel in Contemporary Political Philosophy 17
Introduction 17
Evolutionary Social Practices: Autonomy through Sociality 19
Revolutionary Radical Act: Autonomy against Sociality 27
Conclusion 38
2 Consciousness and Freedom: Logic and Phenomenology of Spirit 43
Introduction 43
Nothing Is Infinite: Science of Logic 45
Infinite Self?]Consciousness: Phenomenology of Spirit 62
Beyond Nothing and the Unfathomable 89
Conclusion 93
3 Society and Freedom: Philosophy of Right 103
Introduction 103
The Subject and Substance of Politics 104
The Institutions of Ethical Life: Family, Civil Society, and State 115
The Limits of Self-Transcending Immanence 118
Conclusion 124
Part II Augustine—Self-Immanenting Transcendence 129
4 Augustine in Contemporary Political Theology 131
Introduction 131
Ontological Peace: Transcendence against Liberalism 133
Ordered Love: Transcendence for Liberalism 144
Conclusion 151
5 Conversion and Freedom: Confessions 155
Introduction 155
Conversion of the Will: Conflict and Intervention 160
Conversion of the Will: Community and Intervention 169
Conversion of Creation: Christ as Intervention 178
Conclusion 185
6 Society and Freedom: City of God 192
Introduction 192
Earthly City and the Lust for Domination 198
Justice and Res Publica 205
Justice, Love, and Sacrifice 208
Love and the World 215
Conclusion 222
Conclusion 230
Index 239
See More
Geoffrey Holsclaw is an Affiliate Professor of Theology and Director of Master of Arts in Theology and Mission at Northern Seminary. He is the co-author of Prodigal Christianity (2013), as well as the author of articles in theology and political philosophy, examining major figures such as Hobbes, Badiou and ?i?ek, and integrating Eucharistic and Trinitarian themes to political practice.
See More
More in this series