Make the Deal: Negotiating Mergers and Acquisitions
ISBN: 978-1-119-16350-3
320 pages
February 2016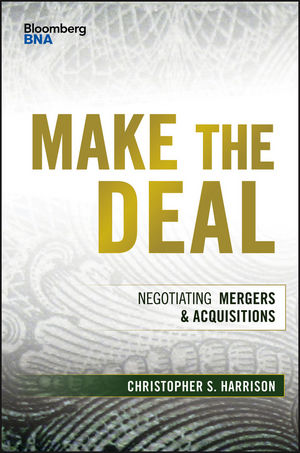 A comprehensive introduction to today's M&A strategies
Make the Deal is a direct and accessible guide to striking a powerful M&A deal. Merging business, finance, and law, this insightful examination of M&A strategy is designed to help you understand M&A negotiations and the ways in which the final outcome affects your financial future. A general overview of an acquisition agreement framework segues into a more detailed discussion of different deal structures, including stock sales, mergers, asset sales, and complex structures, giving you the information you need to know when each one applies best in practice. You'll gain insight into real-world negotiations and the delicate balancing act that occurs as each party attempts to maximize value and minimize risk, and learn the potential pitfalls that can occur. Negotiation statistics and samples from actual contracts back the war stories throughout, and reinforce the idea that there's no single perfect solution.
As a topic of study, M&A is constantly evolving; in practice, it changes at the speed of light. Staying ahead of the market is the single most critical element of making the best deal, and the strategy that worked for one deal most likely won't work for the next. Instead of simply providing a list of strategies that have worked in the past, this book shows you why they worked, so you can tailor your strategy specifically to your next deal.
Learn how M&A contract terms affect economic outcomes
Examine the techniques and mechanics of today's acquisition agreements
Develop a legal framework that supports your business strategy
Follow the ups and downs that arise in real-world cases
A successful M&A transaction requires both attention to detail and a big picture view, combined with skill, intellect, and ingenuity. Make the Deal brings it all together to show you how to run the table and come away with a win.
See More
About the Author vii
CHAPTER 1 Introduction to Deal-Making 1
Deal-Making in Practice
CHAPTER 2 Setting Up the Deal 7
Overview and Confidentiality Agreements
CHAPTER 3 Setting Up the Deal 33
Key Provisions and Agreements
CHAPTER 4 Architecture of the Acquisition Agreement 55
CHAPTER 5 Purchase Price 67
CHAPTER 6 Representations and Warranties 87
CHAPTER 7 Covenants 117
CHAPTER 8 Closing Conditions 131
CHAPTER 9 Termination Rights 149
CHAPTER 10 Material Adverse Effect 161
CHAPTER 11 Equity and Debt Commitment Letters 181
CHAPTER 12 Financing Risk 187
CHAPTER 13 Topping a Public Merger 217
CHAPTER 14 Indemnities 245
CHAPTER 15 Dispute Resolution 273
CHAPTER 16 Structuring M&A Deals 281
Index 309
See More
CHRISTOPHER S. HARRISON currently serves as Chief Investment Officer of The Falconwood Corporation, a financial management firm and research laboratory that has incubated and operated numerous highly successful financial and technological ventures.
Having managed billions of dollars in successful investment transactions, including debt, equity, and real asset ventures, Mr. Harrison earned a reputation as a superb negotiator and business strategist. During his eight years at Cravath Swaine & Moore, one of the world's most prestigious law firms, he handled numerous high-profile debt, equity, and M&A deals. As Co-Head of the market-leading asset management M&A practice at Schulte Roth & Zabel, the premier investment management law firm, he ran some of the most sophisticated public and private deals and facilitated the strategic growth of several prominent financial services and asset management businesses.
Mr. Harrison teaches popular courses at NYU School of Law on the financial and legal aspects of negotiating and investing in business transactions. He is a regular speaker at industry conferences and webinars.
He holds a JD degree, cum laude, from NYU School of Law, where he focused on law and economics.
See More
More in this series