E-book
Practical Lighting Design with LEDs, 2nd Edition
ISBN: 978-1-119-16532-3
304 pages
March 2017, Wiley-IEEE Press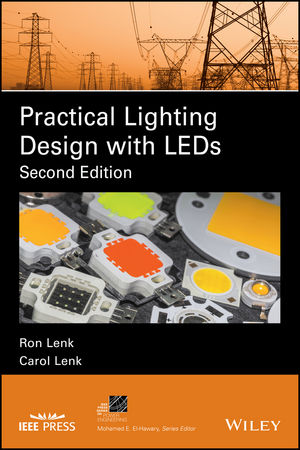 The essential how-to guide to designing and building LED systems, revised and updated
The second edition of Practical Lighting Design with LEDs has been revised and updated to provide the most current information for developing light-emitting diodes products. The authors, noted authorities in the field, offer a review of the most relevant topics including optical performance, materials, thermal design and modeling and measurement. Comprehensive in scope, the text covers all the information needed to design LEDs into end products.
The user-friendly text also contains numerous drawings and schematics that show how things such as measurements are actually made, and show how circuits actually work. Designed to be practical, the text includes myriad notes and illustrative examples that give pointers and how-to guides on many of the book's topics. In addition, the book's equations are used only for practical calculations, and are kept at the level of high-school algebra. This thoroughly expanded second edition offers:
New chapters on the design of an LED flashlight, USB light, automotive taillight, and LED light bulbs
A practical and user-friendly guide with dozens of new illustrations
The nitty-gritty, day-to-day engineering and systems used to design and build complete LED systems
An essential resource on the cutting-edge technology of Light-Emitting Diodes
Practical Lighting Design with LEDs helps engineers and managers meet the demand for the surge in usage for products using light-emitting diodes with a practical guide that takes them through the relevant fields of light, electronic and thermal design.
See More
ABOUT THE AUTHORS IX
PREFACE XI
FIGURES XIII
CHAPTER 1 PRACTICAL INTRODUCTION TO LEDs 1
CHAPTER 2 LIGHT BULBS AND LIGHTING SYSTEMS 13
CHAPTER 3 PRACTICAL INTRODUCTION TO LIGHT 25
CHAPTER 4 PRACTICAL CHARACTERISTICS OF LEDs 43
CHAPTER 5 PRACTICAL THERMAL PERFORMANCE OF LEDs 57
CHAPTER 6 PRACTICAL THERMAL MANAGEMENT OF LEDs 65
CHAPTER 7 PRACTICAL DC DRIVE CIRCUITRY FOR LEDs 75
CHAPTER 8 PRACTICAL AC DRIVE CIRCUITRY FOR LEDs 91
CHAPTER 9 PRACTICAL SYSTEM DESIGN WITH LEDs 121
CHAPTER 10 PRACTICAL DESIGN OF AN LED FLASHLIGHT 135
CHAPTER 11 PRACTICAL DESIGN OF A USB LIGHT 161
CHAPTER 12 PRACTICAL DESIGN OF AN AUTOMOTIVE TAIL LIGHT 185
CHAPTER 13 PRACTICAL DESIGN OF AN LED LIGHT BULB 207
CHAPTER 14 PRACTICAL MEASUREMENT OF LEDs AND LIGHTING 225
CHAPTER 15 PRACTICAL MODELING OF LEDs 245
REFERENCES 267
INDEX 269
See More
RON LENK is an authority in the fields of power electronics, power systems, and LED drivers. The author of the bestselling Practical Design of Power Supplies (Wiley-IEEE Press), he has spent the last twelve years working on LEDs and lighting. Ron Lenk cofounded and was CEO at Switch Light, Inc. which made general-service LED light bulbs, and now is a consultant in the fields of power and LEDs. He is a Senior Member of the IEEE and has 35 issued US patents.
CAROL LENK was the cofounder and Director of Engineering at Switch Light, Inc. She earned a B.S. in electrical engineering from MIT and a master's in math and science education. One of the pioneers in applying LEDs to general lighting, Carol Lenk has ten years experience combining theoretical concepts with practical engineering in fields as diverse as optics, thermal modeling, material science, electronics, and mechanical design. She is a now a consultant in the field of LEDs and has nine issued US patents, all relating to LED lighting.
See More
More in this series