Leading Collaborative Architectural Practice
ISBN: 978-1-119-16924-6
336 pages
March 2017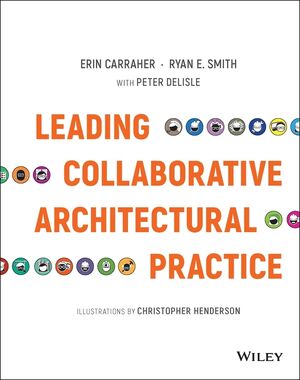 The groundbreaking guide to modern leadership in architectural practice
Leading Collaborative Architectural Practice is the leadership handbook for today's design and construction professionals. Endorsed by the American Institute of Architects, this book describes the collaborative approach to leadership that is becoming increasingly prevalent in modern practice; gone are the days of authoritative "star" architects— today's practice is a brand, and requires the full input of every member of the team. This book builds off of a two-year AIA research project to provide a blueprint for effective leadership: the ability, awareness, and commitment to lead project teams who work together to accomplish the project's goals. Both group and individual hands-on exercises help facilitate implementation, and extensive case studies show how these techniques have helped real-world firms build exemplary success through collaborative teamwork and leadership.
Highly illustrated and accessible, this approach is presented from the practicing architect's point of view—but the universal principles and time-tested methods also provide clear guidance for owners, contractors, engineers, project managers, and students.
Build a culture of collaboration, commitment, and interpersonal awareness
Adopt effective leadership techniques at the team, project, or practice level
Handle conflict and resolve communication issues using tested approaches
Learn how real-world projects use effective leadership to drive success
The last decade has seen a sea-change in architectural leadership. New practices no longer adopt the name and identity of a single person, but create their own identity that represents the collaborative work of the entire group. Shifts in technology and changing workplace norms have made top-down management structures irrelevant, so what does it now mean to lead? Forefront presents effective contemporary leadership in the architectural practice, and real-world guidance on everyday implementation.
See More
Foreword vi
Acknowledgments ix
Introduction xiii
Leadership and Collaboration xiii
Conceptual Framework xiv
Why Collaborate? xiv
How This Book Is Structured xv
Who Should Read This Book? xvi
Part 1 Collaboration in Context 1
Chapter 1 Collaboration in Practice 3
The Changing Landscape of Architectural Practice 3
The Rise of Integrated and Collaborative Project Delivery 6
Mutually Beneficial Collaboration 11
Leadership and Followership 15
The Promise versus Reality of Integrated Project Delivery—Interview with Renée Cheng 17
Chapter 2 Collaborative Project Delivery Tools 19
Traditional versus Collaborative Project Delivery 19
Collaborative Design-Bid-Build 20
Collaborative CM at-Risk 22
Collaborative Design-Build 24
Multi-Party Agreements 25
Integrated Project Delivery and Collaboration 27
The Value of Collaboration 28
When Not to Collaborate 30
Case Study Excerpt: Wayne N. Aspinall Federal Building & U.S. Courthouse 31
Chapter 3 Creating Collaborative Environments 39
Collaborative Infrastructure 39
Physical Space 39
Social Structures 42
Training and Support 43
Technology Tools 44
Leaders' Roles 47
Collaboration Takes Commitment, Not Contracts—Interview with Stephen Van Dyck 48
Part 2 Collaboration Tools and Tactics 53
Chapter 4 Building Collaborative Teams 55
Assembling and Organizing Teams 55
Selection of Team Members 56
Diversity and Inclusion in Teams 61
Organizing Teams 62
Coordination among Subteams 64
Developing Team Culture 66
Case Study Excerpt: Odegaard Library Renovation 68
Chapter 5 Maintaining Collaborative Teams 77
Project Team Size 77
Cross-Functional Teams 79
Stability of Teams 80
Assessment 83
Coaching and Feedback 84
Collaborative from the Start—A Conversation with Clare Olsen and Caryn Brause 84
Chapter 6 Development Stages 87
Stages of Team Development 87
Forming 87
Storming 88
Norming 89
Performing 90
Adjourning 90
Team Development Model 91
Case Study Excerpt: Global Center for Health and Innovation 92
Chapter 7 Team Behaviors 101
Negative Team Behavior 101
Fear of Conflict 103
Lack of Commitment 103
Lack of Accountability 104
Inattention to Results 104
Loss of Trust 105
Effective Team Behaviors 106
Situational Team Organization 107
Collective Decision Making 107
Case Study: Allegheny Health Network Health + Wellness Pavilion 108
Chapter 8 Collaboration Tools 119
Rational versus Intuitive Processes 119
Lean Strategies 119
Lean Tools 120
Choosing by Advantages 122
A3 Reports 123
Decision Matrix 124
Decision Tree 125
Ishikawa (Fishbone) Diagram 125
BIM Scorecard 126
Case Study: Alta Bates Summit Medical Center 127
Part 3 Leadership Effectiveness 135
Chapter 9 Leadership Effectiveness 137
Foundations of Leadership 137
Trait versus Behavior 138
Ability 138
Awareness 139
Commitment 139
Conscious/Competent 140
Leading Together—Interview with Patricia Rhee 141
Chapter 10 Leadership Development 145
Farm Gate Model 145
Interpersonal Awareness 147
Individual Awareness Tools 148
Team Awareness Tools 149
Case Study Excerpt: Bullitt Center 149
Chapter 11 Leadership Stages of Development 157
Guildhall Model 157
Development Stages 158
Combined Development Model 159
Case Study Excerpt: ASU Memorial Union 159
Chapter 12 Task-Relationship Behavior 169
Leader in Development 169
Direction and Feedback 169
Stage Assessment 171
Task-Relationship 172
Practice-Based Scenario: The Story of Frank and Denise 174
Chapter 13 Cognitive Styles 179
Understanding Cognition 179
Adaptive Problem Solving 182
Innovative Problem Solving 182
Bridgers as Leaders 184
Adaptive and Innovative Team Cultures 185
Reflective Environments 185
Case Study Excerpt: The Center for Building Energy Science & Engineering (Building 661) 187
Chapter 14 Leadership Styles 197
Authoritarian/Autocratic 197
Participative/Democratic 198
Delegative/Free Reign 198
Style-to-Situation 199
Positive and Negative Reinforcement 200
Task and Relationship 202
Leadership in Development—Rick del Monte and Fred Perpall 203
Part 4 Communication and Conflict 207
Chapter 15 Communication Fundamentals 209
Components of Communication 209
Barriers to Communication 211
Listening and Feedback 212
Verbal and Nonverbal Communication 213
Communication Assessment 216
Chapter 16 Johari Window Model 221
Open Self 221
Hidden Self 221
Blind Self 222
Unknown Self 222
Self-Awareness Assessment 223
Chapter 17 Feedback and Motivation 225
Steps to Constructive Feedback 225
Feedback Style 226
Maslow's Theory 227
Herzberg's Theory 228
Adequate Resources 229
The Motivation Process 229
Modes of Motivation 231
Motivation to Innovation 232
Motivation and Maintenance 233
Chapter 18 Conflict Management 235
Healthy Conflict 235
Conflict Management Styles 236
Conflict Management Model 239
Conflict Management Leadership 241
Conflict Management and Resolution 242
Part 5 Leadership in Practice 249
Chapter 19 The Value of Inclusion 251
The Changing Workforce 252
Diversity and Creativity 253
Empathy 254
Generational Traits 254
Gender and Leadership 259
Race and Leadership 263
Building Leaders and Design/Build—Interview with Emilie Taylor Welty 264
Chapter 20 Leadership and Change 271
Foundations of Innovation 272
Complex Environments 274
Strategic Leadership 274
Change Management 276
Social Leadership 277
Thought Leadership 278
Case Study Excerpt: Girl Scouts of Utah Summer Cabins 279
Chapter 21 Practice Leadership 287
Culture and Organization 287
Practice Management Components 288
Managing Meetings 289
Structure and Business Models 290
The Leadership Cycle 291
Training and Development 293
Reflective Practice—Interview with Z Smith 294
Conclusion Toward a More Collaborative Practice 299
Bibliography 301
Index 311
See More
Erin Carraher, AIA, is a licensed architect and assistant professor at the University of Utah's School of Architecture.
Ryan E. Smith is an associate professor and director of the Integrated Technology & Architecture Collaborative (ITAC) at the University of Utah. He is author of Prefab Architecture and co-editor of Building Systems and Offsite Architecture.
Peter DeLisle, PhD, served as the Leslie B. Crane Chair of Leadership Studies and director of The Posey Leadership Institute at Austin College until his recent retirement.
See More