A Companion to Spanish Cinema
ISBN: 978-1-119-17013-6
664 pages
December 2015, Wiley-Blackwell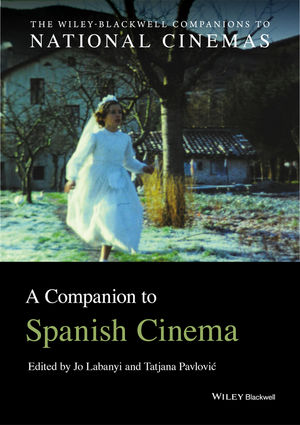 A Companion to Spanish Cinema
is a bold collection of newly commissioned essays written by top international scholars that thoroughly interrogates Spanish cinema from a variety of thematic, theoretical and historic perspectives.
Presents an insightful and provocative collection of newly commissioned essays and original research by top international scholars from a variety of theoretical, disciplinary and geographical perspectives 
Offers a systematic historical, thematic, and theoretical approach to Spanish cinema, unique in the field
Combines a thorough and insightful study of a wide spectrum of topics and issues with in-depth textual analysis of specific films
Explores Spanish cinema's cultural, artistic, industrial, theoretical and commercial contexts pre- and post-1975 and the notion of a "national" cinema
Canonical directors and stars are examined alongside understudied directors, screenwriters, editors, and secondary actors
Presents original research on image and sound; genre; non-fiction film; institutions, audiences and industry; and relations to other media, as well as a theoretically-driven section designed to stimulate innovative research
See More
Acknowledgments viii
List of Figures ix
List of Contributors xviii
1 Introduction 1
Jo Labanyi and Tatjana Pavloviæ
Part I Reframing the National 13
2 Transnational Frameworks 15
Gerard Dapena, Marvin D'Lugo, and Alberto Elena
3 Echoes and Traces: Catalan Cinema, or Cinema in Catalonia 50
Brad Epps
4 Negotiating the Local and the Global: Andalusia, the Basque Country, and Galicia 81
José Colmeiro and Joseba Gabilondo

Part II The Construction of the Auteur 111
5 Auteurism and the Construction of the Canon 113
Marvin D'Lugo and Paul Julian Smith
6 Strategic Auteurism 152
Antonio Lázaro-Reboll, Steven Marsh, Susan Martin-Márquez, and Santos Zunzunegui
Part III Genre 191
7 Comedy and Musicals 193
Steven Marsh, Chris Perriam, Eva Woods Peiró, and Santos Zunzunegui
8 Melodrama and Historical Film 224
Jo Labanyi, Annabel Martín, and Vicente Rodríguez Ortega
9 Film Noir , the Thriller, and Horror 259
Jo Labanyi, Antonio Lázaro-Reboll, and Vicente Rodríguez Ortega
Part IV Stars as Cultural Icons 291
10 The Construction of the Star System 293
Kathleen M. Vernon and Eva Woods Peiró
11 Stars, Modernity, and Celebrity Culture 319
Tatjana Pavloviæ, Chris Perriam, and Nuria Triana Toribio
Part V Image and Sound 343
12 Photography, Production Design, and Editing 345
Vicente Sánchez-Biosca
13 Soundtrack 370
Román Gubern and Kathleen M. Vernon
Part VI The Film Apparatus: Production, Infrastructure, and Audiences 389
14 Censorship, Film Studios, and Production Companies 391
Josetxo Cerdán, Román Gubern, Jo Labanyi, Steven Marsh, Tatjana Pavloviæ, and Nuria Triana Toribio
15 Film Clubs, Festivals, Archives, and Magazines 434
Ferran Alberich, Román Gubern, and Vicente Sánchez-Biosca
16 Audiences 464
Manuel Palacio and Kathleen M. Vernon
Part VII Relations with Other Media 487
17 Cinema, Popular Entertainment, Literature, and Television 489
Sally Faulkner, Vicente Sánchez-Biosca, and Paul Julian Smith
Part VIII Beyond the Fiction Film 519
18 Newsreels, Documentary, Experimental Film, Shorts, and Animation 521
Josetxo Cerdán and Vicente Sánchez-Biosca
Part IX Reading Films through Theory 543
19 Isabel Coixet ' s Engagement with Feminist Film Theory: From G (the Gaze) to H (the Haptic) 545
Susan Martin-Márquez
20 Becoming a Queer (M)Other in/and/through Film: Transsexuality, Trans-subjectivity, and Maternal Relationality in Almodóvar ' s Todo sobre mi madre 563
Julián Daniel Gutiérrez-Albilla
21 The Space of the Vampire: Materiality and Disappearance in the Films of Iván Zulueta 581
Brad Epps
Index 597
See More
Jo Labanyi is Professor of Spanish at New York University, where she directs the King Juan Carlos I of Spain Center. A founding editor of the Journal of Spanish Cultural Studies, she edits the series Remapping Cultural History. Her most recent books are Spanish Literature: A Very Short Introduction (2010) and the coedited volume Europe and Love in Cinema (2012). She is a participant in the research project Los medios audiovisuales en la transición española (1975–1985): Las imágenes del cambio democrático, directed by Manuel Palacio at the Universidad Carlos III, Madrid. Her research interests include modern Spanish literature, film, photography, popular culture, gender, and memory studies. She was elected Fellow of the British Academy in 2005.
Tatjana PavloviŠ is Professor of Spanish at Tulane University in New Orleans. She is author of the monograph Despotic Bodies and Transgressive Bodies: Spanish Culture from Francisco Franco to Jesús Franco (2003) and coauthor of the comprehensive survey 100 Years of Spanish Cinema (2009). Her recent monograph The Mobile Nation (1954–1964): España cambia de piel (2011) focuses on a crucial period of transition in the history of Spanish mass culture, examining the publishing industry, the expansion of the television network, popular cinema, the development of mass tourism, and the national automobile manufacturing industry. Her research and teaching interests center on twentieth-century Spanish intellectual history, literature, cultural studies, and film theory.
See More
More in this series