Dragon Professional Individual For Dummies, 5th Edition
ISBN: 978-1-119-17103-4
360 pages
January 2016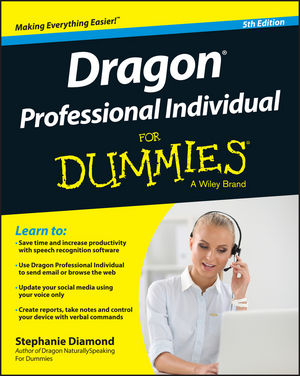 Stop typing and get more done with Dragon Professional Individual voice recognition software
Tired of typing, but afraid to take the leap into voice recognition software? No problem! Dragon Professional Individual For Dummies, 5th Edition gives you a great overview of the industry-leading speech recognition software so you can start talking instead of typing in no time at all. With this easy-to-use guide, you'll quickly find out how to use Professional Individual to open documents, write emails and notes, update your Facebook status, and much more. The book includes everything you need to get started, from launching the software and basic dictating to controlling your desktop by voice, and tips for improving accuracy.
Available for both Windows and Mac, Dragon Professional Individual is the gold standard for home and professional voice recognition software. Easy to use and much more efficient than typing, the software can take your productivity to the next level.
Get an introduction to everything you'll need to know to get started with Dragon Professional Individual voice recognition software
Find out how to access documents, write emails, and even update your Facebook status with nothing more than your voice
Includes the most updated information on the latest version of the software
Offers information for programmers and developers who want to use the software for mobile app development
Dragon Professional Individual For Dummies, 5th Edition is your go-to resource to get up and running with this great voice recognition software in no time.
See More
Introduction 1
Part I: Getting Started with Dragon Professional Individual 5
Chapter 1: Knowing What to Expect7
Chapter 2: Installing Dragon and Starting Basic Training.19
Chapter 3: Launching and Controlling Dragon.33
Part II: Creating Documents and Spreadsheets 51
Chapter 4: Simply Dictating.53
Chapter 5: Selecting, Editing, and Correcting in DragonPad.73
Chapter 6: Basic Formatting in Text-Editing Applications87
Chapter 7: Proofreading and Listening to Your Text.97
Chapter 8: Dictating into Other Applications105
Chapter 9: Dipping into Word Processing.117
Chapter 10: Working with Excel133
Chapter 11: Using Recorded Speech141
Part III: Communicating Online. 157
Chapter 12: Sending and Receiving Email.159
Chapter 13: Working the Web.171
Chapter 14: Dictating the Mobile Way.181
Part IV: Working Smarter 199
Chapter 15: Controlling Your Desktop and Windows by Voice201
Chapter 16: Speaking More Clearly221
Chapter 17: Additional Training for Accuracy227
Chapter 18: Improving Audio Input247
Chapter 19: Having Multiple Computers or Users255
Chapter 20: Creating Your Own Commands.263
Chapter 21: Getting Help from Your Desktop and Online.277
Part V: The Part of Tens 295
Chapter 22: Ten Common Problems 297
Chapter 23: Ten Time- and Sanity-Saving Tips 305
Chapter 24: Ten Mistakes to Avoid 309
Chapter 25: Ten Stupid Dragon Tricks 313
Index 321
See More
Stephanie Diamond is a thought leader, management marketing professional, and founder of Digital Media Works, Inc., an online marketing company that helps business owners discover the hidden profits in their businesses. She has worked with small business owners and multibillion-dollar corporations.
See More