Facebook For Dummies, 6th Edition
ISBN: 978-1-119-17903-0
384 pages
April 2016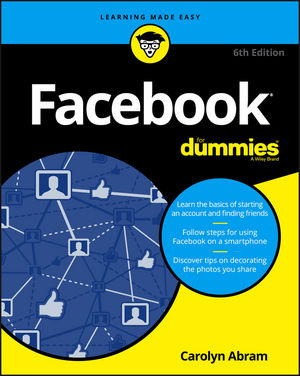 A new edition of the bestselling how-to Facebook title
Facebook is constantly changing and evolving, replacing old features and introducing new ones. This new edition of the bestselling guide quickly and easily gets you up and running on all the site  has to offer. Packed with straightforward guidance that demystifies the nuts and bolts of this popular social media site, Facebook For Dummies covers everything from finding friends and planning events to uploading photos and videos—and so much more.
Facebook is here to stay. For its billions of worldwide users, it's become a central meeting place for people from all corners of the earth to connect and share. If you're the type to share snippets of your life through photos and writing or just find joy in reading and seeing what your family and friends are up to, there's something for everyone on Facebook. Providing coverage of the latest changes to the site, this go-to guide cuts through the confusion and offers plain-English guidance on using Facebook to its fullest so you can deepen your connections, stay social, and just have fun!
Get up to speed on Facebook's standalone messaging app
Grasp Facebook's growing connection to e-commerce
Find the scoop on cross-over posts and sharing through other sites
Make sense of photo-sharing capabilities, such as 360-degree photo viewing
Whether you're a newbie or an old hat looking to make sense of the latest features, this friendly guide reveals the many faces of Facebook in a language you can understand.
See More
Introduction 1
Part 1: Getting Started with Facebook 5
CHAPTER 1: The Many Faces of Facebook 7
CHAPTER 2: Adding Your Own Face to Facebook 23
CHAPTER 3: Finding Your Way Around Facebook 37
Part 2: Day-to-Day Facebook 49
CHAPTER 4: The Daily Facebook: News Feed and Posting 51
CHAPTER 5: Timeline: The Story of You 77
CHAPTER 6: Privacy and Safety on Facebook 103
CHAPTER 7: Facebook on the Go 137
Part 3: Connecting with Friends on Facebook 171
CHAPTER 8: Finding Facebook Friends 173
CHAPTER 9: Just between You and Me: Facebook Messages 193
CHAPTER 10: Sharing with Facebook Groups 213
Part 4: What to Do on Facebook 237
CHAPTER 11: Filling Facebook with Photos and Videos 239
CHAPTER 12: Scheduling Your Life with Events 263
CHAPTER 13: Creating a Page for Promotion 273
CHAPTER 14: Using Facebook with Games, Websites, and Apps 305
Part 5: The Part of Tens 323
CHAPTER 15: Ten Ways to Make the Most of Your Facebook Content 325
CHAPTER 16: Ten Ways Facebook Uniquely Impacts Lives 331
CHAPTER 17: Ten Frequently Asked Questions 337
CHAPTER 18: Ten Tips for Parents of Teens on Facebook 345
Index 351
See More
Carolyn Abram helped make Facebook history when she signed up as the first Facebook user at Stanford University. She later worked for Facebook when the site grew from thousands to hundreds of millions of members. Carolyn holds a BA from Stanford and an MFA from California College of the Arts. She now mostly posts photos of her children on her timeline.
See More