Geothermal Energy: Sustainable Heating and Cooling Using the Ground
ISBN: 978-1-119-18098-2
312 pages
January 2017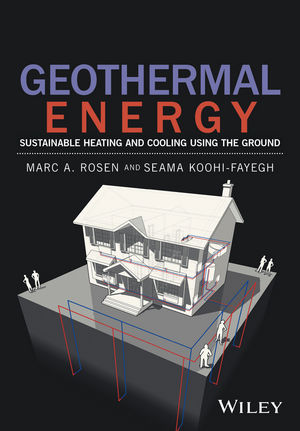 Comprehensively covers geothermal energy systems that utilize ground energy in conjunction with heat pumps to provide sustainable heating and cooling
The book describes geothermal energy systems that utilize ground energy in conjunction with heat pumps and related technologies to provide heating and cooling. Also discussed are methods to model and assess such systems, as well as means to determine potential environmental impacts of geothermal energy systems and their thermal interaction. The book presents the most up-to-date information in the area. It provides material on a range of topics, from thermodynamic concepts to more advanced discussions of the renewability and sustainability of geothermal energy systems. Numerous applications of such systems are also provided.
Geothermal Energy: Sustainable Heating and Cooling Using the Ground takes a research orientated approach to provide coverage of the state of the art and emerging trends, and includes numerous illustrative examples and case studies. Theory and analysis are emphasized throughout, with detailed descriptions of models available for vertical and horizontal geothermal heat exchangers.
Key features:
Explains geothermal energy systems that utilize ground energy in conjunction with heat pumps to provide heating and cooling, as well as related technologies such as thermal energy storage.
Describes and discusses methods to model and analyze geothermal energy systems, and to determine their potential environmental impacts and thermal interactions.
Covers various applications of geothermal energy systems.
Takes a research orientated approach to provide coverage of the state of the art and emerging trends.
Includes numerous illustrative examples and case studies.
The book is key for researchers and practitioners working in geothermal energy, as well as graduate and advanced undergraduate students in departments of mechanical, civil, chemical, energy, environmental, process and industrial engineering.
See More
Preface xv
About the Authors xix
Acknowledgments xxi
Nomenclature xxiii
1 Introduction to Geothermal Energy 1
1.1 Features of Geothermal Energy 2
1.2 Geothermal Energy Systems 3
1.3 Outline of the Book 4
References 7
2 Fundamentals 8
2.1 Introduction 8
2.2 Thermodynamics 8
2.3 Heat Transfer 18
2.4 Fluid Mechanics 23
2.5 The Nature of the Ground 30
References 32
3 Background and Technologies 34
3.1 Introduction 34
3.2 Heat Pumps 34
3.3 Heat Exchangers 36
3.4 Heating, Ventilating, and Air Conditioning 36
3.5 Energy Storage 37
4 Underground Thermal Energy Storage 39
4.1 Introduction 39
4.2 Thermal Energy Storage Methods 40
4.3 UndergroundThermal Storage Methods and Systems 57
4.4 Integration of Thermal Energy Storage with Heat Pumps 62
4.5 Closing Remarks 68
References 68
5 Geothermal Heating and Cooling 76
5.1 Ground-Source Heat Pumps 77
5.2 Geothermal Heat Exchangers 78
References 85
6 Design Considerations and Installation 86
6.1 Sensitivity to GroundThermal Conductivity 86
6.2 Thermal Response Test 89
6.3 Building Energy Calculations 95
6.4 Economics 105
6.5 Standards 108
References 109
7 Modeling Ground Heat Exchangers 111
7.1 General Aspects of Modeling 111
7.2 AnalyticalModels 116
7.3 Numerical Modeling 133
7.4 Closing Remarks 138
References 139
8 Ground Heat ExchangerModeling Examples 143
8.1 Semi-AnalyticalModeling of Two Boreholes 143
8.2 Numerical Modeling of Two Boreholes 150
8.3 Numerical Modeling of a Borefield 167
8.4 Numerical Modeling of a Horizontal Ground Heat Exchanger 172
8.5 Model Comparison 180
References 182
9 Thermodynamic Analysis 184
9.1 Introduction 184
9.2 Analysis of an UndergroundThermal Energy Storage System 184
9.3 Analysis of a Ground-Source Heat Pump System 192
9.4 Analysis of a System Integrating Ground-Source Heat Pumps and UndergroundThermal Storage 197
References 204
10 Environmental Factors 206
10.1 Introduction 206
10.2 Environmental Benefits 206
10.3 Environmental Impacts 208
References 217
11 Renewability and Sustainability 218
11.1 Introduction 218
11.2 Renewability of Ground-Source Heat Pumps 218
11.3 Sustainability of Ground-Source Heat Pumps 220
References 226
12 Case Studies 228
12.1 Introduction 228
12.2 Thermal Energy Storage in Ground for Heating and Cooling 229
12.3 Underground andWater TankThermal Energy Storage for Heating 231
12.4 Space Conditioning with Heat Pump and SeasonalThermal Storage 239
12.5 Integrated System with Ground-Source Heat Pump,Thermal Storage, and District Energy 242
12.6 Closed-Loop Geothermal District Energy System 249
12.7 Closing Remarks 250
References 251
A Numerical Discretization 252
Reference 254
B Sensitivity Analyses 255
B.1 Parameters AffectingThermal Interactions betweenMultiple Boreholes 255
B.2 Validation of the Two-Dimensional Numerical Solution with a Three-Dimensional Solution 261
B.3 Heat Flux Variation along Borehole Length 267
References 272
Index 273
See More
Dr. Rosen is a Professor of Mechanical Engineering at the University of Ontario Institute of Technology. He has served as President of the Engineering Institute of Canada and of the Canadian Society for Mechanical Engineering. His main areas of research are thermodynamics, energy technology, sustainable energy and the environmental impact of energy systems. He was also the founding Editor-in-Chief of the journal Sustainability (MDPI).
Dr. Koohi-Fayegh is a Post-doctoral Fellow in the Faculty of Engineering and Applied Science at the University of Ontario Institute of Technology.
See More