Introduction to Polymer Viscoelasticity, 4th Edition
ISBN: 978-1-119-18180-4
384 pages
April 2018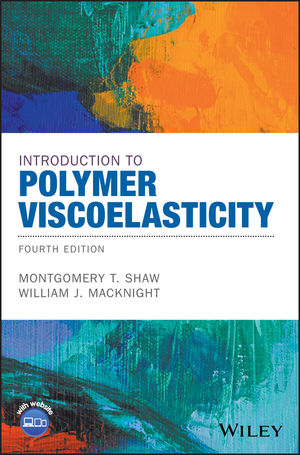 Completely revised and updated, the fourth edition of this classic text continues to offer the reader a thorough understanding of viscoelastic behavior, essential for the proper utilization of polymers.


Explains principles, corresponding equations, and experimental methods with supporting real-life applications
Adds coverage of measurement techniques (nano-indentation, atomic force microscopy (AFM), and diffusing wave spectroscopy (DWS)), biopolymer viscoelasticity, and the relationship between mechanical polymer properties and viscoelastic functions
Has two new ections to address modern areas of viscoelastic measurement: large amplitude oscillatory shear (LAOS) and microrheology
Includes problems in the text and an Instructor's Manual (including solutions) available for adopting professors
Prior edition reviews: "The book is clear written and…[is] appropriate for students in introductory undergraduate courses and for others wanting introduction to the fundamentals of the subject." (CHOICE, December 2005); "This book is invariably well written, logically organized and easy to follow...I highly recommend this book to anyone studying polymer viscoelasticity." (Polymer News, December 2005)
See More
Montgomery T. Shaw, PhD, is Emeritus Distinguished Professor of Chemical Engineering at the University of Connecticut. Among his books are the prior edition of Introduction to Polymer Viscoelasticity and Introduction to Polymer Rheology, both published by Wiley.

William J. MacKnight, PhD, is a Professor Emeritus at the University of Massachusetts Amherst, where he was formerly the co-Principal Investigator for the Center for UMass/Industry Research on Polymers (CUMIRP). He has been a co-author for each edition of Introduction to Polymer Viscoelasticity, all published by Wiley.
See More