E-book
The Mindfulness Edge: How to Rewire Your Brain for Leadership and Personal Excellence Without Adding to Your Schedule
ISBN: 978-1-119-18324-2
288 pages
February 2016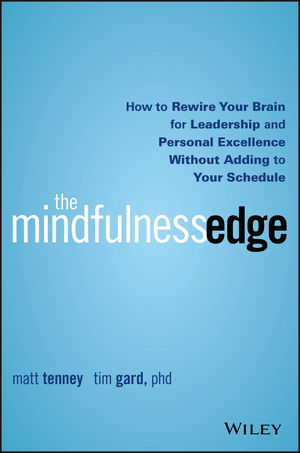 The one habit that can improve almost every leadership skill
There is a simple practice that can improve nearly every component of leadership excellence and it doesn't require adding anything to your busy schedule. In The Mindfulness Edge, you'll discover how a subtle inner shift, called mindfulness, can transform things that you already do every day into opportunities to become a better leader. Author Matt Tenney has trained leaders around the world in the practice of mindfulness. In this book, he partners with neuroscientist Tim Gard, PhD, to offer step-by-step, practical guidance for quickly and seamlessly integrating mindfulness training into your daily life—rewiring your brain in ways that improve both the 'hard' and 'soft' skills of leadership.
In this book, you'll learn how mindfulness training helps you:
Quickly improve business acumen and your impact on the bottom line
Become more innovative and attract/retain innovative team members
Develop the emotional intelligence essential for creating and sustaining a winning culture
Realize the extraordinary leadership presence that inspires greatness in others
The authors make a compelling case for why mindfulness training may be the 'ultimate success habit.' In addition to helping you improve the most essential elements of highly effective leadership, mindfulness training can help you discover unconditional happiness and realize incredible meaning—professionally and personally.
See More
PREFACE A NOTE ON BEST ENJOYING THIS BOOK xvii
INTRODUCTION xix
Everything Begins in the Mind xx
You Can Rewire Your Brain for Leadership and Personal Excellence xxi
What You'll Find in This Book xxiii
Part 1 How Mindfulness Training Rewires the Brain for Leadership Excellence 1
Chapter 1 The Shift That Changes Everything 3
Beginner's Mind 6
The Attitude of a Beginner Is Essential 7
The Shift That Changes Everything 14
Changing Our Default 19
Review Questions 22
Chapter 2 Making an Immediate and Direct Impact on the Bottom Line 23
How We Unconsciously Affect Gross Margins and Expenses 25
Uncovering Our Cognitive Biases 27
The Illusion of Control Bias 27
The Status Quo Bias 29
The Logic Bias 30
The Reaction Time Bias 31
Mindful Self-Awareness and Better Decisions 32
Mental Agility 36
Freedom from Autopilot Mode 36
A Persistent Beginner's Mind 40
Doing What's Uncomfortable 41
Quick Impact and Great Potential 42
Review Questions 42
Chapter 3 Organizational Climate Change 44
The Power of a Positive Emotional Climate 45
The Leader Drives the Emotions of the Team 46
The Emotionally Intelligent Leader 47
A More Emotionally Intelligent Brain 51
A Training Regimen for Emotional Intelligence 54
A Human Approach 55
Review Questions 57
Chapter 4 Fueling the Fire of Innovation 59
The Archetype of an Innovator 62
Resilience in the Face of Opposition 63
Empathy 66
Empathetic Design 68
Review Questions 69
Chapter 5 Developing Extraordinary Leadership Presence 70
Staying Cool under Pressure 72
Fearlessness 75
The Most Important Aspect of Leadership Presence 77
Review Questions 81
Chapter 6 Why Mindfulness Is the Ultimate Success Habit 82
Two Life-Changing Discoveries 83
The Power of Serving Others 84
Unconditional Happiness 85
The Study of Happiness 86
Happiness Is Good for Business 87
Happiness Is Predetermined, Kind of (But You Can Change That) 88
The Ultimate Success Habit 91
Review Questions 93
Part 2 Developing the Ultimate Success Habit 95
Chapter 7 The Perfection of the Present Moment 97
Beginning to Practice in Daily Life 100
The Brain Is a Habitual Machine 103
The First Step to Unconditional Happiness 104
A Win-Win-Win Paradigm Shift 108
Review Questions 111
Chapter 8 The Power of Sitting Still 112
Seamlessly Integrating the Training into Daily Life 114
A Beginner's Guide to Sitting Still in Mindfulness 117
An Intermediate-Level Guide to Sitting Still in Mindfulness 121
Spilling over into Activity 124
Review Questions 124
Chapter 9 From 4 Hours to 4 Minutes: Mastering Emotions for Optimal Performance 125
Returning to Cool: From 4 Hours to 4 Minutes 128
Mindfulness of Emotions: SCIL 130
A Ride on the River of Emotions 139
Review Questions 139
Chapter 10 The Wisdom of True Excellence 141
Things Aren't as They Seem 142
An Incredible Discovery 145
You're Not What You Think 146
Wisdom versus Knowledge 150
The Interplay between Stable Awareness and Wisdom 151
Review Questions 152
Chapter 11 Extraordinary Leadership Presence and the Final Piece of the Puzzle of Unconditional Happiness 153
Pain Is Inevitable; Suffering Is Optional 155
A Taste of Liberation 158
More Fully Enjoying What's Pleasant 160
That Darn Wisdom Again 163
The Root Cause of Suffering 163
Review Questions 165
Chapter 12 Advanced-Level Training 166
The Best Movie Ever 167
Brutal, Compassionate Honesty 169
Investigation of Phenomena 170
Fearlessness 172
Managing Change 173
Seeing Opportunities No One Else Sees 174
Just Listening 175
The Power of Doing Nothing 176
Review Questions 177
Chapter 13 The Foundations of Wisdom: Physical Training for Character 178
The Foundations of Wisdom 180
Foundation of Wisdom 1—Integrity 181
Foundation of Wisdom 2—Skillful Communication 182
Speak in Ways That Are Helpful 183
Refrain from Offering Opinions Unless Asked to Do So or It Is Absolutely Necessary 184
Be Mindful while Using Electronic Devices 184
Conflict Management 185
The Power of Empathy 189
Foundation of Wisdom 3—Wise Consumption 191
Foundation of Wisdom 4—Generosity 194
Foundation of Wisdom 5—Kindness 195
Respect the Belongings of Others 195
Be Kind to All Conscious Beings 196
Exercises in Kindness 197
Your Personal Core Values 198
Review Questions 198
Chapter 14 Discovering Incredible Meaning at Work and in Your Time away from Work 201
A Purposeful Paradigm Shift 202
Saving the World on Your Way to the Bathroom 206
Review Questions 208
AFTERWORD 209
APPENDIX INTRODUCTION TO NEUROSCIENCE 210
How We Study the Brain 210
What Can We See in the Brain? 211
NOTES AND RESOURCES 215
ACKNOWLEDGMENTS 249
ABOUT THE AUTHORS 252
INDEX 255
See More
MATT TENNEY works to develop highly effective leaders who achieve extraordinary, long-term business outcomes—and live more fulfilling lives—as a result of realizing high levels of self-mastery and more effectively serving and inspiring greatness in the people around them. He is an international keynote speaker, a corporate trainer, and the author of Serve to Be Great: Leadership Lessons from a Prison, a Monastery, and a Boardroom. He has been teaching mindfulness since 2002. Matt's clients include Wells Fargo, Marriott, Keller Williams, The Four Seasons, and many other companies, associations, and universities.
TIM GARD, PHD, is a neuroscientist, keynote speaker, and mindfulness trainer. His research focuses on the neural and psychological mechanisms of mindfulness in a variety of contexts. Tim is affiliated with the Lazar lab for neuroscience of mindfulness research at Massachusetts General Hospital, Harvard Medical School, Boston, MA.
See More