E-book
Macroeconomics For Dummies, USA Edition
ISBN: 978-1-119-18444-7
408 pages
July 2016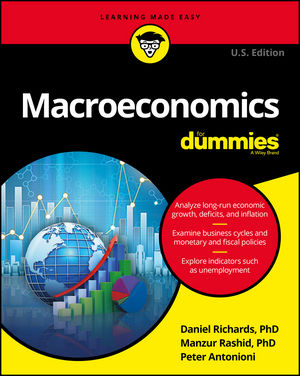 The fast and easy way to make macroeconomics manageable
Macroeconomics is kind of a big deal. Without it, we wouldn't have the ability to study the economy as a whole—which is something that affects almost every aspect of your life, whether you realize it or not. From your employment status to how much you earn and pay in taxes, macroeconomics really matters. Breaking down this complicated and fascinating topic into manageable pieces, Macroeconomics For Dummies gives you fast and easy access to a subject that has a tendency to stump the masses.
With the help of this plain-English guide, you'll quickly find out how to gather data about economies to inform hypotheses on everything from the impact of cutting government spending to the underlying causes of recessions and high inflation.
Analyze business cycles for overall economic health
Study economic indicators such as unemployment
Understand financial trends on the international market
Score higher in your macroeconomics class
Filled with step-by-step instruction and enlightening real-world examples, this is the only book you need to slay the beast and make macroeconomics your minion!
See More
Introduction 1
Part 1: Getting Started with Macroeconomics 5
CHAPTER 1: Discovering Why Macroeconomics Is a Big Deal 7
CHAPTER 2: Looking at Key Questions and Concepts 27
CHAPTER 3: The Short Run and the Long Run 43
Part 2: Measuring the Things That Matter 59
CHAPTER 4: Adding Up Gross Domestic Product 61
CHAPTER 5: Facing the Fact of Increasing Prices: Inflation 81
CHAPTER 6: Thinking About Interest Rates 103
CHAPTER 7: Unemployment: Wasting Talent and Productivity 125
Part 3: The Long-Run Macro Economy 145
CHAPTER 8: GDP Growth in the Long Run 147
CHAPTER 9: Long-Run Prices and Interest Rates 163
Part 4: Modeling the Short-Run Macro Economy 181
CHAPTER 10: Working Out a Country's Economic Demand 183
CHAPTER 11: Determining How Much Stuff an Economy Produces 201
CHAPTER 12: Using the AD–AS Model to Analyze Economic Shocks 217
Part 5: Examining Macroeconomic Policy 239
CHAPTER 13: Macroeconomic Policies for the Long Run 241
CHAPTER 14: Monetary Policy and the Short-Run Economy 257
CHAPTER 15: Fiscal Policy: Balancing the Books — Perhaps 275
CHAPTER 16: Unemployment and Inflation: The Phillips Curve 295
Part 6: Understanding the Financial Crisis 315
CHAPTER 17: Strengths and Weaknesses of the Financial System 317
CHAPTER 18: Learning from the 2007–08 Financial Crisis 335
Part 7: The Part of Tens 355
CHAPTER 19: Getting to Know Ten Great Macroeconomists 357
CHAPTER 20: Ten Top Tips to Take Away 367
Index 375
See More
Daniel Richards, PhD, is a professor of economics at Tufts University. He received his PhD from Yale University.
Manzur Rashid, PhD, has taught economics at University College London and Cambridge University.
Peter Antonioni is a senior teaching fellow at University College London.
See More