Alzheimer's and Dementia For Dummies
ISBN: 978-1-119-18773-8
456 pages
April 2016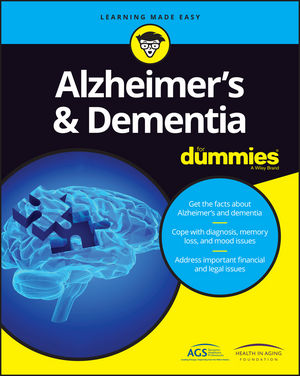 Your sensitive, authoritative guide to Alzheimer's and dementia
If a loved one has recently been diagnosed with dementia or Alzheimer's disease, it's only natural to feel fraught with fear and uncertainty about what lies ahead. Fortunately, you don't have to do it alone. This friendly and authoritative guide is here to help you make smart, informed choices throughout the different scenarios you'll encounter as a person caring for someone diagnosed with dementia or Alzheimer's disease. From making sense of a diagnosis to the best ways to cope with symptoms, Alzheimer's and Dementia For Dummies is the trusted companion you can count on as you navigate your way through this difficult landscape.
Affecting one's memory, thinking, and behavior, dementia and Alzheimer's disease can't be prevented, cured, or slowed—but a diagnosis doesn't mean you have to be left helpless! Inside, you'll find out how to make sense of the symptoms of dementia and Alzheimer's disease, understand the stages of the illnesses, and, most importantly, keep your loved one safe and comfortable—no matter how severe their symptoms are.
Find out what to expect from Alzheimer's and dementia
Discover what to keep in mind while caring for someone with Alzheimer's or dementia
Uncover symptoms, causes, and risk factors of Alzheimer's and dementia
Learn the critical information needed to help manage these illnesses
Whether you're new to caring for a person affected by Alzheimer's or dementia or just looking for some answers and relief on your journey, this is the trusted resource you'll turn to again and again.
See More
Introduction 1
Part 1: Getting Started with Alzheimer's and Dementia 5
CHAPTER 1: An Overview of Dementia and Alzheimer's Disease 7
CHAPTER 2: Spotting the Symptoms 17
CHAPTER 3: Considering Causes and Risk Factors 39
CHAPTER 4: Distinguishing Dementia and Alzheimer's Disease from Other Medical Conditions 61
Part 2: Helping a Loved One Manage the Illness 71
CHAPTER 5: Receiving a Diagnosis 73
CHAPTER 6: Looking at the Tests Used to Diagnose Alzheimer's Disease 95
CHAPTER 7: Understanding the Stages of Dementia and Alzheimer's Disease 111
CHAPTER 8: Eyeing Medical Treatments 125
CHAPTER 9: Considering Nonmedical Treatments 139
Part 3: Providing Care for Your Loved One 163
CHAPTER 10: Managing Your Loved One's Care and Day-to-Day Life 165
CHAPTER 11: Making Medical Decisions 205
CHAPTER 12: Addressing Legal Issues 217
CHAPTER 13: Working through Financial Issues on Behalf of Your Loved One 243
CHAPTER 14: Choosing Ongoing Care for Your Loved One 265
CHAPTER 15: Easing the Transition to New Surroundings 295
Part 4: Respite Care for the Caregiver 307
CHAPTER 16: Coping While Caregiving 309
CHAPTER 17: Finding Support 339
CHAPTER 18: Knowing What to Do If the Person with Dementia Goes into the Hospital 349
CHAPTER 19: Keeping Up with Work and Family as a Caregiver 355
CHAPTER 20: Helping When You're Not the Primary Caregiver 367
Part 5: The Part of Tens 377
CHAPTER 21: Ten Tips for Dealing with Dementia 379
CHAPTER 22: Ten Tips for Caregivers, Friends, and Families 387
CHAPTER 23: Busting Ten Myths about Dementia and Alzheimer's Disease 395
APPENDIX: Resources for Caregivers 401
Index 407
See More
The American Geriatrics Society, (AGS) is a nationwide, not-for-profit society of geriatrics healthcare professionals dedicated to improving the health, independence, and quality of life of older people. The Health in Aging Foundation is a national non-profit organization established by AGS.
See More