E-book
Staying Sharp For Dummies
ISBN: 978-1-119-18781-3
624 pages
March 2016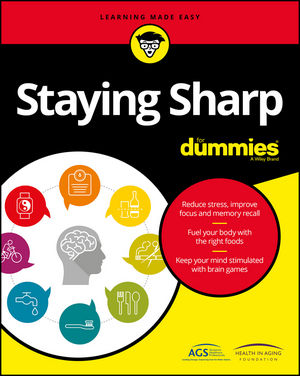 Insight and actionable information on keeping your brain sharp as you age
Your brain controls who you are—how you think, feel, and act. As you age, it's not uncommon to want to remain as sharp and "with it" as you were in your younger years. Whether you want to hone your memory, manage stress and anxiety, or simply eat brain-healthy food, Staying Sharp For Dummies shows you how to keep your mind sharp, agile, and creative well into your golden years.
Research shows anyone can improve brain performance—and it's never too late to make changes to achieve your optimal brain health. While brain exercises certainly help, it's also vital to promote healthier living as a holistic way to support brain health. Staying Sharp For Dummies explains how keeping physically fit, eating right, managing stress, and even connecting with others helps give your brain the boost it needs to stay sharp—well into your golden years.
Build a better brain through nutrition, lifestyle changes, and brain workouts
Cope with a specific brain disorder, such as stroke, Dementia, Alzheimer's, and Parkinson's
Stay sharp and improve memory and concentration
Access an online bonus chapter from Alzheimer's For Dummies and Dementia For Dummies
If you or a loved one are looking for authoritative, accessible guidance on staying sharp, this essential guide endorsed by the American Geriatric Society and the American Geriatric Society Health in Aging Foundation covers the gamut of lifestyle and activity changes that can maximize brain function and health.
See More
Introduction 1
Part 1: Getting Started with Staying Sharp 5
CHAPTER 1: Training Your Brain 7
CHAPTER 2: Improving Your Language Skills 23
CHAPTER 3: Sparking Your Creativity 31
CHAPTER 4: Recognizing Faces and Remembering Directions 41
CHAPTER 5: Getting a Handle on Brain Games 49
CHAPTER 6: Puzzles 63
Part 2: Boosting Your Memory 111
CHAPTER 7: Cultivating Your Memory Skills 113
CHAPTER 8: Discovering How Your Brain Remembers 127
CHAPTER 9: Memory Tricks and Tips 147
CHAPTER 10: Keeping Your Memory Sharp as You Grow Older 157
CHAPTER 11: Schooling Memory 171
CHAPTER 12: Honing Your Long-Term Memory 185
CHAPTER 13: Improving Your Short-Term Memory 197
CHAPTER 14: Keeping Your Memory Intact in a High-Speed World 209
Part 3: Managing Stress: Relaxing Mind and Body 221
CHAPTER 15: Understanding Stress 223
CHAPTER 16: Relaxing Your Body 257
CHAPTER 17: Stress-Reducing Organizational Skills 279
CHAPTER 18: Meditation 101 301
Part 4: Improving Your Lifestyle: Nutrition and Exercise 331
CHAPTER 19: Eating, Exercising, and Getting Your Zzzs 333
CHAPTER 20: Maintaining a Healthy Weight and Fitness Level 357
CHAPTER 21: Considering a Plant-Based Diet 381
CHAPTER 22: The Skinny on Superfoods 407
Part 5: Healthy Aging 431
CHAPTER 23: The Four Major Health Concerns as You Age 433
CHAPTER 24: Evaluating Your Health and History and Setting Goals for Wellness 477
CHAPTER 25: Stroke Risk Factors and Prevention 499
CHAPTER 26: Don't Worry, Be Happy: The Keys to Maintaining Health and Vitality 531
Part 6: The Part of Tens 549
CHAPTER 27: Ten Ways to Make Your Home Safer as You Age 551
CHAPTER 28: Ten (Plus) Almost-Superfoods that Can Help Round Out Your Diet 559
Index 567
See More
The American Geriatrics Society (AGS) is a nationwide, not-for-profit society of geriatrics healthcare professionals dedicated to improving the health, independence, and quality of life of older people.
The Health in Aging Foundation is a national non-profit organization established in 1999 by AGS to bring the knowledge and expertise of geriatrics healthcare professionals to the public.
See More