E-book
Hotel Pricing in a Social World: Driving Value in the Digital Economy
ISBN: 978-1-119-19240-4
352 pages
October 2015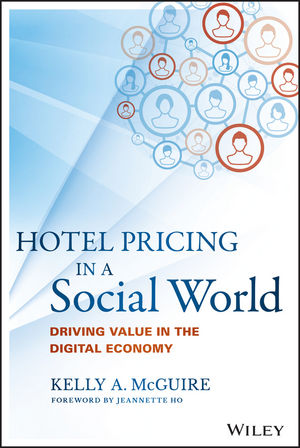 Take control of revenue management in the new hotel economy
Hotel Pricing in a Social World: How to Drive Value in the New Hotel Economy is an insightful resource that provides guidance on improving organizational decision making to keep your hotel relevant, from a pricing standpoint, in the often chaotic hotel landscape. This groundbreaking book clearly showcases the current environment of the hotel industry, and describes new and emerging trends that can impact your revenue management tactics. This essential text prepares you to survive and thrive in today's highly competitive market, and outlines the best approach to building profitable pricing strategies that follow both tactical and strategic best practices.
Revenue management has become a key activity in the highly social environment of today's hotel industry, thanks to mobile technology and social media. Though relatively new, revenue management is a quickly-evolving discipline that requires precision if you want to maintain your hotel's relevance in the market.
Leverage original research, case studies, and industry examples to understand the practical application of key concepts
Explore current market conditions that have an impact on revenue management
Consider how advances in data management, analytics, and data visualization can impact revenue management practices
Identify how revenue management can help you take advantage of market opportunities and overcome challenges
Hotel Pricing in a Social World: How to Drive Value in the New Hotel Economy is an essential text for hotel CFOs, CMOs, revenue managers, and operations managers who want to leverage revenue management techniques to keep their hotel competitive.
See More
Foreword xiii
Acknowledgments xvii
About the Author xxi
Part One New Analytics for a New Environment: The Evolution of Hotel Revenue Management Analytics, Technology, and Data 1
Chapter 1 The Social World Has Changed Revenue Management Forever 03
The Changing Marketplace 6
The Evolution of the Revenue Management Function 7
What to Expect from This Book 10
What's in This Book 13
Chapter 2 Demystifying Price Optimization 17
A History Lesson: Yield Management in the Airlines 20
Then Things Changed 22
Price Optimization 24
What Is Optimization? 27
And the Money Came Rolling In 36
Additional Reading 40
Revenue Management Perspectives 41
Notes 45
Chapter 3 Big Data, Big Analytics, and Revenue Management 47
What Is Big Data? 50
Where Big Data Meets Big Analytics for Revenue Management 61
Data Visualization and Big Data 63
Responsible Use of Big Data 67
Conclusion 76
Additional Reading 77
Revenue Management Perspectives: The Role of Big Data in Revenue Management Science 78
Note 82
Part Two The Expanding Role of Revenue Management 83
Chapter 4 Hotel Pricing in a Social World: Price, UGC, and Buying Behavior 85
Price, Ratings, and Reviews: How Consumers Choose 87
Business Travelers Loyalty and Demographics 101
User?]Generated Content and Lodging Performance 109
Conclusions from This Research 111
Reputation and Revenue Management Systems 113
Conclusion 119
Additional Reading 120
Revenue Management Perspectives: A Case for TripAdvisor Rank 120
Chapter 5 Integrating Revenue Management and Marketing 127
A Vision for Integrated Marketing and Revenue Management 130
Limitations of the Revenue Management Approach 134
Understanding Marketing Data and Analytics 136
Integrating Revenue Management and Marketing Decisions 137
Achieving the Vision 140
A Word of Caution 143
Conclusion 145
Additional Reading 146
Chapter 6 Total Hotel Revenue Management 151
Revenue Management Beyond Rooms: A Process 155
Guest-Centric Revenue Management 169
What Is the Goal of Total Hotel Revenue Management? 172
Putting It All Together 175
Conclusion 178
Additional Reading 181
Part Three The Future of Revenue Management: Pricing as a Business Strategy 189
Chapter 7 Pricing as a Strategic Tool 191
Strategy Considerations 194
Pricing to Support Business Strategies 203
How to Be More Strategic in Pricing 206
Benefits of Strategic Pricing 209
Conclusion 214
Additional Reading 215
Notes 219
Chapter 8 The Path to Personalization: Revenue Management's Contribution to the New Guest Experience 221
Personalization, a Vision 224
Moving Past Traditional Web Analytics to Digital Intelligence 229
Integrated Data for Digital Intelligence 231
Revenue Management Supporting the Personalization Vision 233
How Do We Get Started? 239
Examples of Starting on the Path to Personalization 242
Profiling versus Tracking Behavior: A Cautionary Tale 245
Final Advice for Revenue Managers 246
Additional Reading 247
Revenue Management Perspectives: Convergence of Digital Marketing and Revenue Management 247
Notes 249
Chapter 9 The Future of Revenue Management 251
Profile of a Revenue Manager 254
Revenue Management Career Paths 261
Revenue Management Organizations 264
Final Thoughts 277
Additional Reading 279
Revenue Management Perspectives: A Case Study in Organizational Structure for Revenue Management 280
Notes 282
Appendix 283
Discussion Questions 309
References 315
Index 00
See More
Kelly A. McGuire leads SAS's Hospitality Global Practice. She is an analytics evangelist, helping SAS's hospitality clients realize value from big data and advanced analytics. She also led product management and business strategy for SAS's pricing and revenue management analytics, working closely with IDeaS Revenue Solutions. Kelly has a PhD in Revenue Management from the Cornell Hotel School.
See More
More in this series