E-book
Execution Excellence: Making Strategy Work Using the Balanced Scorecard
ISBN: 978-1-119-19648-8
288 pages
April 2016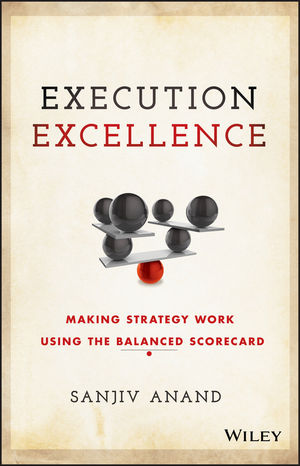 A hands-on guidebook for making your strategy work with effective Balanced Scorecard design, deployment, and maintenance
Execution Excellence is the practitioner's guide to real-world implementation. Designed by a Balanced Scorecard (BSC) thought leader with 30 years of experience and over 300 global implementations under his belt across a range of industry sectors, this guide gives you a hands-on framework for putting the BSC methodology into action. Clear, concise, and easy to read, this book skips the theoretical exposition to get right to the point—how can companies use BSC to effectively deploy strategy and drive individual and enterprise performance? You'll find the answers here. The discussion outlines the ways in which firms commonly fail in implementing BSC. These failures can be traced back to common design and implementation flaws: making the process too complicated and focusing on the BSC process rather than the outcome. The discussion will also cover design optimization across a range of key industry sectors. You'll gain expert insight into avoiding these missteps and the practical tools and perspective you need to implement BSC correctly the first time.
While the Balanced Scorecard framework is widely accepted and praised, about half of firms that implement it fail to realize the full benefits. The fault lies not with the framework, but with the design, and more importantly—execution. This book gives you the information and tools you need to adopt BSC successfully.
Design a BSC that truly and simply reflects your strategy
Customize the BSC to reflect your industry's uniqueness
Define clear measurements and ownership that suit your strategy
Develop a framework for efficient data collection and reporting
Implement effective reviews to keep your business on track
Use your Balanced Scorecard data to close performance gaps
Developed in the early 1990s, the Balanced Scorecard framework has been recognized as one of the most seminal business ideas in the last 75 years. Thousands of companies around the world use BSC to create and maintain a performance-oriented enterprise, yet just as many try and fail. Execution Excellence shows you what you need to know and do to become a BSC success story.



Praise for EXECUTION EXCELLENCE
"Execution Excellence is a very clear roadmap for any manager serious about improving performance with a team. Sanjiv has decades of experience solving problems with real-world companies and the challenges they face. This is a superb summary of his learning, communicated in concise, specific and easy to understand steps. I highly recommend it."
—RON SANDERS, President, Warner Bros. Worldwide Home Entertainment
"This book is full of sensible, practical advice on how to improve your business using the powerful tools of the Balanced Scorecard. Businesses of all types can see how to achieve their goals more effectively and quickly if they adopt the techniques shown here. Read and prosper!"
—JON MOULTON, Founder and Managing Partner, Better Capital
"Sanjiv certainly did not disappoint. The book is certainly a compendium of incredible experience he has had as a Consultant in different circumstances. It makes for extremely interesting reading. It is full of substance with practical and implementable suggestions and explains in an incredibly simple and straight forward manner how a tool like the Balance Scorecard can help in terms of framing and implementing business strategy in today's complex and multi dimensional business world."
—AKHIL GUPTA, Vice Chairman, Bharti Enterprises
"If you ever wondered how great generals manage their troops, this is your chance. Sanjiv is the general when it comes to implementing the BSC, having seen him in board rooms. If you are passionate about execution, then this is your back pocket guide. If you want more, read between the lines."
—SALEH LOOTAH, Chairman, Ssl Holdings, Former Board Member, Dubai Islamic Bank
"Sanjiv's thirty year experience in helping firms drive enterprise and individual performance, and bringing alignment between these components comes clearly through in this book. The insights are practical, global, and across industry sectors. A must read!"
—LEENA NAIR, Chief Hr Officer, Unilever
See More
Preface xv
Acknowledgments xvii
I THE REALWORLD OF STRATEGY 1
1 The Global Business Environment in Today's Flat World: News Flows Faster than Water! 3
So Where Do We Go from Here? 5
What Does That Mean? 5
2 The Evolving Role of Strategy: Is Strategy Dead? 7
Blue-Sky Strategy 8
Back-to-Basics Strategy 8
3 Strategy Formulation: Building a Strategy that Works 11
External Assessment 12
Internal Assessment 12
4 Strategy Execution: It's All About the Implementation 17
5 The Business Planning Process: Don't Let the Process Overrun You 19
Ownership 21
II INTRODUCING THE BALANCED SCORECARD 23
6 Introducing the Balanced Scorecard: Circa 1992 and Still Going Strong 25
History 25
Basic BSC Framework 26
Design 29
Implementation 30
Cascades 30
Individual BSC 30
Using the BSC to Formulate Strategy 31
7 Challenges in Implementing the Balanced Scorecard Successfully: Time to Put on a Helmet! 33
General Challenges 33
Design Challenges 35
Implementation Challenges 37
III CHALLENGES IN BALANCED SCORECARD DESIGN 41
8 Designing the Strategy Map: Keep It Lite 43
Introduction 43
Design Methodology 44
Strategy Map Design Components 45
Impact of Industry Customization and Support Functions on Strategy Map Design 49
Strategy Map Design for Nonprofit and Government Organizations 52
The Concept of the Linkage Model 52
Designing a Lite Version of a Strategy Map for Board Reporting: Strategic Themes 54
9 Defining Objectives: The Wordsmith's Challenge 55
The Bad Way 55
The Good Way 56
Customer Objectives 58
10 Picking Owners: Four Executives Don't Run a Company 61
Owning the Formulation 61
Owning the Execution 62
How Does Ownership Really Work in a BSC Meeting? 63
BSC Ownership versus Individual Performance Measures 64
11 The Art of Measurement: Lead, Lag, and How Many Are Enough 67
Introduction 67
Financial and Non-financial Measures 68
Lead and Lag Measures 69
Strategic versus Non-strategic Measures 69
Financial Measures 70
Customer Measures 70
Internal Perspective 72
Learning and Growth Measures 73
Measurement Formulas 74
Data Sources 75
What about Missing Data Sources? 76
How Many Are Enough? 76
12 Units and Frequency of Measurement: Stay Honest 79
Units of Measurement 80
Key Milestone Indicators (KMS) 80
Decimals 81
Frequency of Measurement 81
13 Target Setting: Actionable or Aspirational? 83
Target Intensity 83
How Many Targets to Set of Each Kind? 85
Target-Setting Benchmarks 86
Target Calculation 88
14 Initiative Alignment: Are You Overrun with Projects? 89
15 Designing Cascades: Top Down or Bottom Up 93
Introduction 93
The Next Level Cascade: Functional Organization 95
Multi-divisional Structures and Cascades 96
16 Aligning Individual and Enterprise Performance: Unlocking Human Capital 99
Introduction 99
The Right Way 100
Measures 101
Cascading Weights and Measures 102
Bands 103
IV CHALLENGES IN IMPLEMENTATION 105
17 Selecting the Right Balanced Scorecard Coordinator: Not the Audit Team, Please! 107
Introduction 107
The BSC Coordinator 108
Cascade Coordinators 113
18 Get Ready for the First Reporting: Sixty Days to Lift-Off! 115
Introduction 115
Timelines 115
The Accuracy of a Measure 118
You Missed the Start of the Year 118
19 How Should the First Meeting Run? And How Frequently? 121
Introduction 121
Deck Pre-distribution 122
BSC Coordinator's Role 123
The Discussion 124
The Discussion on Initiatives 126
Meeting Closure 128
What about the Cascade Scorecard Meetings? 128
Conclusion 128
20 What About Scorecard Automation? Mobile and Dynamic Scorecards 129
Introduction 129
The Excuse to Automate 129
When to Automate? 130
Components of BSC Automation 131
The Automation Process: The Data Challenge 132
Benefits of BSC Automation 133
21 What Happens After a Meeting? Making Sure the Traction Lasts the Whole Month 135
Introduction 135
Circulation of Post-meeting Deck 136
Follow-up Action 136
Complaining 137
Ensure Cascade Alignment 137
Initiative Action 138
An Unfortunate Case Study: Blowing Up a $5 Billion Company 138
22 The Communication Challenge: It's Like Keys to the Executive Washroom 141
An Unfortunate Case Study: Paper on the Walls 141
Start at the Design Stage 142
At the Reporting Stage 143
Board Reporting 143
Using It to Build a Training Agenda 144
23 What Happens If Performance Does Not Improve? Patience and Speed Go Together 145
Introduction 145
It's Not a Formula 1 Car 145
What If There is No Cause and Effect? 147
Too Many Reds 148
The CEO Is Not Pushing the Agenda 149
The Ownership of the Strategy Is Wrongly Placed 150
24 Running a Best-in-Class Project Management Office: You Can't Do It without a Command Center 153
Everything Is a Project 153
The Evolving Landscape of Project and Program Management 154
The Program Manager's Role 155
An Effective PMO 155
PMO Knowledge Areas 156
PMO Process Groups 159
PMO Maturity Levels 160
PMO Types and Approaches 161
Critical Success Factors to Set Up an Effective PMO 162
Linking the PMO to Strategy through the Balanced Scorecard 163
25 Oops. The Strategy Has Changed: What Happens Now? 167
Introduction 167
Midyear Strategy Change 167
Annual Strategy Review 170
V CONCLUSION 173
26 Conclusion 175
Make Your Strategy Positive 175
Execution Is about Focus 177
Focus and Measurement 178
Ownership 178
Stay on Track 178
Youth Matters 179
Gray Hair Matters 179
Appendix A: Industry and Function Specific Strategy Maps and Scorecards 181
Appendix B: Bank Case Study 227
Appendix C: Textile Company Case Study 235
Appendix D: Travel and Tourism Case Study 245
Appendix E: Illustrative Financial Measures by Industry 255
About the Author 259
Index 261
See More
SANJIV ANAND is the Chairman of Cedar Management Consulting International, a global management consulting firm with over 800 clients and a network of offices worldwide. He is considered a Strategy and Balanced Scorecard thought leader, with more than thirty years of global management consulting experience and 300 Balanced Scorecard designs executed across a wide range of industry sectors. He is a Harvard Business School and NYU Stern Alumnus, and a former YPO Chapter Chair.
See More