Fundamentals of Turfgrass Management, 5th Edition
ISBN: 978-1-119-20463-3
480 pages
November 2016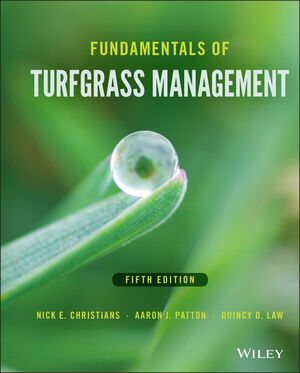 The classic turfgrass management handbook, updated with new developments in the field
Fundamentals of Turfgrass Management is the bestselling guide with expert coverage of basic turfgrass science and all aspects of practical care. Now in its fifth edition, this industry favorite offers the latest information on growth, nutrition, herbicides, insecticides, and fungicides, as well as new chapters discussing shade stress and light requirements and the benefits of turf. Though written at an introductory level, this book provides experienced turf managers with the most current thinking and new developments in wide range of topics, such as fertilization, grass selection, pest management, plant growth regulators, sports turf management practices, soil testing, and water quality. For students and experienced professionals alike, this book provides a thorough and well-rounded reference with everyday utility.
Today's turf managers must have detailed knowledge of agronomy, botany, entomology, horticulture, pathology, and business management. This book brings these diverse fundamentals together into a single volume and will help you to:
Master the art and science of turfgrass care, cultivation, and management
Learn best practices for mowing, fertilizing, soil health, irrigation, and more
Identify, manage, and control insect, disease, and weed pests
Examine the professional management of sports turf, golf courses, lawns, and sod
Turf management is a $70 billion industry that reaches into sports, tourism, land management, real estate, and more. The care and maintenance of high quality turf requires careful consideration and monitoring of many variables, and both strategic planning and quick action are needed to stay ahead of threats from weather, pests, traffic, and more. Fundamentals of Turfgrass Management provides clear guidance and comprehensive coverage of all aspects of the industry, with the latest information all turf managers need to know.
See More
Preface vii
Acknowledgments ix
Chapter 1 Benefits of Turf and Its Management 1
PART I Grasses 7
Chapter 2 Introduction to the Grasses 9
Chapter 3 Cool-Season Grasses 41
Chapter 4 Warm-Season Grasses 75
Chapter 5 Ornamental Grasses 97
PART II Turf Culture 109
Chapter 6 Establishment 111
Chapter 7 Soil Testing and Soil Amendments 147
Chapter 8 Turf Nutrition and Fertilization 171
Chapter 9 Mowing, Rolling, and Plant Growth Regulators 209
Chapter 10 Irrigation 225
Chapter 11 Thatch, Cultivation, and Topdressing 249
Chapter 12 Light Requirements and Shade Management 269
PART III Turf Pest Management 285
Chapter 13 TurfWeed Management 287
Chapter 14 Turf Insect Management 331
Chapter 15 Turf Disease Management 353
PART IV The Turf Industry 379
Chapter 16 Careers in the Turfgrass Industry 381
Chapter 17 Sports Turf Management 389
Chapter 18 Sod Production 407
Chapter 19 Professional Lawn Care 419
Chapter 20 Golf Course Maintenance 431
About the Authors 455
Index 457
See More
NICK E. CHRISTIANS, PhD, is professor of Horticulture at Iowa State University. He is the author of numerous books, including The Mathematics of Turfgrass Maintenance, Fourth Edition, and Mathematics for the Green Industry.
AARON J. PATTON, PhD, is associate professor of Horticulture at Purdue University, West Lafayette, Indiana. He also serves as the executive director of the Midwest Regional Turf Foundation.
QUINCY D. LAW, MS, is a doctoral student in the Department of Horticulture and Landscape Architecture and the Ecological Science and Engineering Interdisciplinary Graduate Program at Purdue University.
See More
Instructors Resources
Request a print evaluation copy
Contact us

See More
See Less