What's Wrong With China
ISBN: 978-1-119-21371-0
240 pages
November 2017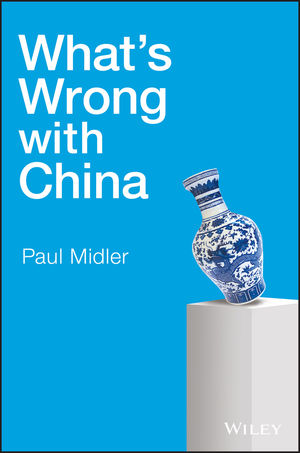 What's Wrong with China is the most cogent, insightful and penetrating examination I have read on the paradoxes and self-deceptions of Modern China, written by someone who has lived in the country and dealt with it day to day for decades. This book will be hated by the commissars, because it is a triumph of analysis and good sense.
—PAUL THEROUX
I sure wish I'd read this book before heading to China—or Chinatown, for that matter. China runs on an entirely different operating system—both commercial and personal. Midler's clear, clever analysis and illuminating, often hilarious tales foster not only understanding but respect.
—MARY ROACH
From the Back Cover
What's Wrong with China is the widely anticipated follow-up to Paul Midler's Poorly Made in China, an exposé of China manufacturing practices. Applying a wider lens in this account, he reveals many of the deep problems affecting Chinese society as a whole. Once again, Midler delivers the goods by rejecting commonly held notions, breaking down old myths, and providing fresh explanations of lesser-understood cultural phenomena.
See More
Chapter 1: The Pirate's Ship
Chapter 2: A Mania for Money
Chapter 3: The China Watchers
Chapter 4: Blush of Shame
Chapter 5: Beating the System
Chapter 6: Intermediaries
Chapter 7: Dulled Senses
Chapter 8: Emotional Negotiators
Chapter 9: Oliver Wendell Holmes
Chapter 10: Chemicals, Guns and Gimcracks
Chapter 11: Collective Narcissism
Chapter 12: "That's My Hand"
Chapter 13: Lack of Conscience
Chapter 14: Networked Behaviors
Chapter 15: Tacit Collusion
Chapter 16: Brown Numbers
Chapter 17: Self-Regulating Empire
Chapter 18: Corps De Ballet
Chapter 19: Informal Paradox
Chapter 20: Reform, Reform, Reform
Chapter 21: The Dynastic Cycle
Chapter 22: The Social Order
Chapter 23: Nibble, Nibble…
Chapter 24: Cat's Paws and Telegraphed Punches
Chapter 25: The Great Absorber
Chapter 26: Cleaning the Slate
Chapter 27: Kleptoparasitism
Chapter 28: The Benefit of Doubt
Chapter 29: Massacred in Business
Chapter 30: Conclusion
See More
Paul Midler has lived twenty years in East Asia and speaks Mandarin. He works as a consultant and advisor to companies with business interests in the region. His first book, Poorly Made in China, was published to significant acclaim and his follow-up, What's Wrong with China, has been widely anticipated.
See More