E-book
Electronics For Kids For Dummies
ISBN: 978-1-119-21571-4
352 pages
March 2016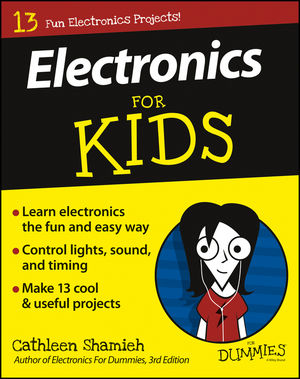 The easy way for kids to get started with electronics
If your youngster likes to tinker, Electronics For Kids For Dummies is here to teach them the core concepts of electronics in a fun and engaging way. Written in a language elementary-to-middle-school-aged kids can understand, it's packed with full-color photos, easy-to-follow instructions, simple examples, and 13 cool projects that will boost your child's confidence while instilling valuable electronics lessons.
Written by an experienced engineer who authored Electronics For Dummies, this friendly guide shows children the right way to learn about this exciting—but potentially dangerous—field. From making their very own LED flashlight and basic radio to building a smart nightlight and making an LED blink, Electronics For Kids For Dummies walks young readers through 13 projects that are easy to accomplish—and, most importantly, fun! Plus, the full-color design is heavy on eye-catching graphics and the format is focused on the steps to completing a project, making it approachable for any youngster with an interest in exploring the electrifying world of electronics.
Introduces kids to the basics of electronics
Includes 13 projects that promote your kid's sense of achievement
Features larger print to make the material less intimidating and easier to navigate
Covers tools and safety measures to ensure your child's safety
Spark your child's interest in the shockingly exciting field of electronics with Electronics For Kids For Dummies!
See More
Introduction 1
Part I: Discover Basic Circuits 7
Project 1: Go Shopping 9
Project 2: LED Flashlight 21
Project 3: Solderless Breadboard 41
Part II: Simple Projects That Control Light 65
Project 4: Two‐Way Traffic Light 67
Project 5: Light Timer 79
Project 6: Stage Lights Dimmer 99
Project 7: Smart Nightlight 125
Part III: Do More with Less: Integrated Circuits 145
Project 8: Blinking LED 147
Project 9: Light‐Sensing Alarm 169
Project 10: Light‐Controlled Sound Effects 193
Project 11: One‐Octave Keyboard 207
Part IV: Impress Your Friends: Advanced Projects 233
Project 12: Roulette (Guess-the-Number) Wheel 235
Project 13: Three‐Way Traffic Light 271
Project 14: Radio and Amplifier 295
Index 329
See More
Cathleen Shamieh is an electrical engineer and a high-tech writer with extensive engineering and consulting experience in the fields of medical electronics, speech processing, and telecommunications.
See More