Dawn-Dusk Asymmetries in Planetary Plasma Environments
ISBN: 978-1-119-21632-2
341 pages
October 2017, American Geophysical Union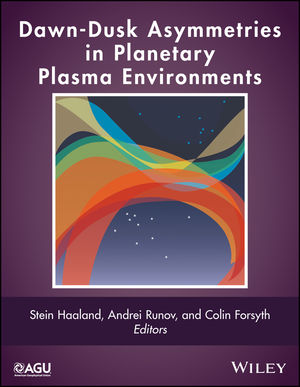 Dawn­Dusk Asymmetries in Planetary Plasma Environments
Dawn-dusk asymmetries are ubiquitous features of the plasma environment of many of the planets in our solar system. They occur when a particular process or feature is more pronounced at one side of a planet than the other. For example, recent observations indicate that Earth's magnetopause is thicker at dawn than at dusk. Likewise, auroral breakups at Earth are more likely to occur in the pre-midnight than post-midnight sectors. Increasing availability of remotely sensed and in situ measurements of planetary ionospheres, magnetospheres and their interfaces to the solar wind have revealed significant and persistent dawn-dusk asymmetries. As yet there is no consensus regarding the source of many of these asymmetries, nor the physical mechanisms by which they are produced and maintained.
Volume highlights include:
A comprehensive and updated overview of current knowledge about dawn-dusk asymmetries in the plasma environments of planets in our solar system and the mechanisms behind them
Valuable contributions from internationally recognized experts, covering both observations, simulations and theories discussing all important aspects of dawn-dusk asymmetries
Space weather effects are caused by processes in space, mainly the magnetotail, and can be highly localized on ground. Knowing where the source, i.e., where dawn-dusk location is will allow for a better prediction of where the effects on ground will be most pronounced
Covering both observational and theoretical aspects of dawn dusk asymmetries, Dawn­-Dusk Asymmetries in Planetary Plasma Environments will be a valuable resource for academic researchers in space physics, planetary science, astrophysics, physics, geophysics and earth science.
See More
Dawn-Dusk Asymmetries in Planetary Plasma Environments
Table of Contents
Foreword
Table of contents
Introduction
Definitions and Acronyms
External contributions to dawn dusk asymmetries
1. Dawndusk asymmetries in geospace
Andrew Walsh, Stein Haaland, Colin Forsyth, Amy M. Keesee, Jennifer Kissinger, Kun Li, Andrei Runov, Jan Soucek, Brian Walsh, Simon Wing.
2. The magnetosphere of the Earth under subAlfvénic solar wind conditions as observed the 24th and 25th of May 2002
Emmanuel Chane, Jimmy Raeder, Joachim Saur, Fritz Neubauer, Stefaan Poeds.
3. Timescales of the influence of IMF clock angle in controlling the characteristics Of magnetospheric dynamics
Adrian Grocott , Steve Milan
4. System science tool for the statistical mapping of the solar wind magnetosheath magnetospheric system
Andrew Dimnock, Katariina Nykyri, Tuija Pulkkinen, Adnane Osmane.
5. Asymmetric magnetospheric response to solar wind pressure: orientation effects and differential timing
Brian Jackel
6. Dipole tilt and IMF control of Flux Transfer Event motion
Jimmy Raeder, Kai Germaschewski
7. Observed dawndusk asymmetries at the magnetopause
Stein Haaland, Jone Reistad, Paul Tenfjord, Jesper Gjerloev, Lukas Maes, Johan De Keyser, Roman Maggiolo, Chandrasekhar Anekallu, Nicolas Dorville
8. Dawndusk asymmetry and internal structure of the magnetopause
Lukas Maes, Johan De Keyser, Romain Maggiolo, Marius Echim
9. A magnetosphereionosphere perspective of magnetopause reconnection and dawndusk density gradients
Brian Walsh, John Foster, David Sibeck, Philip John Erickson.
10. Dawndusk asymmetry in dayside ion precipitation for southward IMF: results from largescale simulations
Jean Berchem, Robert Richard, Philippe Escoubet, Simon Wing, Frederic Pitout.
11. On IMFinduced dawndusk asymmetries in earthward transport by fast flows in the Earth's nightside plasma sheet
Timo Pitkanen, Maria Hamrin, Patrick Nordquist, Tomas Karlsson, Hans Nilsson.
12. Asymmetries in ionospheric convection
Matthias Foerster, Stein Haaland.
13. Dayside auroral emissions controlled by IMF and solar wind: Surveys for dayside auroral excitation at 557.7 and 630.0 nm in NyÅlesund, Svalbard and South Pole, Antarctica
ZeJun Hu, Yusuke Ebihara, H. Hu, Huigen Yang, Desheng Han, Dehong Huang, Bei Zhang, Yuan Liu.
Internal contributions to dawndusk asymmetries
1. Morning/afternoon asymmetry of geomagnetic fluctuations at discrete frequencies
Umberto Villante, Alfredo Del Corpo, Patrizia Francia.
2. Statistical characteristics of injections throughout the magnetotail observed by THEMIS
Christine Lin, Vasillis Angelopoulos, Andrei Runov, Drew Turner.
3. Parametric study of magnetospheric ion temperatures using TWINS ENA data and BATSRUS smulations
Justin Elfritz, Amy Keesee, Earl Scime.
4. Dawndusk (azimuthal, MLT) asymmetries in the ULF waves and their known and potential impacts on the coupled MI system
Jonathan Rae.
5. Spatial structure and asymmetries of magnetospheric currents Inferred from highresolution empirical geomagnetic field models
Mikhail Sitnov, Grant Stephens, Aleksandr Y. Ukhorskiy, Pontus Brandt, Haje Korth and Brian Anderson.
6. Dawndusk asymmetry in plasma sheet ion temperatures during geomagnetic stormsAmy Keesee, Jennifer Kissinger, Margareth Chen, Anthony Lui, Earl Scime.
7. Dawndusk asymmetry of the appearance of lowlatitude mantle plasma in the magnetotail observed by ARTEMIS
ChiPing Wang, Larry Lyons, Vasillis Angelopoulos
8. Present understanding of dawndusk (azimuthal, MLT) asymmetries in the inner magnetosphere particle populations, waves, and their interactions
Wen Li, Jacob Bortnik, Richard Thorne.
9. Observations with a comparison to BBF, DF and RX observations in the nearEarth plasma sheet
Andrei Runov, Colin Forsyth
10. Dawndusk asymmetries in the nearEarth magnetosphere: ion observations
Elena Kronberg, Elena Grigorenko, Stein Haaland, Patrick Daly, Lynn Kistler, Ioannis Dandouras.
11. Dawndusk asymmetries in the auroral particle precipitation
Simon Wing.
12. High density cold ion on dayside high latitude region
Kun Li, Mats Andre, Anders Eriksson, Stein Haaland
13. Using auroral asymmetries to test MHD models
Patricia Reiff, William James Longley, Nikolai Ostgaard and Jone Peter Reistad.
14. Dawndusk asymmetries in the auroral morphology and processes
T. Karlsson, G Marklund.
15. Role of the neutral thermosphere for dawndusk asymmetries
Eelco Doornbos
Dawn dusk asymmetries in the outer planets
1. Observations and modelling of dawndusk asymmetries in outerplanet magnetospheres
Krishan Khurana
2. Local time asymmetries in Saturn's magnetosphere
James Carbary, Don Mitchell, Abigail Rymer, Norbert Krupp, Tom Krimigis.
3. Dawndusk observations of largeamplitude KelvinHelmholtz waves at Mercury's magnetopause
T. Sundberg, Scott Boardsen, James Slavin, Brian Anderson, Haje Korth, Thomas Zurbuchen, Jim Raines, Sean Solomon.
End notes / summary / open issues
Index
Note: Above titles and author lists are based on AGU presentations or author contributed titles from authors who have agreed to contribute to the book. By experience, not all not all commitments will materialize. Titles and author lists may change.
See More
More in this series