Objects in Motion in the Early Modern World
ISBN: 978-1-119-21734-3
224 pages
July 2016, Wiley-Blackwell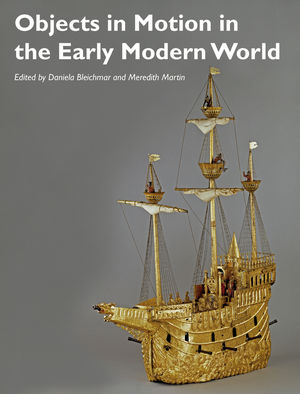 Objects in Motion in the Early Modern World presents a collection of 12 original essays that examine the circulation of objects across global regions and cultures from the 16th to 18th centuries.
Features essays that represents an extremely wide cultural, geographical, and material scope while offering new insights into the specificity of early modern exchange
Inspires broader questions about the disciplinary boundaries and frameworks of art history, visual culture, and material culture
Presents innovative research that sheds new light on little-known historical objects and phenomena
Calls into question traditional geographies and hierarchies associated with global exchange and challenges outdated center-periphery models
See More
Notes on Contributors
Introduction: Objects in Motion in the Early Modern World (Meredith Martin and Daniela Bleichmar)
1. Exotica on the Move: Birds of Paradise in Early Modern Holland (Claudia Swan)
2.The Persian Madonna and Child: Commodified Gifts between Diplomacy and Armed Struggle (Sinem Arcak Casale)
3. Mirror Reflections: Louis XIV, Phra Narai, and the Material Culture of Kingship (Meredith Martin)
4. An Imperial Mughal Tent and Mobile Sovereignty in Eighteenth-Century Jodhpur (Zirwat Chowdhury)
5. History in Pictures: Translating the Codex Mendoza (Daniela Bleichmar)
6. Chinese Porcelain and Muslim Port Cities: Mercantile Materiality in Coastal East Africa (Sandy Prita Meier)
7. Chairs, Writing Tables, and Chests: Indian Ocean Furniture and the Postures of Commercial Documentation in Coastal Yemen, 1700–40 (Nancy Um)
8. Metamorphosis at the Mughal Court (Jessica Keating)
9.Transporting India: The Gentil Album and Mughal Manuscript Culture (Chanchal Dadlani)
10. Peepboxes, Society, and Visuality in Early Modern China (Kristina Kleutghen)
11. From Byōbu to Biombo: The Transformation of the Japanese Folding Screen in Colonial Mexico (Sofía Sanabrais)
12. Nails, Necklaces and Curiosities: Scenes of Exchange in Bougainville's Tahiti (Mary Sheriff)
Index
See More
Daniela Bleichmar is Associate Professor of Art History and History at the University of Southern California. She is the author of Visible Empire: Botanical Expeditions and Visual Culture in the Hispanic Enlightenment (2012), and co-editor of Collecting Across Cultures: Material Exchanges in the Early Modern Atlantic World (2011) and Science in the Spanish and Portuguese Empires, 1500–1800 (2009).
Meredith Martin is Associate Professor of Art History at New York University and the Institute of Fine Arts. She is the author of Dairy Queens: The Politics of Pastoral Architecture from Catherine de' Medici to Marie-Antoinette (2011), and co-author of Period Eye: Karen Kilimnik's Fancy Pictures (2007).
See More
More in this series