Tensile Trading: The 10 Essential Stages of Stock Market Mastery
ISBN: 978-1-119-22433-4
208 pages
April 2016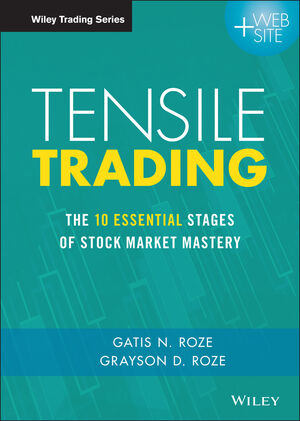 A detailed 10-stage roadmap for investors to achieve stock market mastery with their own consistently profitable, high-probability investment system
Tensile Trading provides a complete, step-by-step roadmap for investors of all levels, and coaches them on how best to organize the routines and strategies necessary to identify the market's strongest trading opportunities. History is proof that true mastery of the market begins with basic money management protocols, asset protection policies, and organized analysis techniques. With these crucial foundations in place, you can embrace a proven investment methodology, execute an effective trading plan, and develop a reliable system for profitable investing. Consistent, long-run investing success is a result of well-defined goals, carefully-constructed routines and an accurate understanding of the psychological challenges that all investors face.
Set yourself up for success by implementing prudent money management and asset protection strategies
Build a personalized Asset Allocation Profile—your own personalized investment methodology
Construct a properly diversified portfolio using tools and techniques tailored for the modern market
Learn to take control of your "Investor Self," limiting the impact of mental hurdles and emotional baggage
Supercharge your financial analysis by employing proven routines and strategies
A clear and proven approach easily tailored to fit your specific investing style, Tensile Trading distills the vastness of the financial markets into ten essential stages. It is designed to provide a comprehensive structure to your financial management efforts—helping you make smarter investment decisions, trade more efficiently, and consistently earn greater returns.
See More
Preface xi
Acknowledgments xvii
About the Authors xxi
Stage 1 Money Management 1
Crafting Your Money Management Plan 5
Becoming a Successful Investor 9
The Importance of Asset Allocation 11
Constructing Your Personal Asset Allocation Profile 15
X-Ray Magic 24
Allocation Maintenance 24
Stage 2 The Business of Investing 29
Ten Invaluable Investing Lessons 29
Staying Committed on the Road 36
The Investor's Quad 36
Stage 3 The Investor Self 39
The Five Levels of Investor Growth 40
Investor Weaknesses 42
Learn from the Professionals 46
Your Daily Journal 47
Stage 4 Market Analysis 53
Permission to Buy 54
Telescope-to-Microscope Approach 55
Charting Indicators 56
Organizing Your Analysis 60
Common Misunderstandings 62
The Market Stages and Technical Analysis 64
Fundamentals Checklist for Stocks 67
Fifty versus Fifty 68
Stage 5 Routines 71
Choosing Your Time Frame 72
From Salesmen to Stock Traders 74
Personal Peak Performance 75
Daily, Weekly, Monthly, Annually 76
A Day in the Life 79
Stage 6 Stalking Your Trade 87
Where to Look 88
What to Look For 88
How to Look 89
When to Look 89
Filters 91
Human Nature and Overhead Supply 96
Second-Opinion Resources 98
The Sisters Strategy Revisited 98
Mimic Wall Street's Masters 99
The Base-Hit Investor 101
Stage 7 Buying 103
BATTLE V Methodology 106
Pyramid Trading 106
The Language of the Market 108
Buy Routines 109
Considering Alternatives 111
Perfection Paralysis 111
Commission-Free Mind-Set 112
Invest Like You Drive 113
It's All about Stress Control 114
Stage 8 Monitoring 117
You Bought It—Now What? 118
Revisiting the Investor Self 119
Market Monitoring 120
Adjusting Stops 121
Tools, Routines, and Charts 123
Fundamentals 126
Allocation Updates 127
What Is Your Motivation? 129
Stage 9 Selling 131
Sell on Technicals, Not Fundamentals 133
The Art of Selling 135
Developing Your Selling System 138
Mutual Fund Sell Signals 146
Selling with the Sisters 148
Sell-Side Pyramid Trading 149
The Endowment Effect 149
The Investor's Trail 150
Stage 10 Revisit, Retune, Refine 153
Cleanse and Move Forward 154
Personal Data Mining 164
The Investor's Big Three 165
Thoughts on Transformation 167
About the Website 171
Index 173
See More
GATIS N. ROZE is a veteran stock market investor who has traded his own account full-time since 1989, unburdened by the distraction of clients. He holds an MBA from the Stanford Graduate School of Business, is a Chartered Market Technician (CMT), and is a past president of the Technical Securities Analysts Association (TSAA). After a successful entrepreneurial career, he retired in his early 40s to focus on investing. With consistent success as a stock trader, he began teaching investments at the post-college level in 2000 and continues to do so today. A renowned communicator, he has taught thousands of investors in sold-out seminars for the AAII, the MTA, and more. His weekly investment blog, The Traders Journal, is read by a global audience.
GRAYSON D. ROZE has worked in the financial services industry for StockCharts.com since 2012. He now serves as a Business Manager at the company. He holds a Bachelor's degree from Swarthmore College, where he studied economics and psychology. At a young age, he began pursuing his interest in the financial markets by attending investment classes and starting to trade under the guidance of his father. At the age of 18, Grayson began investing his own account and has since become an accomplished trader in his own right. Tensile Trading was his vision as a vehicle to lay out his father's investment wisdom and convey it to a wider audience.
See More
More in this series
Learn more about