E-book
Narrative Writing, Teacher Guide, Grades 9-12
ISBN: 978-1-119-22954-4
312 pages
June 2016, Jossey-Bass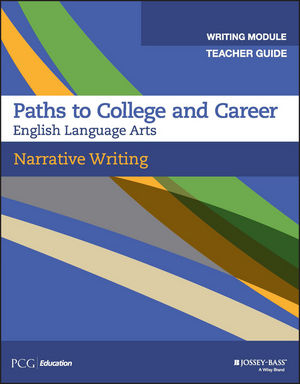 Paths to College and Career
Jossey-Bass and PCG Education are proud to bring the Paths to College and Career English Language Arts (ELA) curriculum and professional development resources for grades 6–12 to educators across the country. Originally developed for EngageNY and written with a focus on the shifts in instructional practice and student experiences the standards require, Paths to College and Career includes daily lesson plans, guiding questions, recommended texts, scaffolding strategies and other classroom resources.
The Paths Writing Units, Argument Writing, Informative Writing, and Narrative Writing, complement the full instructional program and can also be used independently, providing in-depth writing instruction to support all students in grades 9–12 in meeting grade level standards. To emphasize the relationship between reading and writing, each Writing Unit includes accessible model texts that exemplify key elements of each text type, and source texts that provide a topic for the unit writing assignment. Individual lessons guide students through the writing process, providing instruction on grammar and conventions and highlighting collaboration and reflection as key elements of effective writing. Students' final essays are assessed using a checklist developed by the class over the course of the unit.
The organization and distinctive content of the model and source texts in each unit afford teachers the flexibility to implement each unit independently of the others, and at any point during the curriculum. For example, a unit may be implemented to assess students' writing prior to implementation of the standard curriculum, to scaffold writing instruction leading into a writing assessment, or to support struggling writers by addressing gaps in skills as demonstrated in previous assessments.
The Paths Writing Units provide teachers with invaluable opportunities to engage students as active participants in their own learning at every stage of the writing process, and to customize instruction to meet the varying needs of all students.
See More
About PCG Education v
About the Paths to College and Career Writing Units vii
Narrative Writing 1
Unit Overview 1
Return to July 11
College Application Essay: My Future Footprint 13
Apollo 11 Mission Overview 14
They Remember Where They Were That Night 19
The Flight of Apollo 11: "One giant leap for mankind" 21
Lesson 1 Narrative Model 34
Lesson 2 Narrative Model 45
Lesson 3 Narrative Prompt Analysis 60
Lesson 4 Reading Sources 77
Lesson 5 Reading Sources 95
Lesson 6 Drafting: Introduction 107
Lesson 7 Drafting: Narrative Body Paragraphs 118
Lesson 8 Drafting: Narrative Body Paragraphs 129
Lesson 9 Drafting: Conclusion 139
Lesson 10 Structural Techniques 149
Lesson A Working with Words 164
Lesson B Cohesion and Flow 183
Lesson C Varying Sentence Length 199
Lesson D Ensuring Sentence Accuracy 214
Lesson E Adding Variety and Interest 228
Lesson F Punctuating Dialogue 243
Lesson 11 Peer Review 259
Lesson 12 Editing 270
Lesson 13 Reflection Activity 276
See More
ABOUT PCG EDUCATION
PCG Education, a division of Public Consulting Group, works with schools, districts, and state education agencies to build their capacity for instructional and programmatic improvements. We provide curriculum development, coaching, professional development, and technical assistance services. Our work alongside educators and policy makers ensures effective implementation of both the Common Core State Standards and state-specific standards for college and career readiness.
As the creators of the Paths ELA curriculum for grades 6–12, PCG Education provides a professional learning program that ensures the success of the curriculum. The program includes:
Nationally recognized professional development from an organization that has been immersed in the new standards since their inception.
Blended learning experiences for teachers and leaders that enrich and extend the learning.
A train-the-trainer program that builds capacity and provides resources and individual support for embedded leaders and coaches.
See More