No God, No Science: Theology, Cosmology, Biology
ISBN: 978-1-119-23087-8
454 pages
November 2016, Wiley-Blackwell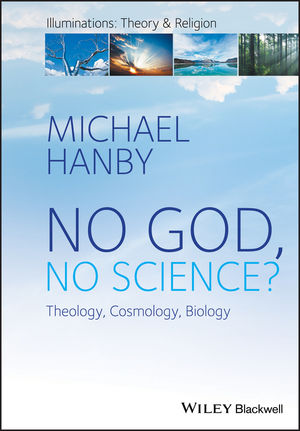 No God, No Science: Theology, Cosmology, Biology presents a work of philosophical theology that retrieves the Christian doctrine of creation from the distortions imposed upon it by positivist science and the Darwinian tradition of evolutionary biology.
Argues that the doctrine of creation is integral to the intelligibility of the world

Brings the metaphysics of the Christian doctrine of creation to bear on the nature of science

Offers a provocative analysis of the theoretical and historical relationship between theology, metaphysics, and science

Presents an original critique and interpretation of the philosophical meaning of Darwinian biology
See More
Preface viii
Acknowledgments xi
Abbreviations xii
Primary Sources and Translations xvi
Introduction 1
Part I In the Beginning 7
1 Discourse on Method 9
2 A Brief History of the Cosmos 49
Part II The Eclipse of the Universe 105
3 The Scientific and Theological Revolution 107
4 Unnatural "Theology" 150
5 Darwin the Theologian 186
6 The Mystery of the Missing Organism 250
Part III Creation Without Creationism 297
7 Deus Creator Omnium 299
8 What the World Is 334
9 Saving the Appearances 375
Epilogue: Evolution of the Last Men 416
Index 422
See More
Michael Hanby charts the long decline since the High-Middle Ages in the meaning of God, contingency, and creation. This conceptual weakening resulted in the philosophically and theologically simplistic opposition between Paley's natural theology and Darwinism. Helping us retrace our steps, Hanby leads us from a natural theology based on a misplaced analogy between artifacts and organisms to a theology of nature based on respect for life's wonders, including the creativity of natural selection.
David J. Depew, University of Iowa and Bruce H. Weber, California State University Fullerton, and Bennington College
There is something heroic about the scale on which Hanby has chosen to work, and the result is satisfyingly grand. At a time when tedious polemic has done so much to obscure the relation between the history of modern Western science and the history of theology, and done so much to confuse the questions that the science and theology do and (more importantly perhaps) do not share in common, this book is a very welcome burst of clarifying light.
David Bentley Hart, author of The Beauty of the Infinite: The Aesthetics of Christian Truth; The Experience of God: Being, Consciousness, Bliss; and Atheist Delusions: The Christian Revolution and Its Fashionable Enemies
I strongly recommend this book to scientists who wish to see how robust science and Christian theology can relate in sound and appropriate ways not centered on conflict. Anyone seeking wisdom on how to secure the future of humanity in our technological age should consider the thesis of this book carefully.
Paul S. Julienne, retired Fellow, Joint Quantum Institute of the University of Maryland and NIST.
See More
More in this series