East-Commerce: China E-Commerce and the Internet of Things
ISBN: 978-1-119-23088-5
168 pages
May 2016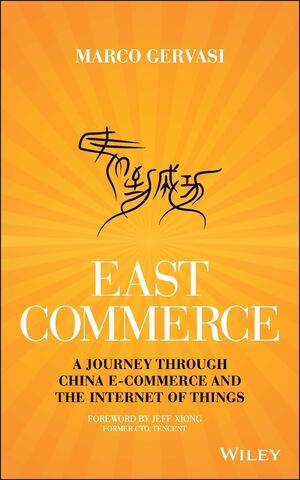 A New E-Commerce Model is Coming from the East—it is More Advanced and it is Spreading Worldwide
China is now the biggest e-commerce market, hardware producer and soon Internet of Things player in the world. Written by a world-recognized expert, this eye-opening treatment allows readers a rare glimpse into how China will shape the global online world for the next decade.
Featuring hundreds of interviews, with influential companies and investors such as Alibaba, Baidu, Tencent, Xiaomi, Yihaodian, Cogobuy, Rocket Internet, Didi-Kuaidi Taxi, Snapdeal, Tokopedia, DST Global, Credit Suisse, UBS, Qiming Ventures and many more, this ground-breaking guide provides exceptional firsthand accounts of the key considerations to making lucrative investments in this powerful sector.
East-Commerce enables you to:
Understand how China's e-commerce explosion began and where it is heading
See where China is shaping investments and innovation all over the globe
Examine why China's model is better suited for developing economies
Go in-depth into how and where others are finding opportunity and success
The new business models coming out of China offer a variety of new growth opportunities to international companies. Understanding how China's online market operates gives you the edge when building a global strategy.
Praise for East-Commerce
"I have never read such a penetrating exploration of China's e-commerce scene. Not only does it cover the unique characteristics of China's e-commerce landscape but it also delves into the cultural motivators of the Chinese people who are uniquely passionate about online shopping."
—TOM DOCTOROFF, CEO, J Walter Thomson Asia, author of Billions and What Chinese Want
"As China now becomes the world's largest e-commerce market, this book provides a timely and insightful analysis for investors looking for opportunities in China."
—AMY LO, Group Managing Director and Chief Executive, UBS Hong Kong
"East-Commerce is an insightful and entertaining guide to the e-commerce boom in Asia's emerging markets. Filled with interviews and anecdotes from leading entrepreneurs and businesses, Marco Gervasi has written the most comprehensive book on the topic I've seen."
—PORTER ERISMAN, former VP, Alibaba; author, Alibaba's World
"Inquisitive and well-articulated, East-Commerce describes in a unique way how China is leapfrogging the West in many key online sectors"a must read."
—JOHN LINDFORS, Managing Partner and Director, DST Investment Management, former Partner Goldman Sachs
"East Commerce provides incredible insight into the technological and cultural changes going on in China. It is especially valuable for multinational companies doing business in China to re-frame their thinking and marketing approach and to build loyalty in this massive market."
—CHANDOS QUILL, VP Global Data Solutions, Merkle Inc.
"East-Commerce gives an insider's perspective on what it's like to operate in the biggest e-commerce market in the world"each one of my team members has this book on their desk."
—BRUNO FELTRACCO, VP and Managing Director, The North Face Asia Pacific
"Marco Gervasi delivers crucial insight into the global implications associated with the increasing relevance and reach of the 'East-Commerce' model."
—MICHAEL INJAYCHOCK, Sr. Director, Touchpoint Optimization, Eli Lilly and Company
"East-Commerce reads more like a novel than a text book as it details the evolution of the Chinese ecommerce marketplace and offers great insight into how to successfully navigate the complicated landscape."
—RICHARD RUSSELL, Director Media Strategy, Deckers Outdoor Corporation
"Digital disruption is taking place with incredible speed and intensity in China and with it, tremendous innovation and entrepreneurship. Marco Gervasi has chronicled this development with first-hand knowledge and experience in this book. I recommend it to those who care about what is truly changing China and therefore, the world."
—EDWARD TSE, author, China's Disruptors
See More
Foreword vii
Preface ix
Acknowledgments xiii
About the Author xvii
The East-Commerce Video Course xix
Illustration Credit xx
Chapter 1 The Great (Technological) Leap Forward 1
Chapter 2 A Perfect Blend 15
Chapter 3 A New Breed of Companies 29
Chapter 4 Transformed Lives 51
Chapter 5 A Super-Connected World 67
Chapter 6 It Is All About Social 83
Chapter 7 Moving East (and West) 99
Chapter 8 The Connected Brand 115
Chapter 9 What Happens Next? 129
Endnotes 137
Index 145
See More
April 25, 2016
Expanded Edition of East-Commerce Releases with Compelling New Content
Connect with Wiley Publicity
China's technological, and perhaps even industrial development, have been driven by models from the West. The last few years have seen a dramatic change in how products are developed. As Chinese corporations mature, they begin to look deeper at consumer needs, and become very adept at evolving existing business and technological models into new business models that look very little like their Western counterparts.
East-Commerce: A Journey Through China E-Commerce and the Internet of Things tells the compelling and instructive tale of how China has created a super connected world that is now taking over Asia, Africa and will soon influence the West. Written by Marco Gervasi, an expert on China e-commerce and Internet of Things (IoT), the book takes readers behind the scenes of how e-commerce and IoT revolution unfolds in the East and tells the story of how a country and its underdogs bet on themselves, developed ideas, assembled teams and launched the next big thing.
In the book, Gervasi points out that despite Western assumptions, Silicon Valley's Internet and e-commerce startups are no longer the sole sources of business-model disruption. For the first time, they are about to be challenged by a new non-Western model: China e-commerce.
China is now the biggest Internet and e-commerce market in the world with over 650 million users (almost three times the number in the United States). It has also become the biggest hardware producer and consumer in the world, and is poised the Internet of Things revolution.
"Internet and e-commerce are so important to China despite how much the GDP will grow," Gervasi writes. "They have become part of this new consumers' culture, enhancing their life through virtualization and have brought an irreversible change."
East-Commerce includes many interesting observations from the author's perspective. Most importantly, it addresses a pressing question that relentlessly concerns investors and markets: "Is China's e-commerce massive growth sustainable?" or in other words, "What happens if the economy stops growing?"
The new chapter entitled "The Connected Brand" includes fresh topics mainly, offline-to-online (O2O) trend; discussing how flagship stores combine with online sales, and cross-border e-commerce; detailing its issues and opportunities.
Readers will find the book accessible and simple. It covers a brief history of China's e-commerce, its ecosystem and business models in a nutshell. Through a firsthand and insightful story, the book offers fascinating observations suggesting why Chinese e-commerce is unique. Other highlights include, China's e-commerce flash selling, which focuses on luxury products and how social is embedded in the business models.
This eye-opening treatment allows readers a rare glimpse into how China will shape the global online world for the next decade.
East Commerce is based on more than 200 interviews with Asia's e-commerce entrepreneurs and their biggest investors, including: Tencent, Alibaba, Xiaomi, Yihaodian, Cogobuy, Kuaidi Taxi, Rocket Internt, Snapdeal, Tokopedia, DST Global, Credit Suisse, UBS, and many more.
East-Commerce: China E-Commerce and the Internet of Things is now available at all major bookstores and online retailers. For more information, visit the publisher's website at www.wiley.com/buy/9781119230885
- End -
Press contact:
Sharifah Sharomsah, Publicist (Wiley), skbsharoms@wiley.com, Tel: +65 6643 8099
See More