Stock Investing For Dummies, 5th Edition
ISBN: 978-1-119-23928-4
384 pages
May 2016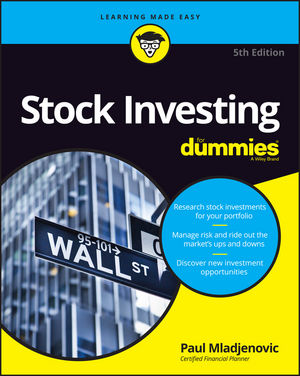 Grow your stock investments in today's changing environment
Updated with new and revised material to reflect the current market, this new edition of Stock Investing For Dummies gives you proven strategies for selecting and managing profitable investments. no matter what the conditions. You'll find out how to navigate the new economic landscape and choose the right stock for different situations—with real-world examples that show you how to maximize your portfolio.
The economic and global events affecting stock investors have been dramatic and present new challenges and opportunities for investors and money managers at every level. With the help of this guide, you'll quickly and easily navigate an ever-changing stock market with plain-English tips and information on ETFs, new rules, exchanges, and investment vehicles, as well as the latest information on the European debt crisis.
Incorporate stocks into your investment portfolio
Understand and capitalize on current market conditions
Balance risk and reward
Explore new investment opportunities
Stock Investing For Dummies is essential reading for anyone looking for trusted, comprehensive guidance to ensure their investments grow.
See More
Introduction 1
Part 1: The Essentials of Stock Investing 5
CHAPTER 1: Surveying the World of Stock Investing 7
CHAPTER 2: Taking Stock of Your Current Financial Situation and Goals 15
CHAPTER 3: Defining Common Approaches to Stock Investing 33
CHAPTER 4: Recognizing Risk and Volatility 43
CHAPTER 5: Stock Investing through Exchange-Traded Funds 61
Part 2: Before You Start Buying 69
CHAPTER 6: Gathering Information 71
CHAPTER 7: Going for Brokers 91
CHAPTER 8: Investing for Long-Term Growth 103
CHAPTER 9: Investing for Income: Dividend-Paying Stocks 115
CHAPTER 10: Understanding Technical Analysis for Stock Investors 129
Part 3: Picking Winners 149
CHAPTER 11: Using Basic Accounting to Choose Winning Stocks 151
CHAPTER 12: Decoding Company Documents 169
CHAPTER 13: Emerging Sector and Industry Opportunities 181
CHAPTER 14: Small Cap Stocks, IPOs, and Motif Investing 193
CHAPTER 15: The Big Economic and Political Picture 203
Part 4: Investment Strategies and Tactics 215
CHAPTER 16: Discovering Screening Tools 217
CHAPTER 17: Understanding Brokerage Orders and Trading Techniques 229
CHAPTER 18: Using Trade Triggers and Advanced Conditional Orders 247
CHAPTER 19: Getting a Handle on DPPs, DRPs, and DCA PDQ 255
CHAPTER 20: Corporate and Government Skullduggery: Looking at Insider Activity 265
CHAPTER 21: Keeping More of Your Money from the Taxman 277
Part 5: The Part of Tens 289
CHAPTER 22: Ten Indicators of a Great Stock 291
CHAPTER 23: Ten Ways to Profit in a Bear Market 299
CHAPTER 24: Ten Investments and Strategies That Go Great with Stocks 305
Part 6: Appendixes 313
APPENDIX A: Resources for Stock Investors 315
APPENDIX B: Financial Ratios 329
Index 339
See More
Paul Mladjenovic is a Certified Financial Planner and investing educator with more than 33 years of experience. The owner of Prosperity Network, he writes and teaches extensively on common stocks and related investments. Paul is the author of all previous editions of Stock Investing For Dummies and High-Level Investing For Dummies.
See More