Race Talk and the Conspiracy of Silence: Understanding and Facilitating Difficult Dialogues on Race
ISBN: 978-1-119-24198-0
304 pages
February 2016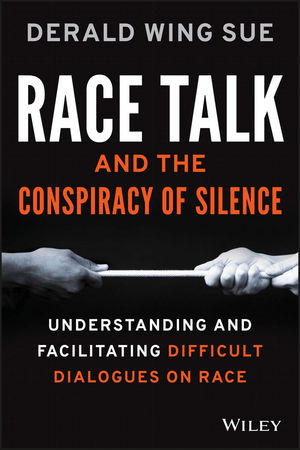 Turn Uncomfortable Conversations into Meaningful Dialogue
If you believe that talking about race is impolite, or that "colorblindness" is the preferred approach, you must read this book. Race Talk and the Conspiracy of Silence debunks the most pervasive myths using evidence, easy-to-understand examples, and practical tools.
This significant work answers all your questions about discussing race by covering:
Characteristics of typical, unproductive conversations on race
Tacit and explicit social rules related to talking about racial issues
Race-specific difficulties and misconceptions regarding race talk
Concrete advice for educators and parents on approaching race in a new way
"His insistence on the need to press through resistance to have difficult conversations about race is a helpful corrective for a society that prefers to remain silent about these issues."
—Christopher Wells, Vice President for Student Life at DePauw University
"In a Canadian context, the work of Dr. Derald Wing Sue in Race Talk: and the Conspiracy of Silence is the type of material needed to engage a populace that is often described as 'Too Polite.' The accessible material lets individuals engage in difficult conversations about race and racism in ways that make the uncomfortable topics less threatening, resulting in a true 'dialogue' rather than a debate."
—Darrell Bowden, M Ed. Education and Awareness Coordinator, Ryerson University
"He offers those of us who work in the Diversity and Inclusion space practical tools for generating productive dialogues that transcend the limiting constraints of assumptions about race and identity."
—Rania Sanford, Ed.D. Associate Chancellor for Strategic Affairs and Diversity, Stanford University
"Sue's book is a must-read for any parent, teacher, professor, practioner, trainer, and facilitator who seeks to learn, understand, and advance difficult dialogues about issues of race in classrooms, workplaces, and boardrooms. It is a book of empowerment for activists, allies, or advocates who want to be instruments of change and to help move America from silence and inaction to discussion, engagement, and action on issues of difference and diversity. Integrating real life examples of difficult dialogues that incorporate the range of human emotions, Sue provides a masterful illustration of the complexities of dialogues about race in America. More importantly, he provides a toolkit for those who seek to undertake the courageous journey of understanding and facilitating difficult conversations about race."
—Menah Pratt-Clarke, JD, PhD, Associate Provost for Diversity, University of Illinois Urbana-Champaign
See More
Preface ix
Preface to the Paperback Edition xv
Acknowledgments xix
About the Author xxi
SECTION ONE: THE CHARACTERISTICS, DYNAMICS, AND MEANING OF RACE TALK
CHAPTER ONE What Is Race Talk? 3
Race Talk Represents a Potential Clash of Racial Realities 7
Race Talk Pushes Emotional Hot Buttons 11
Race Talk Evokes Avoidance Strategies 13
Why Is Successful Race Talk Important? 16
CHAPTER TWO The Characteristics and Dynamics of Race Talk 18
What Are Characteristics of Race Talk? 21
How Do Societal Ground Rules (Norms) Impede Race Talk? 23
Why Is Race Talk So Difficult and Uncomfortable for Participants? 27
Conclusions 33
CHAPTER THREE The Stories We Tell: White Talk Versus Back Talk 35
Race Talk: Narratives and Counter-Narratives 37
Telling on Racism: Unmasking Ugly Secrets 38
SECTION TWO: THE CONSTRAINING GROUND RULES FOR RACE TALK
CHAPTER FOUR "The Entire World's a Stage!" 55
The Politeness Protocol and Race Talk 57
The Academic Protocol and Race Talk 64
CHAPTER FIVE Color-Blind Means Color-Mute 74
Color-Evasion: "We Are All the Same Under the Skin" 78
Stereotype-Evasion: "I Don't Believe in Those Stereotypes" 82
Power-Evasion: "Everyone Can Make It in Society, If TheyWork
Hard Enough" 86
Myth of the Melting Pot 89
SECTION THREE: WHY IS IT DIFFICULT FOR PEOPLE OF COLOR TO HONESTLY TALK ABOUT RACE?
CHAPTER SIX "What Are the Consequences for Saying What I Mean?" 95
Ethnocentric Monoculturalism 99
Power and Oppression 105
CHAPTER SEVEN "To Speak or How to Speak, That Is the Question" 112
Communication Styles 115
Nonverbal Communication 118
Nonverbal Communication in Race Talk: Sociopolitical
Considerations 121
Being Constrained and Silenced: Impact on People of Color 123
Conclusions 127
SECTION FOUR: WHY IS IT DIFFICULT FOR WHITE PEOPLE TO HONESTLY TALK ABOUT RACE?
CHAPTER EIGHT "I'm Not Racist!" 131
Cognitive Avoidance—Racism Denial 133
Emotional Avoidance—Fear, Guilt, and Other Feelings 138
Behavioral Avoidance—Helplessness and Hopelessness 142
Emotional Roadblocks to Race Talk 144
CHAPTER NINE "I'm Not White; I'm Italian!" 147
What Does It Mean to Be White? 148
The Invisibility of Whiteness: What Does It Mean? 152
The Fear of Owning White Privilege 154
Fear of Taking Personal Responsibility to End Racism: Moving From Being Nonracist to Becoming Antiracist 159
SECTION FIVE: RACE TALK AND SPECIAL GROUP CONSIDERATIONS
CHAPTER TEN Interracial/Interethnic Race Talk: Difficult Dialogues Between Groups of Color 167
Interracial/Interethnic Relationship Issues 169
Race Talk: Fears of Divide and Conquer 171
Sources of Conflict Between People of Color 174
CHAPTER ELEVEN Race Talk and White Racial Identity Development: For Whites Only 186
Developing a Nonracist and Antiracist Racial Identity 189
White Racial Identity Development and Race Talk 202
SECTION SIX: GUIDELINES, CONDITIONS, AND SOLUTIONS FOR HAVING HONEST RACIAL DIALOGUES
CHAPTER TWELVE Being an Agent of Change: Guidelines for Educators, Parents, and Trainers 209
Talking to Children About Race and Racism 213
Guidelines for Taking Personal Responsibility for Change 214
CHAPTER THIRTEEN Helping People Talk About Race: Facilitation Skills for Educators and Trainers 226
Ineffective Strategies: Five Things Not to Do 230
Successful Strategies: Eleven Potentially Positive Actions 234
References 245
Author Index 260
Subject Index 266
See More
January 11, 2016
Race Talk and the Conspiracy of Silence
Connect with Wiley Publicity
Unspoken social rules determine much of what we say and do at home, at school, and at work with clients and coworkers. Often, these rules are good for society—they allow us to get along with one another in the world. But occasionally, these hidden rules have a detrimental impact, and in those situations the rules must be brought to light and eliminated. In avoiding this emotionally charged topic, we usually have good intentions—a concern for politeness, a desire not to offend—but Dr. Derald Wing Sue's research has shown that we do far more harm than good when we stay silent about race.
Race Talk and the Conspiracy of Silence is an enlightening account of why we still see race as a taboo discussion topic, how our silence harms us, and what we can do to change uncomfortable conversations into productive dialogs. Educators in K–12 and higher education, trainers, mental health and professionals, and parents will appreciate this book's frankness and foundation in scientific evidence.
Learning to talk about race is crucial if we hope to achieve the equal society that has long been part of the American mythos. Each one of us, through our everyday interactions with each other and the example we provide for the next generation, can contribute to this hallmark of social justice. In Race Talk and the Conspiracy of Silence, a concrete set of guidelines and solutions for engaging in honest racial dialogue will help educators, parents, and trainers become agents of change by bringing the issue of race to light in a positive manner.
The tacit rules surrounding race talk are more numerous than many people suppose. Without knowing it, we use a number of different strategies to evade the topic, often under the premise that we are "colorblind." Race Talk and the Conspiracy of Silence exposes these avoidance strategies as the fallacies they are. Readers will also discover why being polite about race—in other words, ignoring the subject—is actually harmful to Whites and people of color alike. This book teaches concrete strategies for identifying and breaking bad habits so that we can break the silence on the issue of race and benefit from meaningful race talk.
See More