BrandED: Tell Your Story, Build Relationships, and Empower Learning
ISBN: 978-1-119-24456-1
240 pages
April 2017, Jossey-Bass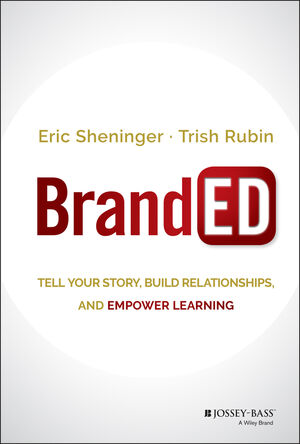 Move beyond mascots and clever taglines! From award-winning principal Eric Sheninger and marketing strategist Trish Rubin,
BrandED
invites school leaders into a smart conversation about the genuine power of brand in education.
"BrandED" is not a business brand concept designed for selling. It is an educator's tool and skill-set for showcasing assets and strengthening relationships with all stakeholders. BrandED thinking captures the focused spirit of the outstanding work taking place in schools every day that can be easily recognized, talked about, and valued. This inspiring, practical guide will help you adopt a BrandED mindset for school improvement. Sheninger and Rubin offer proven strategies to:
leverage digital tools to become the storyteller-in-chief and take control of your public relations
strengthen internal and external communications among students, teachers, parents, and other stakeholders
build better relationships with key stakeholders and establish strategic partnerships, resulting in increased resources
promote connectivity, transparency, and community at your school
build a positive culture that extends beyond the schoolhouse door
Today's school leaders can't remain in the ivory tower.
BrandED
will drive your professional and personal transformation, helping you to craft and share the powerful story of your unique school brand.
See More
Foreword
Introduction
Our BrandED Short Story
"The Brandality Modality"
Welcome to the Conversation
Conversation One: From Brand to "BrandED"
Part One. In Brand We Trust
Part Two. BrandED Matters to Today's School Leaders
Part Three. BrandED Unifies a School Improvement Plan
Conversation One Tips
Conversation One Reflections
Conversation Two: In the Zone for BrandED Design
Part One. The Psychology of BrandED Innovation
Part Two. Tools to Inspire BrandED Innovation
Part Three. BrandED Reputation Management
Conversation Two Tips
Conversation Two Reflections
Conversation Three: Developing a BrandED Leadership Presence
Part One. A "Professional Personal" BrandED You
Part Two. Be the BrandED Storyteller-in-Chief
Part Three. BrandED Leader as "Edupreneur"
Conversation Three Tips
Conversation Three Reflections
Conversation Four: Launching Your BrandED Strategic Plan
Part One. The BrandED Drivers
Part Two. Your BrandED Strategic Plan
Part Three. BrandED Stakeholder Relations Management
Conversation Four Tips
Conversation Four Reflections
Conversation Five: Sustaining BrandED Innovation
Part One. Invest in BrandED Leadership
Part Two. The Trend-Setting Stance of a BrandED leader
Part Three. The BrandED Competitive Advantage
Conversation Five Tips
Conversation Five Reflections
Conversation Six: Communicating with BrandEd Leadership Tools
Part One. The BrandED Payoff of Distributed Leadership
Part Two. Press, Networking, Digital Presence, and Thought Leadership
Part Three. The Law of BrandED Attraction
Conversation Six Tips
Conversation Six Reflections
Conversation Seven: Keeping up with the Digital Joneses
Part One. Disruptive Digital Behavior that Innovates Schools
Part Two. BrandED Partners in a Digital World
Part Three. Connecting with Parents on the Digital Playground
Conversation Seven Tips
Conversation Seven Reflections
Conversation Eight: Return on Investment in the BrandED School Community
Part One. Be the BrandED Relationship Steward
Part Two. Local to Global BrandED Investment
Part Three. Sustain a BrandED Community through Return on Relationship
Conversation Eight Tips
Conversation Eight Reflections
Appendix A: Developing a Mission Statement
Appendix B: Crafting Positioning Statements
Appendix C: Stewardship Model of BrandED Development
Appendix D: Suggested Digital Tools
Appendix E: Media Advisory Template
Appendix F: A BrandED Leadership Timeline
Appendix G: Online Marketing Brand Resources for Educator BrandED Adaptation
Glossary
References
Acknowledgments
Index
See More