E-book
Business Plans Kit For Dummies, 5th Edition
ISBN: 978-1-119-24571-1
408 pages
May 2016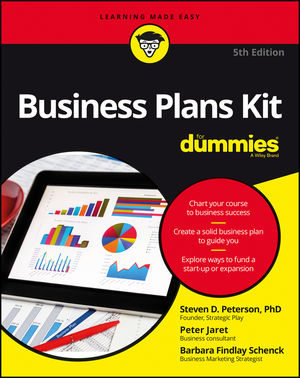 The fast and easy way to construct a winning business plan
If you're looking to establish, expand, or re-energize a business, the best place to start is with a sound business plan—and this new edition of Business Plans Kit For Dummies is here to help you get you started. From getting your hands on start-up money from investors to successfully growing or reimaging your venture, it offers everything you need to craft a well-defined business plan that will set you on a course to get your business moving in the right direction.  
Are you unsure how to draft objectives for managers or deal with displacement? Are you new to hiring employees and need help grasping the ins and outs of creating a new business? No worries! Business Plans Kit For Dummies is brimming with all the tools and expert guidance you need to bring a successful business plan to life and keep your company afloat in any economic environment. Including the latest tips and resources, and packed with lots of helpful examples and sample forms, it offers everything you need to craft a winning business plan and increase the likelihood your business will not only survive, but thrive!
Create a sound business plan and clear mission statement
Establish and assess your goals and objectives
Get start-up money in any economy
Increase your business' chances of financial success
If you're a small business owner, investor, or entrepreneur looking for expert guidance on developing and implementing a strategic plan to help your business succeed, Business Plans Kit For Dummies has you covered!
See More
Introduction 1
Part 1: Getting Started with Business Plans 5
CHAPTER 1: Powering Up for Business Success 7
CHAPTER 2: Developing the Idea That Powers Your Plan 25
CHAPTER 3: Defining Your Business Purpose and Structure 47
Part 2: Developing Your Plan's Components 77
CHAPTER 4: Understanding Changing Conditions, Customers, and Competition 79
CHAPTER 5: Charting Your Strategic Direction 103
CHAPTER 6: Describing Your Business and Its Capabilities 129
CHAPTER 7: Crafting Your Marketing Plan 155
CHAPTER 8: Finding Your Funding 177
CHAPTER 9: Tallying Your Financial Situation 191
Part 3: Tailoring Your Plan to Fit Your Business 215
CHAPTER 10: Planning for a One-Person Business 217
CHAPTER 11: Planning for a Small Business 241
CHAPTER 12: Planning for a Virtual Business 255
CHAPTER 13: Planning for an Established Business 267
CHAPTER 14: Planning for a Nonprofit Organization 283
CHAPTER 15: Planning in a Transformed World 301
Part 4: Making the Most of Your Plan 315
CHAPTER 16: Putting Your Plan Together 317
CHAPTER 17: Implementing Your Plan 337
Part 5: The Part of Tens 361
CHAPTER 18: Ten Signs That Your Plan May Need an Overhaul 363
CHAPTER 19: Ten Questions to Ask Before You Finish Your Business Plan 369
Appendix: What You Can Find Online 373
Index 379
See More
Steven D. Peterson, PhD, is the senior partner and founder of the management tool development company, Strategic Play. Peter Jaret is a frequent contributor to The New York Times, Reader's Digest, and AARP Bulletin. Barbara Findlay Schenck is a nationally recognized marketing specialist and the author of several For Dummies books.
See More