Bridge For Dummies, 4th Edition
ISBN: 978-1-119-24782-1
432 pages
June 2016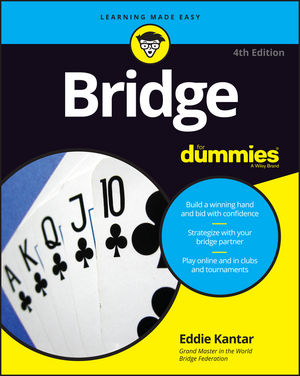 Try a hand at bridge—and outsmart your opponents
Bridge is the most popular card game in the world—and, as any player will tell you, is simply the best card game ever. Whether you're new to the game or a long-time player looking for new tricks, this new edition of Bridge For Dummies walks you through the intricacies of the game and arms you with tried-and-true tips and strategies for being a better player and beating your opponents from the very first draw.
Covering not only traditional contract bridge, but other popular variations of the game—including ACOL, Rubber, and Duplicate Bridge—this hands-on, friendly guide takes the guesswork out of this beloved game and arms you with the knowledge and know-how to make your game mates your minions. From knowing when and how high to bid to bringing home the tricks when you end up in a trump contract, it'll take your bridge skills to the next level in no time!
Strategize with your bridge partner
Confidently play bridge in clubs and tournaments
Use basic and advanced bidding techniques
Find bridge clubs and tournaments all over the world
Are you ready to trump the competition? Success is a page away with the help of Bridge For Dummies.
See More
Introduction 1
Part 1: Getting Started with Basic Notrump Play 7
CHAPTER 1: Going to Bridge Boot Camp 9
CHAPTER 2: Counting and Taking Sure Tricks 19
CHAPTER 3: Using Winning Trick Techniques at Notrump Play 27
CHAPTER 4: Outsmarting Your Opponents at Notrump Play 45
Part 2: Playing the Hand in a Trump Contract 63
CHAPTER 5: Introducing Trump Suits 65
CHAPTER 6: Creating Extra Winners to Discard Losers 81
CHAPTER 7: Setting Up the Dummy's Long Suit 91
CHAPTER 8: Getting Rid of Losers by Using the Dummy's Trump Cards 103
Part 3: Bidding for Fun and Profit 111
CHAPTER 9: Starting with Bidding Basics 113
CHAPTER 10: Making a Successful Opening Bid 123
CHAPTER 11: Responding to an Opening Bid 147
CHAPTER 12: Rebidding by the Opener 181
CHAPTER 13: Rebidding by the Responder 207
Part 4: Forging Ahead with Advanced Bidding Techniques 229
CHAPTER 14: Creating Interference: Defensive Bidding 231
CHAPTER 15: Double Trouble: Doubling and Redoubling 249
CHAPTER 16: Hitting Hard: Slam Bidding 267
Part 5: Playing a Strong Defense and Keeping Score 279
CHAPTER 17: Defending against Notrump Contracts 281
CHAPTER 18: Defending against Trump Contracts 299
CHAPTER 19: Playing Second Hand on Defense 317
CHAPTER 20: Wrapping Up with Scorekeeping 329
Part 6: Feeding Your Addiction to Bridge 345
CHAPTER 21: Joining Bridge Clubs and the Tournament World 347
CHAPTER 22: Playing Bridge on Your Computer and Online 357
Part 7: The Part of Tens 363
CHAPTER 23: Ten Ways to Be a Better Bridge Partner 365
CHAPTER 24: Ten Great Bridge Resources 369
Appendix: Acol Bidding System 375
Index 389
See More
Eddie Kantar is a Grand Master in the World Bridge Federation and a two-time world bridge champion. He wrote Complete Defensive Play, a book listed as a top ten all-time bridge favorite, and is the author of the first three editions of Bridge For Dummies.
See More